Bernie Sanders Calls Long Lines at Michigan Polling Stations an 'Outrage,' Suggests Dems Are Engaging In Voter Suppression
Vermont Senator Bernie Sanders said Tuesday that large crowds at primary voting locations are an "outrage," implying that the conditions could be equated with voter suppression.
Sanders' name is on the ballot in five Democratic primaries scheduled for Tuesday, where he is running against his chief rival, former Vice President Joe Biden, for the presidential nomination.
"At a time when Democrats correctly attack Republicans for voter suppression, it is disappointing to see people standing in long lines for hours today waiting to vote in Michigan and around the country," Sanders wrote in a Tuesday news release. "People should not have to miss a day of work to exercise their right to vote. This is an outrage. Election officials must address these problems immediately, and if necessary, keep polling places open longer."
Director of rapid response for the Michigan Democratic Party Christian Slater told Newsweek new election rules passed by the state in 2018, including same-day voter registration, were partially to blame for the delays.
According to the new rules, Michigan voters can register in person to vote until Election Day. Voters must also bring documents to verify their identity. Absentee ballots can also be dropped off in person at either a city clerk's office or a township office on election day.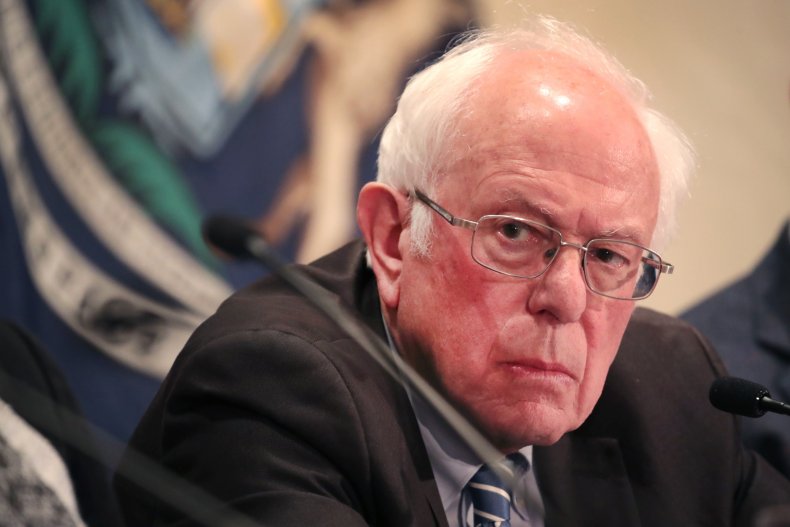 "The Michigan Democratic Party is proud of the state's new voting rights laws, including same day voter registration, that expand access to the ballot," said Executive Director of the Michigan Democratic Party Christy Jensen in a statement provided to Newsweek Tuesday. "While implementing the new laws can prove difficult, long lines to vote are never acceptable and we hope election officials will take the proper steps to address the issues."
"If you are in line to vote by 8pm, you can vote and The Michigan Democratic Party encourages all who are able to vote to stay in line and exercise their rights," Jensen added.
Former presidential candidate for the Green Party, Dr. Jill Stein, also claimed voter suppression was underway in North Dakota in a Tuesday tweet.
"MASSIVE #VoterSuppression underway in #NorthDakotaPrimary RIGHT NOW," Stein tweeted. "As we saw in CA, TX & elsewhere, these huge lines & waits created by poll closures always target youth and minority votes. This election is being fixed before our very eyes. Get ready to #DemExit."
Sanders has decried the practice of voter suppression in the past. In an August 2019 tweet, he called for a cessation of voter suppression.
"We need to end voter suppression and make it easier for people to vote, not harder," Sanders said. "We need automatic voter registration. We need to make Election Day a national holiday. We need to end gerrymandering. And we need to restore the Voting Rights Act."
Some Sanders supporters have said they would leave the Democratic Party if Biden wins the presidential nomination, creating the social media trending topic #DemExit.
Although Michigan voters cast their ballots on Tuesday, final results from the primary are not projected to be released until sometime Wednesday afternoon.