Bernie Sanders' Campaign Manager Shares Video of Senator Nailing 3 Consecutive Basketball Hoops in 10 Seconds
Senator Bernie Sanders' campaign manager this weekend shared a short video of the 78-year-old 2020 candidate impressively nailing three consecutive basketball hoops in roughly 10 seconds.
"3 for 3," Faiz Shakir tweeted on Sunday afternoon, alongside a clip of Sanders shooting hoops outside. Within an hour, the video had garnered over 11,000 likes and nearly 2,000 retweets.
Half an hour later, Sanders' wife, Jane O'Meara Sanders, shared another video from the outing, writing: "@BernieSanders warming up for a Townhall in Las Vegas!"
In the 38-second-clip, Mrs. Sanders can be heard saying "now you're just showing off," as her husband continuously scores five hoops in a row, misses one and then lands another.
Newsweek subscription offers >
In a statement to Newsweek, Shakir revealed that although Sanders has very little time to shoot hoops while campaigning, he will always ask for a minute to play around when he sees a court nearby.
Newsweek subscription offers >
"He's a basketball fan, but he rarely has time to shoot hoops while campaigning," Shakir said. "But anytime we see a court, he'll ask if he can get a few minutes to shoot around."
Although it is uncertain when exactly the videos were taken, Sanders' wife post suggests that the candidate's basketball session occurred earlier on Sunday, ahead of his return to Nevada to host a town hall in Las Vegas this evening.
The videos come roughly six weeks after Sanders suffered a heart attack. The incident was predicted to damage his 2020 presidential campaign, however, after endorsements from two prominent Democratic liberals, congresswomen Alexandria Ocasio-Cortez and Ilhan Omar, the senator appears to have moved past the potential political upheaval unscathed.
In recent weeks, Sanders has been focusing on his health issues as well as his campaign. His new daily regime reportedly includes a healthier diet, regular walks and exercise. Mrs. Sanders has also been ensuring her husband receives adequate rest as he continues his campaign trail.
"I've noticed him ordering a heck of a lot more salads," Shakir told The New York Times.
Despite warnings that his health scare would push progressive voters to back Senator Elizabeth Warren, Sanders currently still remains in the top tier of Democratic candidates vying for the party's 2020 nomination. In the latest CBS News/YouGov poll, released on Sunday, Sanders tied with former Vice President Joe Biden to lead the primary field, both drawing 22 percent each. While South Bend, Indiana Mayor Pete Buttigieg followed closely behind with 21 percent and Warren garnered 18 percent.
The poll showed Sanders' support increasing by three percentage points since September, as Warren, his progressive competitor, dipped by 10 percent.
However, the latest Des Moines Register/CNN/Mediacom poll, released Saturday evening, showed Buttigieg soaring to a nine-point lead among Iowa caucus goers with 25 percent. In that poll, Warren trailed behind in second place with 16 percent, while Biden and Sanders tied for third with 15 percent each.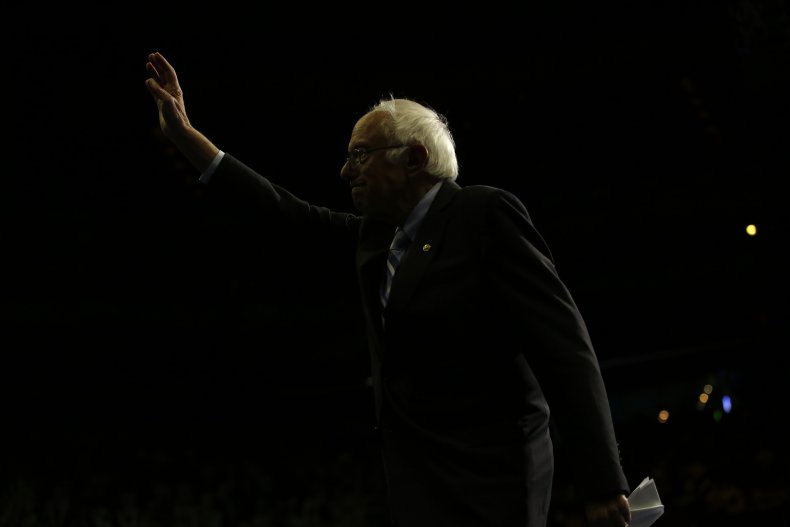 Bernie Sanders' Campaign Manager Shares Video of Senator Nailing 3 Consecutive Basketball Hoops in 10 Seconds | Politics