Bernie Sanders 'Concerned About Inflation,' But Insists $3.5Tn Bill Won't Make it Worse
Senator Bernie Sanders, a Vermont independent, said he is "concerned about inflation" but insisted that the proposed $3.5 trillion budget reconciliation package unveiled by President Joe Biden and Democratic leaders would not make it worse.
Inflation, excluding energy and food, increased rapidly in June, rising 4.5 percent—the largest move since September 1991. Consumer prices increased by 5.4 percent, marking the largest monthly gain in about 13 years.
Meanwhile, Biden and Democrats have proposed a massive $3.5 trillion budget reconciliation plan, which has raised further inflation concerns from Republicans, moderate Democrats and some economists.
Sanders, who caucuses with the Democrats and chairs the Senate Budget Committee, was asked about these concerns in relation to the large spending proposal during a Wednesday interview with CNN.
"I am concerned about inflation, among many other things," Sanders said. "As I think you know, this bill—this $3.5 trillion and then there's another $600 billion in a so-called bipartisan infrastructure bill—will pay for itself. It will be paid for in a variety of ways, but significantly by higher taxes on the wealthy and large corporations.
"So that should not add to the inflation concerns."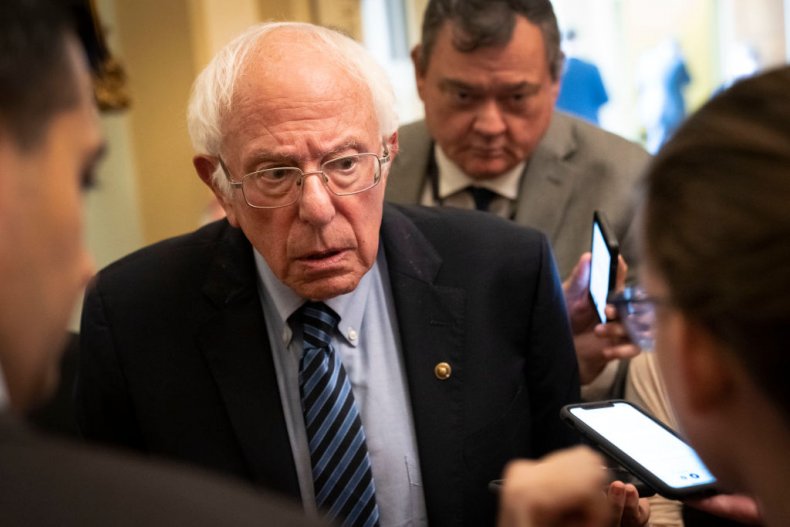 Sanders went on to assert that "inflation is a real concern." However, he argued that lawmakers should also be "concerned" that wages have not increased adequately in relation to inflation for decades.
"People are paying much more than they can afford for childcare, for college, for healthcare and this legislation begins to address those concerns," he said.
Federal Reserve chair Jerome Powell downplayed concerns about inflation in remarks to the House Financial Services Committee on Wednesday.
"Inflation has increased notably and will likely remain elevated in coming months before moderating. Inflation is being temporarily boosted by base effects as the sharp pandemic related price declines from last spring dropout of the 12-month calculation," Powell said.
Senate Majority Leader Chuck Schumer, a New York Democrat, announced the $3.5 trillion budget reconciliation proposal on Tuesday. The massive spending plan aims to fund education priorities, expand health care access and provide new funding for child care. Biden met with Democratic lawmakers to outline the proposals in greater detail.
While Republicans and some economists have repeatedly warned about the risk of inflation, the White House and many economists have largely pushed back against these concerns. The Federal Reserve leaders have maintained that they have the necessary strategy and tools at their disposal to address the problem if it begins to worsen significantly.
Powell told lawmakers on Wednesday that the issue should be viewed as "temporary," pointing to shortages of parts for different products as well as a lack of used automobiles due to the fallout from the COVID-19 pandemic.
"It's all kind of the same story. It's a shortage of semiconductors. There's also very high demand for various reasons," Powell said. "It's just a perfect storm of high demand and low supply and it should pass. Unless we think there's gonna be a multi-year, many-year shortage of used cars in the United States, we should look at this as temporary. We very much think that it is."
Newsweek reached out to the White House for comment on the $3.5 trillion spending proposal but did not immediately receive a response.