Bernie Sanders Denies Sending Campaign to 'Trash' 2020 Rival: 'Have I Ever Said One Negative Word About Elizabeth Warren?'
Bernie Sanders has denied sending campaign volunteers to "trash" his 2020 Democratic primary rival Elizabeth Warren, saying the feud was a "bit of a media blowup," it has been reported.
The Vermont senator told reporters after an Iowa event over the weekend that both he and Warren had campaign teams with "hundreds of employees" who sometimes "say things that they shouldn't," according to The New York Times.
Sanders also said that Warren is a "very good friend" of his, while noting that the pair have "worked together in the Senate for years" prior to the 2020 primary race.
Sanders' attempt to calm tensions between the two campaigns comes after Politico obtained a purported script sent to his volunteers with talking points for organizers looking to sway party voters away from Warren.
A key criticism of Warren in the script seen by Politico touched on her ability to reach beyond the party base, saying she was "bringing no new bases in the Democratic Party."
Speaking to press about the leaked memo in a meeting shared on Twitter by Politico reporter Alex Thompson, Warren said: "I was disappointed to hear that Bernie is sending his volunteers out to trash me."
"We all saw the impact of the factionalism in 2016, and we can't have a repeat of that," the Massachusetts senator later said.
Warren also urged Sanders to "reconsider" and "turn his campaign in a different direction" in response to the alleged leaked volunteer script.
At a meeting with reporters following an Iowa campaign event, Sanders said he was not responsible for the script, The New York Times reported.
He said: "I got to tell you, I think this is a little bit of a media blowup, that kind of wants conflict."
After telling media that Warren is a "very good friend" of his, and saying the two would "continue to work together" in future, Sanders added: "No one is going to trash Elizabeth Warren."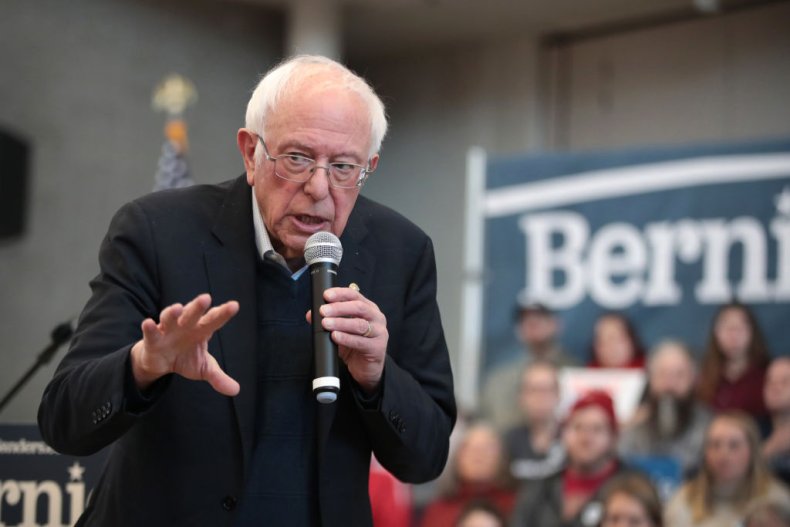 "We have hundreds of employees. Elizabeth Warren has hundreds of employees. And people sometimes say things that they shouldn't," the Vermont senator said. "You have heard me give many speeches. Have I ever said one negative word about Elizabeth Warren?"
Newsweek has contacted the Sanders campaign for further comment and will update this article should it receive a response.
The talking point script allegedly sent to Sanders campaign volunteers and seen by Politico contained lines against "status quo candidates" in general, as well as specific lines to take against the Vermont senator's fellow frontrunners Joe Biden, Pete Buttigieg and Warren.
"The people who support [Warren] are highly-educated, more affluent people who are going to show up and vote Democratic no matter what," the script read. "She's bringing no new bases into the Democratic Party."
Addressing former Vice President Biden, the script says "no one is really excited" about the ex-Delaware senator, and also claims that he "doesn't really have any volunteers and no support at all among young people."
"Pete has many admirable qualities as a candidate," the leaked memo says of Buttigieg. "But I would be very concerned if he became our nominee, he would not be able to beat Trump in the general election."
As the Real Clear Politics average of primary polls shows at the time of writing, Biden is the frontrunner for the Democratic Party's 2020 nomination, holding a 9-point lead over second place Sanders.
Warren is in third place with projected support from 14.6 percent of Democratic voters, while Buttigieg sits in fourth with 7.5 percent backing.