Bernie Sanders Leads in Iowa Poll Weeks Before Iowa Caucuses
U.S. Senator Bernie Sanders is the current favorite for the Iowa caucuses as he has taken the lead in a recent poll for the state weeks before Caucus Day.
According to a new Des Moines Register/CNN/Mediacom Iowa poll, 20 percent of likely Democrats planning to vote in the caucus name Sanders as their first choice for president. In the poll, the Vermont senator overtakes his closest competitors who Des Moines reports "remain locked in a tight contest".
The poll of 701 "likely Democratic caucusgoers", conducted by Selzer & Co., took place between January 2 and 8, 2020. It has a margin of error of plus or minus 3.7 percentage points, according to Des Moines.
"There's no denying that this is a good poll for Bernie Sanders," says J. Ann Selzer, president of Selzer & Co. "He leads, but it's not an uncontested lead. He's got a firmer grip on his supporters than the rest of his compatriots."
However, the state could be still up for grabs as according to Des Moines the top cluster of candidates has "led the Iowa poll at some point this cycle". Former Vice President, Joe Biden, South Bend mayor Pete Buttigieg, Sanders and Senator Elizabeth Warren have remained clustered atop throughout the 2020 campaign cycle, though no one has taken a strong lead and remained favorite.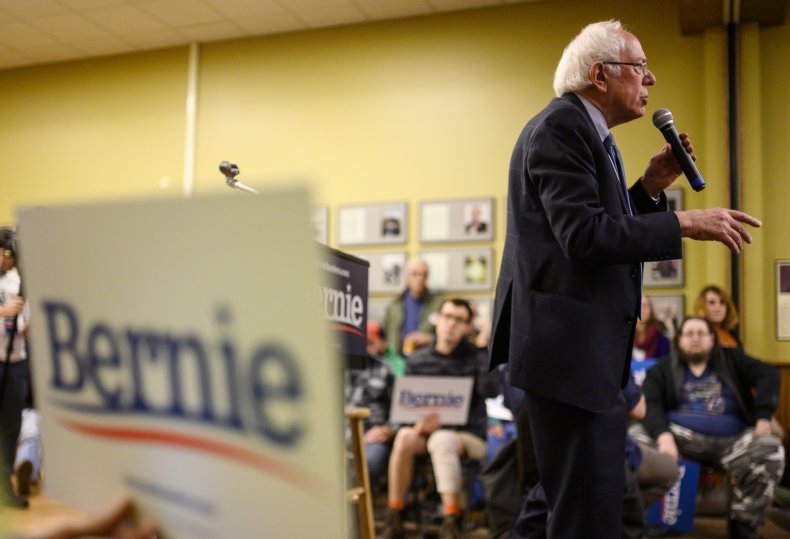 On the other hand, according to Des Moines, the percentage of those who say their mind is made up on their candidate has risen to 40 percent — up 10 percentage points from November 2019. That leaves 45 percent who say they "could still be persuaded to support someone else" and another 13 percent who have not picked a favorite candidate. The other Democratic Party candidates include U.S. Senators Amy Klobuchar (six percent) and Cory Booker (three percent) and entrepreneur Andrew Yang (five percent.)
Sanders also isn't immune to losing supporters in the state. According to the poll, the Vermont senator's supporters are concerned about the candidate's health (49 percent) as well as his ability to lead the military (23 percent.) Sanders had a heart attack in October 2019.
"The caucus process is an invitation to keep an open mind," Selzer says. According to Des Moines, the Iowa poll produced "similar numbers of undecided caucusgoers" at the same point during 2016, this time for the Republican Party.
The caucus process helps determine which candidates will be chosen to contend for the Democrat Party in the 2020 U.S. Presidential Election. After the first vote on Caucus Day, any candidates who don't receive at least 15 percent in a precinct get dropped, and people who initially backed them get to vote again for a final time.
The Iowa caucus is the first one of the primaries and will take place on February 3, 2020. According to the Iowa Secretary of State office, voters can register to vote on caucus night.
"For the caucuses, the political parties have packets that they have to distribute to all 1,681 precincts across the state, so they have to get those out early," Kevin Hall, communications director at Office of Iowa Secretary of State Paul D. Pate told Newsweek. "Voters can still register to vote on caucus night if they have ID and proof of residency.
Newsweek has contacted the Sanders campaign for comment on the Vermont senator's lead.
Update: This article has been updated with comment from the office of the Iowa Secretary of State.
Bernie Sanders Leads in Iowa Poll Weeks Before Iowa Caucuses | U.S.