Bernie Sanders to Say Donald Trump Loves Socialism—Just Not for the Working Class
Senator Bernie Sanders will outline his democratic socialist vision in a speech at George Washington University on Wednesday, during which he is expected to say that President Donald Trump loves socialism but only for the elite.
"While President Trump and his fellow oligarchs attack us for our support of democratic socialism, they don't really oppose all forms of socialism," Sanders will say, according to excerpts of his remarks released by his 2020 presidential campaign.
"They may hate democratic socialism because it benefits working people, but they absolutely love corporate socialism that enriches Trump and other billionaires," Sanders will tell the crowd.
President Trump and the Republican Party repeatedly attack Sanders for being a self-described democratic socialist and attacking the Democratic Party as socialist has become part of Trump's re-election strategy.
In a speech to Iowa Republicans on Tuesday evening, Trump tied the Democratic Party to socialism—pointing specifically to Sanders' "Medicare for All" health care proposal and Alexandria Ocasio-Cortez's co-sponsoring of the Green New Deal. The mention of the two progressive lawmakers were received with boos from the audience.
"The Democrat party has never been angrier—they're so angry... For what?" Trump said. "Every day the Democrat party is becoming more and more unhinged and more and more extreme. They're going crazy. Do you love it? I sort of love it."
In March, a fundraising committee for Trump's 2020 campaign warned voters in an email that all Democrats running for president are "full-blown" socialists who want wide-open borders and impose a 90 percent tax rate⁠—something no 2020 Democratic candidate has suggested.
"Over the past couple of weeks, Democratic presidential candidates have been unveiling their 2020 strategy and it's TERRIFYING," the Trump Make America Great Again committee wrote in their message to supporters. "This isn't a joke, this is actually what Democratic presidential candidates are running on in 2020 and we need to know what you think about this."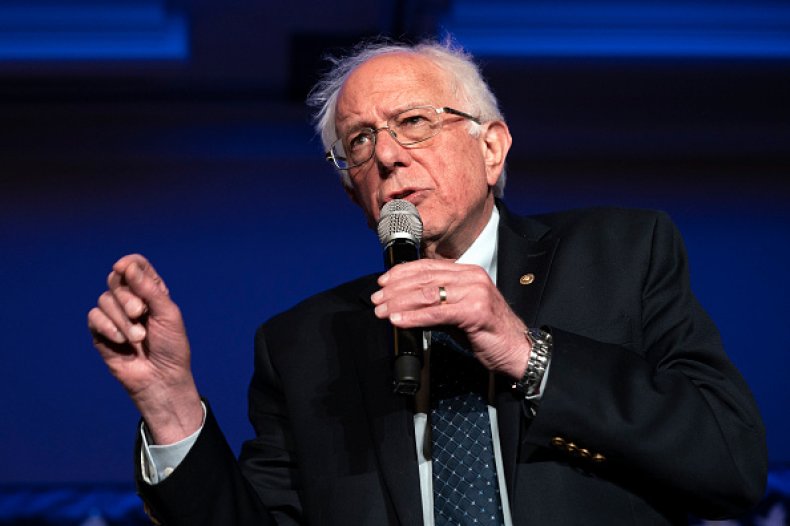 But support for democratic socialism could be on the rise as Sanders has been consistently at the top of the crowded 2020 primary field. A new poll by Quinnipiac University released on Tuesday showed Sanders defeating Trump by 9 percentage points if the general election were held today.
In his speech on Wednesday Sanders aims to explain "what democratic socialism means to me," the senator told Politico earlier this week. He will also argue that democratic socialism is the "unfinished business" of Franklin Delano Roosevelt's New Deal.
Sanders will make the case that housing, employment, health care, education and more are certain guaranteed rights that all Americans should have.
"We must recognize that in the 21st century, in the wealthiest country in the history of the world, economic rights are human rights," Sanders will say on Wednesday. "This is what I mean by democratic socialism."