Bernie Sanders: 'No Reason' to Doubt Lucy Flores' Biden Accusation, but Shouldn't Disqualify VP from 2020 Run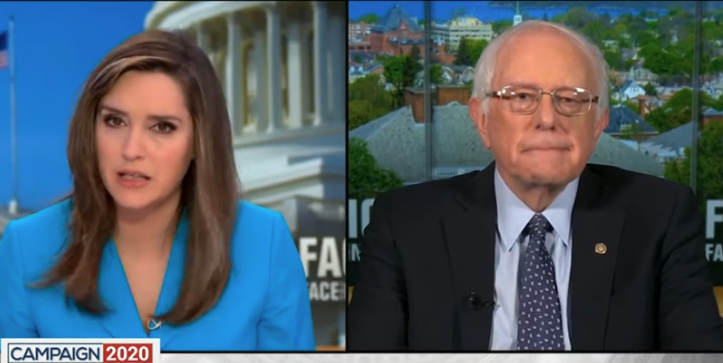 Senator Bernie Sanders said he has "no reason" to doubt Lucy Flores' allegation that former Vice President Joe Biden touched her inappropriately in 2014, but stopped short of saying this incident alone should disqualify Biden from seeking the Democratic nomination for the 2020 presidential election.
Speaking with CBS' Face the Nation Sunday, the Vermont senator and 2020 presidential polling frontrunner addressed former Nevada Assemblywoman Flores' allegation, published Friday by New York magazine, in which she claimed that Biden crossed a line when he kissed and smelled her hair without permission. The former vice president has since responded, saying, "not once, never, did I believe I acted inappropriately."
Sanders, who traded candidacy endorsements with Flores in their respective unsuccessful 2016 campaigns, demanded America as a country seek to prevent such incidents, not just in partisan political squabbles.
"I have no reason not to believe Lucy and I think what this speaks to is the need to fundamentally change the culture of this country," Sanders told CBS' Margaret Brennan Sunday. "And to create environments where women feel comfortable and feel safe and that's something we've got to do."
Flores said of the alleged 2014 incident, "It was shocking because you don't expect that kind of intimate behavior, you don't expect that kind of intimacy from someone so powerful."
Flores served in Nevada's State Assembly from 2011 to 2015 and was a candidate for lieutenant governor when the alleged inappropriate touching and kissing from Biden occured. Brennan stressed Flores' argument that Democrats are not taking the claim seriously enough. Additionally, the former legislator has said she believes these actions should disqualify Biden's potential 2020 presidential candidacy.
"I think that's a decision for the vice president to make," replied Sanders. "I'm not sure that one incident alone disqualifies anybody. But her point is absolutely right that this is an issue not just of Democrats and Republicans, the entire country has got to take seriously. It is not acceptable that when a woman goes to work or is any kind of environment that she feels anything less than comfortable and safe. And this is an issue the entire country has got to work on."
When pressed about past gender inequality or sexual harassment claims regarding his own 2016 campaign, Sanders responded definitively: "We have established the strongest protocols to prevent this from happening of any campaign in history."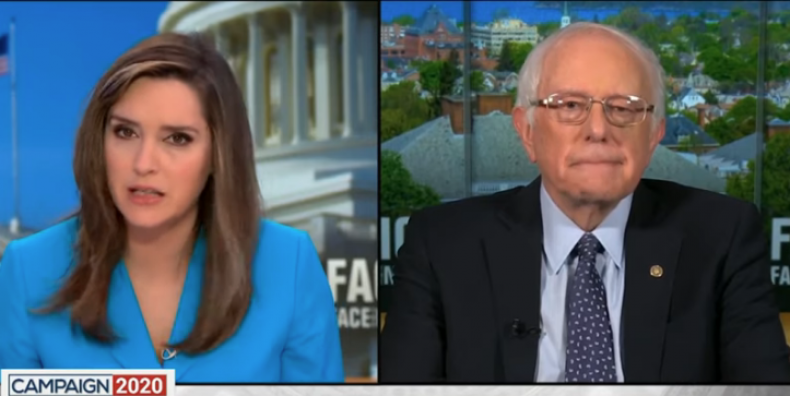 Sanders endorsed Flores during her unsuccessful 4th Congressional District seat campaign in 2016 and Flores endorsed Sanders that January amid his hotly contested Democratic presidential campaign against Hillary Clinton. Flores' opponent and ultimate winner of that election, Ruben Kihuen, backed Clinton during her campaign but he announced he would not seek re-election after allegations of sexual misconduct were revealed against him in December 2017.
Biden first responded Sunday to Flores' allegations he made her feel "uneasy" when he kissed her on the back of her head in an intimate fashion: "In my many years on the campaign trail and in public life, I have offered countless handshakes, hugs, expressions of affection, support and comfort. And not once — never — did I believe I acted inappropriately. If it is suggested I did so, I will listen respectfully. But it was never my intention."
Cynthia C. Hogan, a longtime senior staffer for Biden in the Senate and as vice president, issued a statement to NBC News Sunday defending him by saying Biden always treated women on staff with "respect."
Sanders' response Sunday echoed several political and Beltway media reactions from colleagues of Biden and those who have covered him. Former Ronald Reagan speechwriter and journalist Peggy Noonan said Biden "came from the fleshy world of '60s and '70s politics."
Illinois Democratic Sen. Dick Durbin told Meet the Press Sunday, "Certainly one allegation is not disqualifying, but it should be taken seriously."
But White House adviser Kellyanne Conway told Fox News Sunday, "If anybody just types in 'Creepy Uncle Joe Videos' you come up with a treasure trove…I think Joe Biden has a big problem here because he calls it affection and handshakes, his party calls it completely inappropriate."