Bernie Sanders Knocks Lack of Climate Change Provisions in Bipartisan Infrastructure Proposal
Senator Bernie Sanders, a Vermont independent, criticized a bipartisan infrastructure proposal backed by at least 11 Republican senators—calling out its relatively small overall price tag and the lack of provisions to address the climate change crisis.
The group of GOP lawmakers said on Wednesday that they backed the proposed "bipartisan framework that provides an historic investment in our nation's core infrastructure needs without raising taxes." Although the full details of the proposal have not been released, the price tag would be nearly $1 trillion over five years. That amount is substantially less than the more than $2 trillion President Joe Biden initially proposed and still much lower than the slimmed down $1.7 trillion proposal he later put forward in an effort to compromise.
"As I understand it, the so-called bipartisan plan really only provides about 25 percent of the money that the president asked for," Sanders, a prominent progressive who caucuses with the Democrats and chairs the Senate Budget Committee, told NBC News' Meet the Press on Sunday.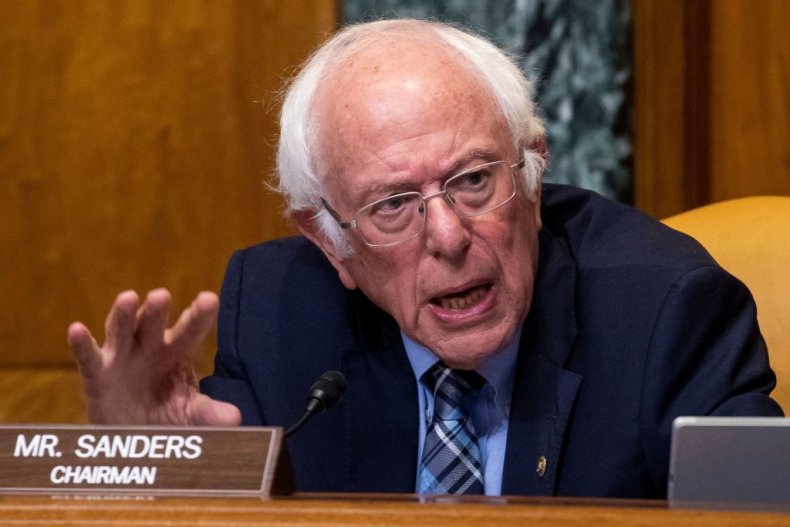 The Vermont senator's vote could be crucial to passing any package, as the Senate is evenly split (50-50) between Republicans and Democrats. Due to the Senate's legislative filibuster rule, 60 votes are generally required to pass legislation. As a result, Democrats usually must maintain unanimous support within their caucus and convince at least 10 Republicans to vote in favor of any legislation if they want it to move forward in the Senate.
"How do you go forward right now in this moment in history and not address the terrible climate crisis that we face and transform our energy system?" Sanders said, pointing to the lack of provisions within the bipartisan deal to address climate change.
The Biden administration has been negotiating with Republican lawmakers for months in an effort to reach a bipartisan compromise on infrastructure. Senate Majority Leader Chuck Schumer, a New York Democrat, and Sanders have suggested that Democrats are ready to move forward without Republicans. They have proposed passing a substantially larger infrastructure package through the budget reconciliation process—which could allow the bill to pass without Republicans as long as all Democratic senators voted in favor.
Schumer met with the Democrats on the Senate Budget Committee last week to discuss going through the budget reconciliation process. "We have a lot of things we have to do to help the American people. And we have to have unity to do it and everyone has to listen to one another, and it was a good first meeting," the Democratic leader told reporters after the meeting.
Democratic lawmakers have also suggested that they could pass a bipartisan infrastructure package with GOP colleagues, and then use the budget reconciliation process to approve more of Biden's agenda that Republicans won't support. Democrats are reportedly considering up to $6 trillion of additional spending in a package that they would attempt to push through without any GOP backing.
Newsweek reached out to the White House for comment but did not immediately receive a response.