Bernie Sanders Launches All-Out Offensive on Mitch McConnell Over $2,000 Stimulus Checks
Tensions continue to mount in Congress over raising stimulus checks from $600 to $2,000, as Senator Bernie Sanders criticized Senate Majority Leader Mitch McConnell, who opposes such an increase.
Sanders has continued to rally against Senate Republicans for their reluctance to support passing $2,000 checks, even using President Donald Trump's words against them. He has since laser-beamed his focus onto McConnell, who represents Kentucky, as the clock ticks down for federal coronavirus relief.
On Thursday, the Vermont senator called out McConnell's stimulus "hypocrisy" for providing tax breaks to millionaires such as Las Vegas Sands Corporation CEO Sheldon Adelson—while blocking federal payments to American adults struggling financially due to the COVID-19 pandemic.
"All of a sudden, Mitch McConnell is 'worried' about giving a $2,000 check to someone who 'doesn't need it,'" Sanders tweeted. "That's funny. He had no problem giving a $560 million tax break to Sheldon Adelson who is worth $34.3 billion. Total hypocrisy! Let the Senate vote on $2,000 now, Mitch!"
The day before, Sanders called out McConnell's efforts to kill the larger checks, tweeting that the majority leader "has the right to vote against this legislation. But he should not have the right to block a vote."
This week, McConnell thwarted an attempt by Democratic Senate Minority Leader Chuck Schumer to unanimously approve a House-passed bill to increase direct payments from $600 to $2,000.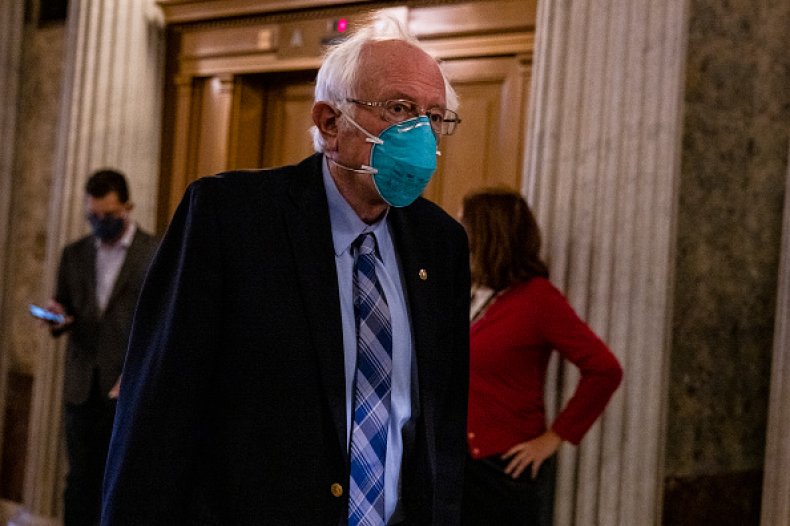 "It goes beyond the struggles of the people of Vermont or Kentucky and let me just make it clear for the majority leader that 10 out of the poorest 25 counties in the United States of America are located in Kentucky," Sanders said from the Senate floor Wednesday, emphasizing the aid $2,000 stimulus check could bring to McConnell's home state.
"The majority leader might want to get on the phone and start talking to working families in Kentucky and find out how they feel about the need for immediate help in terms of a $2,000 check for adults," he added. "And I have the strong feeling that the people of Kentucky will respond no differently than the people of Vermont or New York."
On Tuesday, Sanders pointed at McConnell directly again, tweeting: "Bring the $2,000 checks up for a vote, Mitch. That's what democracy is about. That's what the American people want."
Back on December 23, the progressive senator from Vermont wrote: "Hey, Senator McConnell. The ball's in your court. Schumer, Pelosi and Trump all want us to pass a $2,000 direct payment for working-class Americans who are facing more economic desperation than at any time since the Great Depression. Leader McConnell, let the Senate vote!"
Sanders has demanded $2,000 stimulus checks since negotiations for a second relief package began seven months ago. The legislation he introduced with Vice President-elect Kamala Harris and Senator Ed Markey originally included $2,000 in direct payments.
Sanders has stated that it is up to Trump to get McConnell and other Senate Republicans to back the checks.
While the Vermont senator has continued demanding that McConnell bring the payments to a vote, the Kentucky senator has insisted there is "no realistic path" to the proposal and said that lawmakers were "not going to be bullied into rushing out more borrowed money into the hands of Democrat rich friends who don't need the help."
Newsweek reached out to McConnell for comment, but did not hear back before publication.