Bernie Sanders Leads Joe Biden In New National Poll As Democrats Head Into New Hampshire Primary
Senator Bernie Sanders has surged into the lead nationally as former Vice President Joe Biden has seen his support decline dramatically ahead of New Hampshire's primary, the first in 2020, according to a new poll.
The latest survey data from Quinnipiac University, which was released Monday, showed Sanders with a significant lead after Biden's poor performance in the Iowa caucuses last week. Sanders is up 4 percent nationwide, compared with poll results in late January, leading the pack with 25 percent support. Biden, meanwhile, has dropped 9 points, going down from 26 percent to just 17 percent.
Close behind Biden in third place is former New York City Mayor Mike Bloomberg, at 15 percent. The billionaire businessman has avoided running a normal campaign, disregarding voters in Iowa and New Hampshire entirely. He has instead chosen to pay hundreds of millions from his own fortune—which totals about $60 billion—on television ads targeting voters.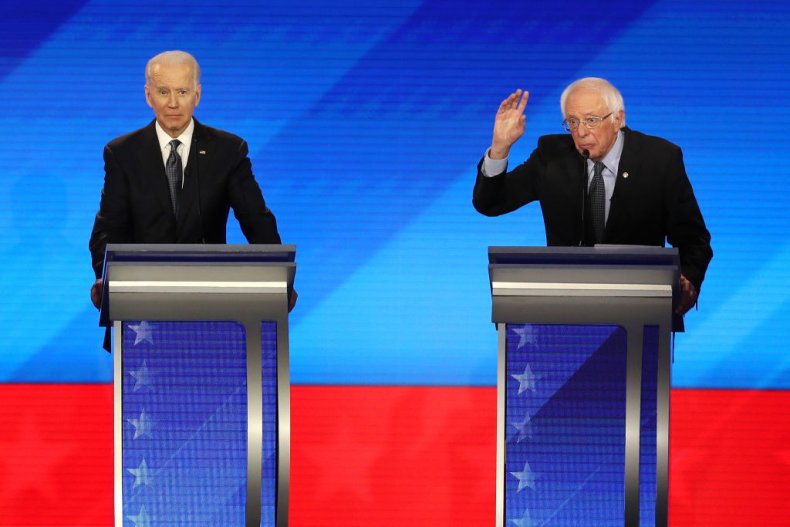 Senator Elizabeth Warren is just behind Bloomberg, with 14 percent support, followed by former Mayor Pete Buttigieg at 10 percent. None of the other contenders polled in the double digits.
Most national polls conducted before Iowa showed Biden with a commanding lead. One outlier was a CNN survey released in mid-January that showed Sanders ahead of Biden by just a few points, 27 percent to 24 percent. An aggregate of the three most recent national polls compiled by Real Clear Politics shows Biden and Sanders nearly neck in neck. Biden maintains a slight lead with 23 percent, compared with Sanders' 22.7 percent.
While Sanders and Buttigieg have both declared victory in the Iowa caucuses, although the results have not been finalized, Biden was the clear loser of the contest. The former vice president placed a distant fourth and is expected to perform poorly in New Hampshire's primary as well. The latest New Hampshire polls have shown Sanders in the lead, with Buttigieg coming in second.
Biden's biggest selling point to Democratic voters has been that he is highly electable—having served as President Barack Obama's No. 2—and can beat President Donald Trump in the general election. But voters nationwide appear to be questioning those talking points, particularly in the wake Biden's poor showing in Iowa.
Speaking to New Hampshire voters in the wake of the Iowa loss, Biden admitted that Buttigieg and Sanders were "better organized" in the Midwestern state. "I'm not going to sugarcoat it. We took a gut punch in Iowa," he said.
The latest Quinnipiac poll also shows Sanders with slightly better odds of beating Trump in the general election. According to voters surveyed by the university, Sanders had 51 percent to Trump's 43 percent. Biden's lead was just slightly narrower, at 50 percent to Trump's 43 percent.
Buttigieg, who many now see as a strong contender after his success in Iowa, would beat Trump by a narrower margin: just 4 points, 47 percent to 43 percent, the poll said.