Bernie Sanders Will Benefit if Elizabeth Warren Drops Out, Pollsters Say—But Would it Be Enough to Beat Biden?
Senator Bernie Sanders will not necessarily become the clear frontrunner in the 2020 Democratic race if Senator Elizabeth Warren eventually drops out, pollsters say, though he is likely to benefit from her exit.
The Iowa primary debate on Tuesday night ended with Warren, a Massachusetts Democrat, declining to shake Sanders' hand amid a feud between their campaigns.
Warren claims that Sanders told her in a private December 2018 meeting a woman could not beat President Donald Trump. But Vermont independent Sanders denies this, and the dispute played out in the debate.
The two senators share a similar progressive space in the contest and there is some natural crossover between their support bases. But it is not a given that Warren supporters would flock to Sanders.
Quinnipiac University polling analyst Tim Malloy told Newsweek that Warren supporters could "go to many different people" in the contest, including Pete Buttigieg, the former mayor of South Bend, Indiana.
Malloy said backers of the left-wing candidates were "not necessarily transferable from one to the other."
"There's a big difference between Sanders and Warren, despite the fact they're both painted with a broad brush being progressive, or left more left of center than the others," Malloy told Newsweek.
Morning Consult senior editor Cameron Easley told Newsweek that Warren and Sanders "have similar views on what's ailing American government and are the two most liberal candidates vying for the party's nomination."
"From that perspective, he would naturally benefit from her exit, and if she were to endorse him, it could move even more of her supporters into his camp," Easley said.
But while Warren supporters moving to Sanders would "certainly make the race more competitive," Easley cautioned that it was "tough to see him becoming the undisputed front-runner."
"While he has a very solid bloc of supporters, he hasn't broadened his coalition of support," Easley said over email.
Easley noted that Morning Consult's first tracking poll in 2019 had Sanders at 23 percent among Democratic primary voters and so did its latest poll.
"His outsider status may be a hindrance in 2020 instead of the boon it was in 2016, when many votes cast in his favor were in protest of Hillary Clinton," Easley told Newsweek.
"The closer Sanders gets to winning the nomination, the harder the party establishment is likely to fight to defeat him."
As national Democratic primary polling stands, former vice president Joe Biden sits in first position at 27.2 percent, an eight-point lead over second-place Sanders, according to the RealClearPolitics average.
Sanders is on 19.2 percent, above Warren in third place, who is backed by around 16 percent of the Democratic Party electorate.
Recent polls found the gap between Biden and Sanders to be narrower. Separate survey results from Quinnipiac University and Morning Consult published Monday showed the former vice president had only a six-point lead over Sanders.
The Morning Consult poll also found a nine-point gap between Sanders (23 percent) and Warren (14 percent) and the trajectory looks good for the Bernie 2020 campaign.
The RCP average of primary polls shows Warren's numbers have plunged by 10 points since she was neck-and-neck with Biden on October 9 last year. Sanders has benefited from a five-point boost.
Morning Consult and Quinnipiac polls released on Monday show downward shifts in Warren's support.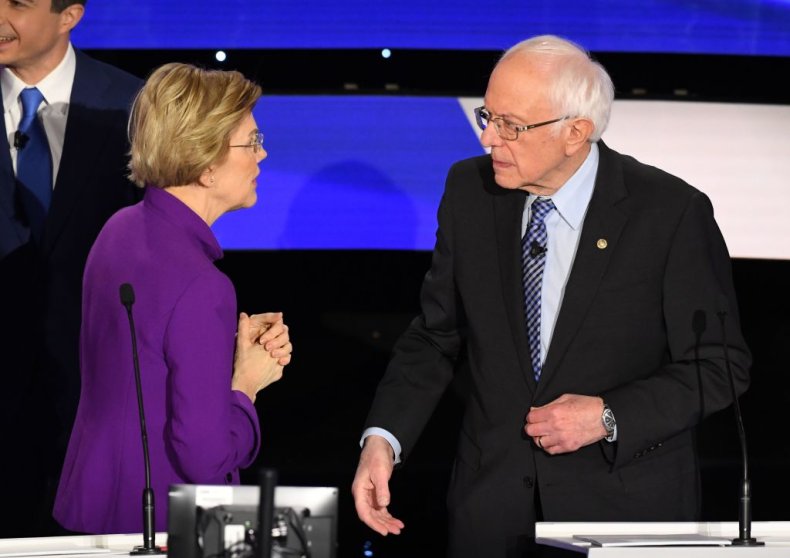 The former found Warren's rating had fallen six points since November 3. The latter found her to be 14 points down from mid-October when she was in first place.
By comparison, Sanders has boosted his Quinnipiac University polling numbers by eight points over the same period, and his Morning Consult performance has improved by three points.
"I think you can say by looking at the numbers that Sanders has made his state more steady and solid than Warren, who has had sort of a little bit of a roller coaster here," Malloy told Newsweek.
Polling data appears to support this view going forward. The latest Quinnipiac primary survey found 42 percent of Sanders supporters were fixed in. Only 28 percent of Warren supporters said the same.
Moreover, 70 percent of Warren's backers also said they might change their minds before the primary.
Malloy said he could not see Warren "going anywhere for a while," despite her currently volatile polling base.
Asked for their second choice preferences in Morning Consult's Monday survey, more than a third (34 percent) of Warren backers opted for Sanders.
Just under a quarter (23 percent) leaned towards Biden. A similar number of Sanders supporters opted for Warren (33 percent) and slightly more looked to Biden as a number two (27 percent).
But the Quinnipiac poll also found that larger portions of voters backing Warren and Sanders would get behind the other progressive candidate if their first choice dropped out.
Fifty-two percent of Warren supporters said they would opt for Sanders if she quit while 57 percent of his supporters said they would back her if he left the race.
Easley told Newsweek that most of the movement in the 2020 race so far "has been driven by white, college-educated liberals with higher incomes—and Warren's upward and downward trends over the past few months is a case in point."
He said some of the support Warren has lost went over to Sanders and Biden, while Buttigieg and Michael Bloomberg have also seen their numbers rise.
"This comparatively volatile bloc of the Democratic primary electorate has changed its mind more than once and after fueling Warren's surge, they're also mostly responsible for her recent declines," Easley said.
Asked how long he thought Warren would stay in the race in light of her polling numbers, Easley stressed the importance of the early nominating contests, particularly Iowa and New Hampshire.
"If she wins one or both of those races, maybe voters in some of the more diverse states set to weigh in a little further down the road will take note and start supporting her," he said.
"But if she flames out, it's hard to see much of a rationale for her staying in."