Bernie Sanders' Medicare for All Policy Would Likely Increase Wages and Create Jobs, New Economic Analysis Shows
A new analysis of the economic impact of a Medicare for All health care reform, like the signature policy proposal of Democratic presidential candidate Bernie Sanders, suggests that such a plan would not only increase wages for workers but also create additional jobs.
Sanders, a progressive senator from Vermont who is currently a close second to former Vice President Joe Biden, the Democratic frontrunner, has long advocated for a universal or single-payer health care system. Critics argue that such a policy would lead to mass job loss and be an economic drain on the country, but the new analysis published Thursday by the Economic Policy Institute (EPI) suggests the opposite would happen.
Josh Bivens, EPI's director who conducted the study, wrote in the report that Medicare for All "would be unambiguously positive" for the labor market in the U.S., leading to a "boost in wages and salaries" as well as an "increase in job quality, while producing "a net increase in jobs."
Although the analysis notes that policymakers should not "ignore the distress caused by job transitions" due to such a health care reform, Bivens wrote that job losses during a transitional period would be "relatively small."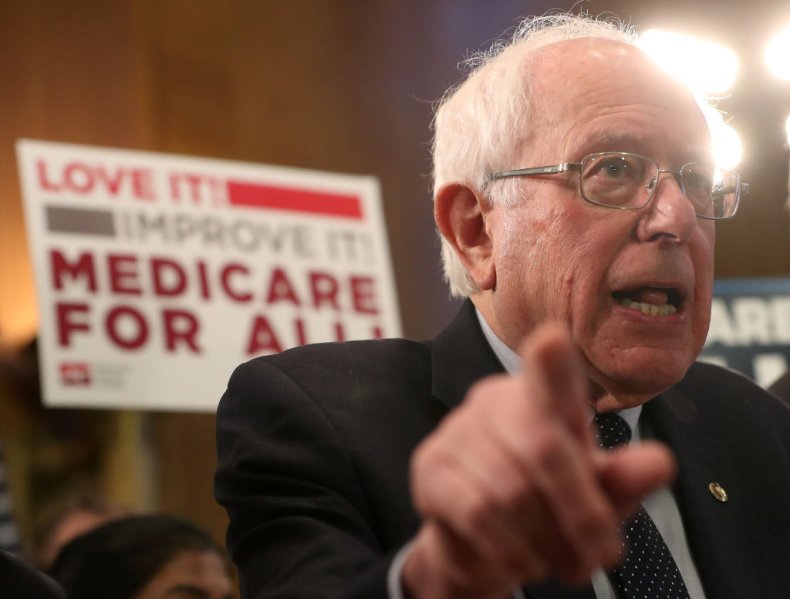 "Despite the fact that M4A [Medicare for All] could deliver these large benefits to efficient labor market functioning, the policy often comes under fire from critics making highly exaggerated claims about the potential job loss that could occur under such a reform," Bivens noted.
"The grain of truth in some of the claims is that, like any productivity improvement, the adoption of a reform like M4A would require the redeployment of workers from one sector (the health insurance and medical billing complex) to other sectors (mostly the delivery of health care)," he wrote. "But there is little in the M4A-induced redeployment of workers that would greatly stress the American labor market over and above the uncertainty and churn that characterizes this labor market every year."
Wendell Potter, a former health insurance vice president who left the industry and now advocates for health care reform, told Newsweek that the analysis undermines a key argument the private insurance industry uses to push back against Medicare for all.
"It's a dark day for my old pals in the insurance industry because one of their few arguments for keeping the current system placing profits over care, is gone," Potter said. "On top of the obvious medical benefits, America's jobs outlook will improve under Medicare for All. The data proves it."
Critics of Medicare for All, which was also endorsed by Senator Elizabeth Warren of Massachusetts, a former Democratic presidential candidate who suspended her presidential campaign on Thursday, have also repeatedly questioned how such a plan would be paid for. They've argued that it would be far too expensive and become a major drain on the federal budget.
But a study by researchers at Yale University, the University of Florida and the University of Maryland published in mid-February found that universal health care would actually save about $450 billion per year in health care costs. Additionally, it projected that a Medicare for All system would prevent at least 60,000 unnecessary deaths every year, as tens of millions of uninsured Americans would receive full health coverage under the system.
"Our study is actually conservative because it doesn't factor in the lives saved among underinsured Americans—which includes anyone who nominally has insurance but has postponed or foregone care because they couldn't afford the copays and deductibles," Alison Galvani, an author of that study, who is a researcher at the Center for Infectious Disease Modeling and Analysis at the Yale School of Public Health, told Newsweek last month.
Most Democratic voters appear to support a transition away from private insurance toward a universal health care system, according to exit polls conducted in the 18 states to have held primaries and caucuses so far in this election cycle. A plurality of Democratic voters in all the states to have voted thus far have backed the idea of government insurance, while majorities of voters backed the policy idea in 16 states.
Biden supports more modest health care reform. The former vice president has advocated for expanding the Affordable Care Act (ACA), known commonly as Obamacare, by making a Medicare buy-in option available to some Americans. His plan would allow private insurance to continue to compete alongside the government-run system.