Bernie Sanders Campaigners Urged to Highlight How Biden Presidency Would Only 'Enrich the Wealthy and Well-Connected'
Bernie Sanders' campaign team is urging his supporters to highlight the "crystal clear" differences between his and former Vice President Joe Biden's policies as the pair look set to become the main frontrunners in the 2020 Democratic presidential election.
In a memo, seen by The Washington Post, the Vermont senator's team said voters must be aware that the race is now between Sanders' movement and his "message of change" and Biden's effort to—in his own words—make sure that 'nothing will fundamentally change' for the billionaire class that buys elections," a reference to comments made by Biden during a New York fundraising event last June.
The message is being pushed ahead of Super Tuesday where several key primaries and caucuses are set to take place, including in Texas and California, after which a clearer idea of who the Democratic nomination could be will be in place.
Biden has gathered some much needed momentum following his primary victory in South Carolina after previous disappointing results.
He has also received a boost by getting backing from moderate candidates Pete Buttigieg and Amy Klobuchar after they dropped out of the race ahead of Super Tuesday, as well as from former Texas congressman Beto O'Rourke.
In Sanders' memo, the team said they now need to highlight how Sanders' and Biden's policies on key issues such as social and health care and trade are in contrast to each other. The team also claim that Sanders' agenda is a "far more popular general election agenda" than Biden's as the pair are expected to be the main two contenders after Super Tuesday.
"In the last 24 hours, the Biden campaign has worked to coalesce the Washington establishment and its big donors around his campaign to protect the status quo," the memo adds.
"These differences make clear that the choice between these two candidates is stark—it is a choice between the party's core economic and social justice agenda, and the Washington establishment's agenda that aims to protect and enrich the wealthy and well-connected."
The team once again attacks Biden for spending "30 years trying to cut Social Security" as they have previously done during the campaign, as well as pointing out that the former VP has been "bankrolled by a super PAC run by health care industry lobbyists" while opposing Sanders' flagship Medicare for All policy.
The memo also urged supporters to remind people that Biden supported the 2005 Bankruptcy Bill as well as the Iraq War.
The memo arrives after President Donald Trump again suggested that Biden and other Democrats such as Buttigieg are now backing the former VP and "staging a coup" against Sanders in a bid to stop the most left-wing candidate from winning the nomination.
Speaking to MSNBC, Biden dismissed suggestions he is fronting a movement to try and force out Sanders and that he has only been part of "movement 'Elect Biden.'"
He added: "There's going to be a clear choice people are going to have to make in the Democratic Party: You're looking for a revolution, for somebody who has not gotten a whole lot done. He's [Sanders] a good guy, but hadn't gotten a whole lot done in the United States Congress.
"The next president of the United States, he or she, is going to inherit a world in disarray and a country that's divided. And they're going to have to not only be able to beat Trump, they're going to have to be able to win back the Senate and keep the House of Representatives.
"I know [the GOP] better than anybody. I've been the object of their affection for a while now. And I know how to beat them."
Biden's team has been contacted for further comment.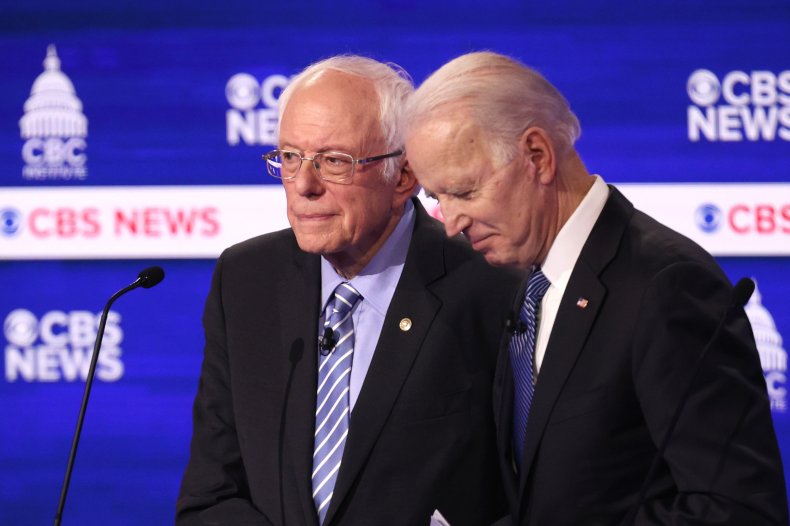 Correction 3/5/20, 4:40 a.m. ET: This article was updated to correctly state that Joe Biden won in South Carolina.