As Democratic Primary Becomes Two-Person Race, Calls for Candidates to Exit Increase—Especially for Bloomberg
Five candidates remain in the 2020 Democratic primary but strategists say it's already become a head-to-head matchup between former Vice President Joe Biden and Vermont Senator Bernie Sanders.
"At this point, whether some candidates realize it or not, it's essentially a two-person race," Democratic strategist Chris Kofinis told Newsweek. "It's really down to Sanders and Biden."
Three candidates have already dropped out of the race in the hours ahead of Super Tuesday: Billionaire Tom Steyer, former South Bend, Indiana, Mayor Pete Buttigieg and Minnesota Senator Amy Klobuchar.
But the wild card in the 2020 Democratic field is Michael Bloomberg. The former New York City mayor has yet to compete in any early voting states and has zero delegates. But with virtually unlimited resources, the 78-year-old billionaire has more options than his rivals to stay in the race—despite calls for him to drop out—even if he doesn't start to collect primary victories.
"If the reason for Bloomberg getting into the race was that everyone else seemed anemic as opposed to Sanders and someone needed to take him on, well that's not the case anymore. Not after South Carolina," Democratic strategist Scott Ferson told Newsweek.
The candidates who also face a difficult, if not impossible, road to the nomination are Tulsi Gabbard and Elizabeth Warren. The two are polling significantly lower than their rivals nationally and are running low on cash. They're also far behind Biden and Sanders in the delegate count.
"They are going to drop out, it's just a question of time. They're going to be so far behind the others that it's not going to be realistic," Kofinis said.
For Biden, South Carolina was a turning point. The former vice president, who suffered huge losses in Iowa and New Hampshire, clinched victory in the state by a whopping 30 percentage points. He's now just eight delegates behind Sanders.
And as Biden emerges as the only viable moderate alternative to Sanders, calls for Bloomberg to exit are likely to increase. Both Kofinis and Ferson said the longer Bloomberg stays in the race, the more likely it is that either Sanders wins or that there is a brokered convention.
That's not likely to bode well with moderate Democrats, who are already concerned that Sanders could run away with the party's nomination. Buttigieg alluded to such a possibility as he abruptly suspended his campaign Sunday night.
"He didn't want to be the person who hung on too long and could be blamed for an eventual Sanders nomination," Ferson said.
Buttigieg's exit came less than 24 hours after Steyer bowed out after his unexpectedly poor performance in South Carolina. The editorial board at USA Today suggested that other Democrats follow Buttigieg and Steyer's lead and drop out of the race.
Klobuchar quickly followed suit, effectively ending her campaign Monday. According to NBC News, she will announce her departure Monday night and throw her support behind Biden ahead of Super Tuesday.
Here's a look at the candidates who are facing pressure to call it quits.
Mike Bloomberg
If Bloomberg doesn't perform well on Super Tuesday, he has no chance to capture the number of delegates needed to secure the party's nomination. But thanks to his $1 billion war chest, he can afford to remain in the race, though many experts say his prolonged appearance would be a detriment to the Democratic Party. Staying on the ticket would likely siphon votes from other candidates and lead to a contested convention or to a landslide Sanders victory.
"The Democratic Party is not going to nominate Michael Bloomberg. It's just not going to happen," Kofinis said. FiveThirtyEight forecasters currently predict there is less than one one-hundredth of a chance Bloomberg wins the Democratic primary.
Bloomberg has said he'd continue to pour millions into the race to fund whoever wins the nomination, even if it's not him. But during a 60 Minutes interview on Sunday, Bloomberg signaled he'd continue as a candidate even if he doesn't finish in the top three on Super Tuesday.
On Monday, Bloomberg told supporters in northern Virginia that he had just spoken to Buttigieg and Klobuchar (who are both expected to back Biden) and that he wished them well.
"I thought both of them behaved themselves," he said. "I felt sorry for them but I'm in it to win it."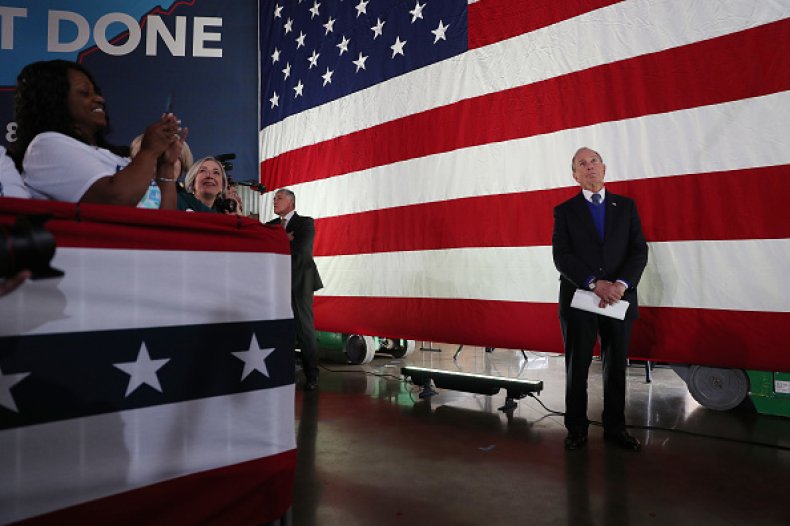 Tulsi Gabbard
Gabbard has been in a precarious position in the race for the past few months. She has not qualified for an official debate since November 2019. She's currently polling at just 1 percent nationally, according to RealClearPolitics. She also has not collected any delegates so far.
"When she drops out people will be hard-pressed to remember that she was in it at this point," Ferson said.
Ahead of the South Carolina primary, the Hawaii congresswoman told reporters that the idea of dropping out hasn't been discussed within the campaign. "I know that our path forward lies in continuing to be able to reach out directly to voters and deliver our message about how I'm the best candidate to defeat Trump in November," she said.
Elizabeth Warren
At the end of January, Warren was the candidate with the least amount of cash. According to campaign finance filings, she had just $2.3 million in the bank and had to take a $3 million line of credit. She's currently in third place, after Buttigieg's exit, with eight delegates.
"[Super Tuesday] could narrow her odds quite significantly," Ferson said, noting that it will be harder for Warren to continue if she isn't successful in her own home state. Right now, she's in danger of losing Massachusetts to Sanders. The latest WBUR poll of the state found Warren trailing the Vermont senator by 8 points.
But when asked in Alabama on Sunday if she was listening to calls for her to exit the race, she responded: "I persist."