A man was kicked out of a Bernie Sanders rally in Phoenix after he unfurled a Nazi flag during the democratic presidential hopeful's speech.
Videos posted on social media show a man in a white t-shirt displaying a large swastika flag while Sanders is onstage at the Veterans Memorial Coliseum on Thursday night.
The crowd then starts booing the man after spotting the flag in the stands, prompting others to tear it away from him.
The man was then escorted out of the building by security. Sanders does not appear to have noticed the flag directly.
A separate clip also posted on social media shows a man in a white t-shirt, believed to be the one seen waving the Nazi flag, in the venue's parking lot yelling racial slurs as he walks away.
"The senator is aware of the flag with the swastika on it and is disturbed by it," Sanders spokesman Mike Casca told Buzzfeed's Ruby Cramer. Sanders, who is in the running to become the first Jewish president, is reported to have been told about the Nazi flag after his speech.
The incident was part of a number of disruptions at the rally, which included one person being escorted away from the stands after he unveiled a pro-Donald Trump flag.
Sanders' team has been contacted for further comment.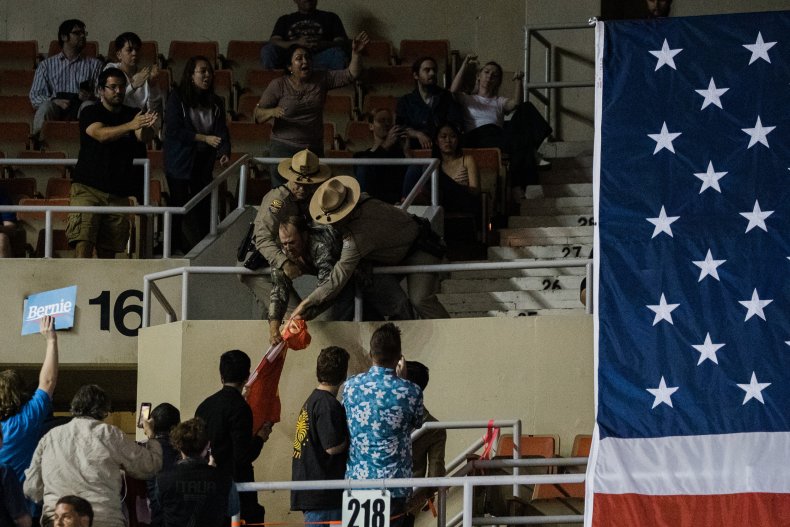 Last month, Chris Matthews was forced to apologize to Sanders after he compared his victory in the Nevada caucuses to the Nazi invasion of France during a segment on MSNBC.
"I was reading last night about the fall of France in the summer of 1940 and the general, Reynaud, calls up [Winston] Churchill and says, 'It's over,'" Matthews said. "And Churchill says, 'How can that be? You've got the greatest army in Europe. How can it be over?' He said, 'It's over.'"
Matthews, who has since left MSNBC following a string of controversies, later apologized to Sanders, who had family that were killed by Nazis during the Holocaust.
"I'm sorry for comparing anything from that tragic era in which so many suffered, especially the Jewish people to an electoral result in which you were the well-deserved winner," Matthews said.
Sanders' rally in Phoenix took place as he continues to push for the democratic nomination after falling behind Joe Biden in terms of delegates after Super Tuesday.
Sanders won just four of the 14 primaries on offer during Super Tuesday, but did beat Biden in the biggest primary of California where 415 delegates are available.
Speaking to reporters following Super Tuesday's results, Sanders said he is now focusing on the upcoming primaries while referencing the remarks from Matthews.
"We're campaigning and doing everything we can to win in Michigan and Washington, Mississippi, North Dakota, Idaho, and Missouri," he said.
"There has never been a campaign in recent history which has taken on the entire political establishment, and that is an establishment which is working frantically to try to defeat us," Sanders added.
"There's not been a campaign that has been having to deal with the kind of venom we're seeing from some in the corporate media.
"This campaign has been compared to the Coronavirus on television. We have been described as the Nazi army marching across France, et cetera, et cetera."
The Arizona Democratic primary will be held on March 17.
The graph, provided by Statista, shows the total number of delegates awarded to Democratic primary candidates as of March 6.