Alexandria Ocasio-Cortez is expected to announce her endorsement of Bernie Sanders for president at a Saturday campaign rally in Queens, New York.
The rally will be held at 1 p.m. (the grounds open at 11:30 a.m.) in Queensbridge Park, at Vernon Boulevard and Queens Plaza South in the Long Island City neighborhood. A map of the rally's location and an RSVP form is available on the Sanders campaign site.
If you can't make it to Queens, a live stream of the rally will be presented on the Sanders YouTube channel.
Sanders announced the event on Tuesday, hours before the fourth Democratic debate. "We are the strongest campaign to take on Donald Trump," he tweeted. "But that's not all. We are going to transform the country. Join me and a special guest in New York for a rally this Saturday, October 19, at Queensbridge Park."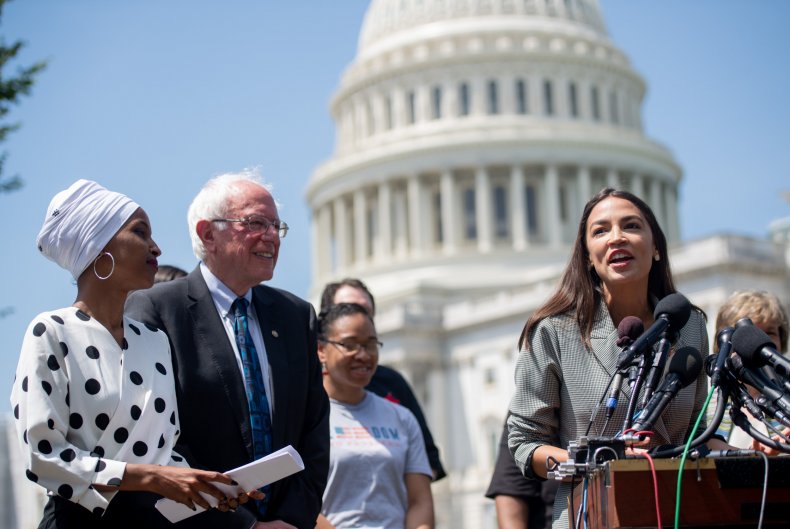 The Vermont senator said the event, dubbed "Bernie's Back Rally," was proof of his fitness after suffering a heart attack early in October.
"I'm healthy. I'm feeling great," Sanders said Tuesday on the debate stage at Otterbein University in Ohio. "Let me invite you all to a major rally we're having in Queens, New York. BernieSanders.com. We're going to have a special guest at that event, and we are going to be mounting a vigorous campaign all over this country. That's how I think I can reassure the American people."
During the debate, The Washington Post confirmed Sanders' "special guest" would be Ocasio-Cortez, who represents New York's 14th congressional district, which includes parts of both Queens and the Bronx. On Wednesday, Sanders was endorsed by U.S. Representative Ilhan Omar of Minnesota.
A coveted endorser in the Democratic field, Ocasio-Cortez shares with Sanders a democratic socialist agenda, including his plan for a national single-payer replacement for private health insurance, as part of a Medicare for All bill.
"I get a little bit tired, I must say, of people defending a system which is dysfunctional, which is cruel, 87 million uninsured, 30,000 people dying every single year," Sanders said Tuesday, defending his Medicare for All plan during the fourth Democratic debate.
The Medicare for All Act of 2019 has 14 Senate co-sponsors, including Democratic presidential candidates Cory Booker and Kamala Harris, who have since distanced themselves from the single-payer aspect of the bill, which would massively affect private insurance companies. Senator Elizabeth Warren, another co-sponsor of the bill, described the legislation in September as a "framework," signaling her openness to options other than the single-payer system that is central to Sanders' proposal.
A central aspect of the Sanders campaign, Medicare for All is likely to feature prominently at his New York rally, alongside policies newly announced by the campaign, such as a plan to transfer ownership of 20 percent of large corporations to their employees.