During a Democratic forum hosted on Saturday night by Univision, the Spanish language network, Senator Bernie Sanders said that the overthrow of Bolivian President Evo Morales was a "coup."
The moderator, Jorge Ramos—who was tossed from a news conference by presidential candidate, Donald Trump, in 2015—said others have maintained it was not a coup, and that Morales was attempting to become a dictator.
"I don't agree with that assertion," Sanders responded. "I think Morales did a very good job in alleviating poverty and giving the indigenous people of Bolivia a voice that they never had before."
"Now we can argue about his going for a fourth term, whether that was a wise thing to do... But at the end of the day, it was the military who intervened in that process and asked him to leave. When the military intervenes, Jorge, in my view, that's called a 'coup,'" said Sanders.
On Monday evening, the 2020 presidential hopeful doubled down on his perspective.
"I oppose the intervention of Bolivia's security forces in the democratic process and their repression of Indigenous protesters. When the military intervened and asked President Evo Morales to leave, in my view, that's called a coup," wrote Sanders.
Sanders first acknowledged the unrest in Bolivia on November 11 when he posted, "I am very concerned about what appears to be a coup in Bolivia, where the military, after weeks of political unrest, intervened to remove President Evo Morales. The U.S. must call for an end to violence and support Bolivia's democratic institutions."
Elizabeth Warren eventually tweeted that the Bolivian people deserve free and fair elections, as soon as possible, but did not mention a coup, which drew criticism from progressives and Indigenous activists.
"Bolivia's interim leadership must limit itself to preparing for an early, legitimate election. Bolivia's security forces must protect demonstrators, not commit violence against them," Warren wrote.
Two progressive freshman Democrats who endorsed Sanders in his 2020 bid for president joined his condemnation of Morales' resignation: Representatives Alexandria Ocasio-Cortez and Ilhan Omar.
"There's a word for the President of a country being pushed out by the military. It's called a coup," Omar wrote on Sunday.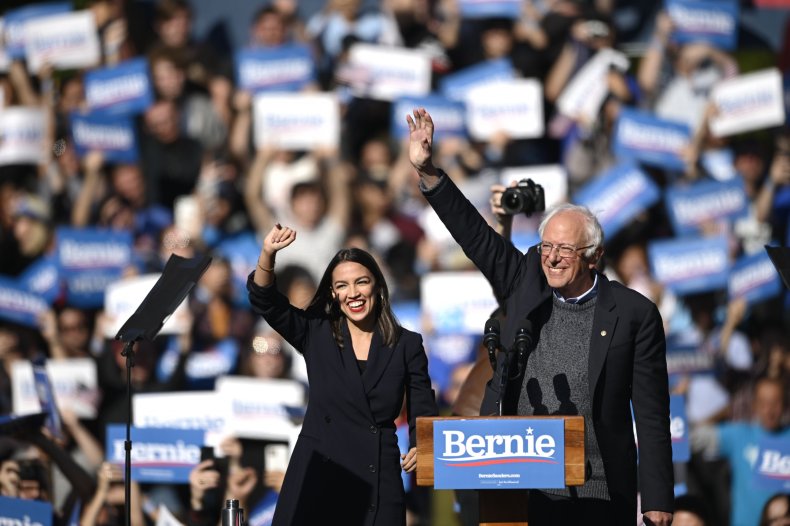 Ocasio-Cortez tweeted what was happening in Bolivia wasn't democracy and that the people of Bolivia deserved "free, fair, and peaceful elections - not violent seizures of power."
The issue around whether or not it was a coup is important to the U.S. because a coup would require the withdrawal of all assistance to Bolivia, and the United States has yet to do that.
In fact, President Trump celebrated the resignation of Bolivia's president with this statement: "The United States applauds the Bolivian people for demanding freedom and the Bolivian military for abiding by its oath to protect not just a single person, but Bolivia's constitution."
He went on to say the events in Bolivia send a strong signal to the illegitimate regimes in Venezuela and Nicaragua that democracy and the will of the people will always prevail.
"We are now one step closer to a completely democratic, prosperous and free Western Hemisphere," Trump said.