Bernie Sanders Holds 'Commanding Lead' in New Hampshire, Ahead Among Moderate and Conservative Voters: 2020 Poll
Senator Bernie Sanders is in the lead by some distance in the 2020 New Hampshire primary, according to a poll of voters in the state, and is now ahead among moderates and conservatives as well as liberals.
The 7 News/Emerson College Polling Tracker puts the Vermont independent at 29 percent in New Hampshire, a "commanding lead" over former vice president Joe Biden in second place at 14 percent.
Sanders is up 10 points on the previous poll in January and Biden is flat.
In third place is the former mayor of South Bend, Indiana, Pete Buttigieg at 13 percent and in fourth is Massachusetts Democratic Senator Elizabeth Warren at 12 percent. The New Hampshire primary takes place on February 11.
Emerson polled 500 registered Democratic and independent voters in New Hampshire online or by landline between January 31 and February 2. There is a margin of error of plus or minus 4.3 percent.
Sanders, a democratic socialist, holds strong leads among both very and somewhat liberal voters.
Moreover, Emerson said Sanders is now leading among moderate and conservative voters at 20 percent over Biden's 19 percent in second and Buttigieg's 13 percent in third.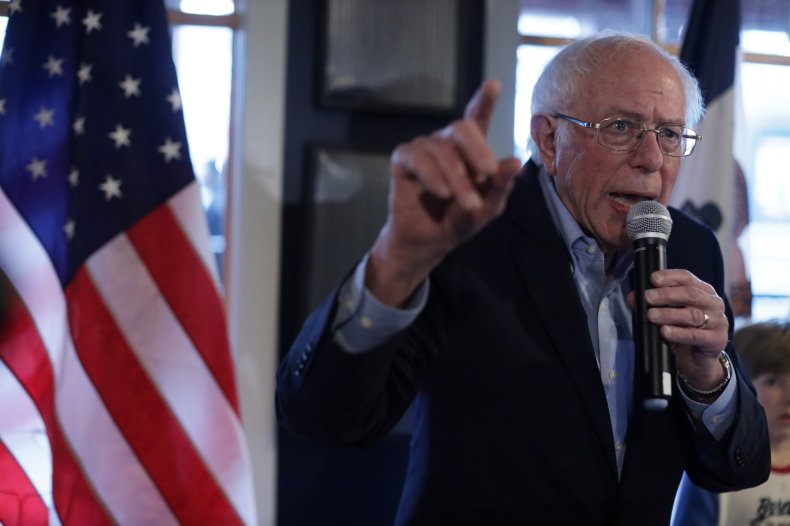 There is also a sign that New Hampshire voters are mostly locked-in; 87 percent said the "events of Monday's Iowa Caucus will not have an impact on their vote, while 13% say the results of the Caucus will impact who they vote for."
The Democratic primary season kicks off in Iowa on Monday night and Sanders is also a frontrunner there.
The RealClearPolitics average for Iowa polls puts Sanders in first place at 24.2 percent. Biden is second at 20.2 percent, Buttigieg third at 16.4 percent, and Warren fourth at 15.6 percent.
On a national average, Biden leads Sanders by 27.2 percent to 23.5 percent. Warren is third at 15 percent, the billionaire Michael Bloomberg is fourth at 8 percent, and Buttigieg fifth at 6.7 percent.
A separate Emerson College poll released in late January found that only 53 percent of Sanders voters in the 2020 primaries will definitely vote for the eventual nominee if it is not him. A further 31 percent of Sanders voters said it would depend on who wins the nomination.
During the same month, a SurveyUSA poll found that Sanders led President Donald Trump in a face-off by the widest margin of all the Democratic 2020 candidates. Sanders was at 52 percent over Trump's 43 percent, a nine-point advantage.
"Tomorrow night the world will be watching Iowa. Let Iowa be the beginning of a new America," Sanders tweeted ahead of Monday's caucus. "An America based on the principles of justice. Social justice. Economic justice. Racial justice. Environmental justice. Let us show the world what America can become."