Bernie Sanders Protests New Senate Bill That Gives Money to Jeff Bezos-Owned Firm
Independent Vermont Senator Bernie Sanders has spoken out against a Senate bill amendment that could give $10 billion in taxpayer money to Amazon CEO Jeff Bezos' space travel company, Blue Origin.
The bill in question is the Endless Frontier Act. The bill would invest $130 billion into science and technology research in order to keep the U.S. competitive in the international space race.
An amendment, added to the bill by Democratic Washington Senator Maria Cantwell, would require the National Aeronautics and Space Administration (NASA) to award $10 billion in additional funding to two companies for developing a human landing system for NASA's Artemis moon program.
Cantwell reportedly introduced the amendment in April after NASA awarded $2.9 billion to SpaceX to develop the landing system, Ars Technica reported. SpaceX is a space exploration company owned by Elon Musk, the CEO of the electric car and tech company Tesla.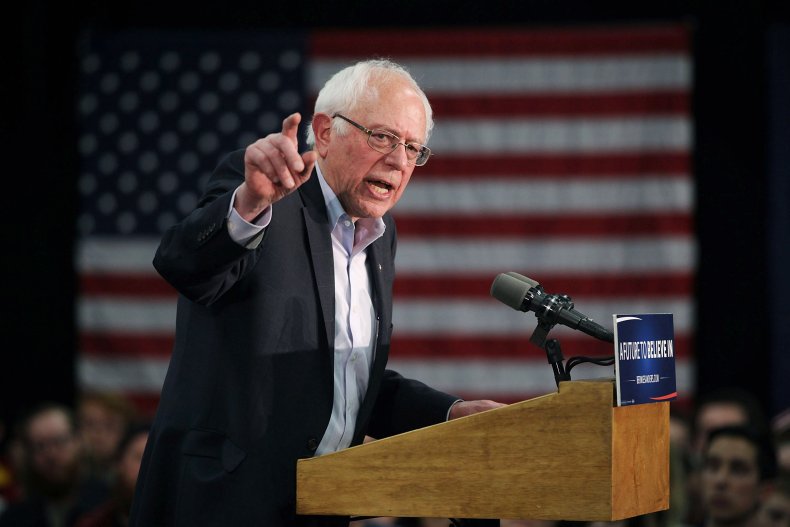 Blue Origin protested the award being given to SpaceX and filed an official protest with the Government Accountability Office. Blue Origin lobbyists then began arguing that NASA should award two awards for the human landing system, The Washington Post reported.
It's believed that, if approved, the $10 billion would have a high likelihood of going to Blue Origin. Both Amazon and Blue Origin were founded in Cantwell's home state of Washington. Amazon employees also collectively make up one of Cantwell's biggest donation sources during her time as a senator, The Washington Post reported.
"Jeff Bezos is the richest guy on the planet. He's gotten $86 billion richer since the start of the COVID pandemic," Sanders wrote on Twitter. "Does he really need $10 billion from Congress for space exploration?"
"I worry very much that what we are seeing now is two of the wealthiest people in this country, Mr. Elon Musk and Mr. Bezos, deciding that they are going to take control over our space industry," Sanders said in the Senate floor speech.
Sanders introduced an amendment to block Cantwell's. On Tuesday afternoon, Cantwell told Fox News that she wasn't sure if Sanders' amendment will get a vote.
SpaceX has said that if Blue Origin is given a $10 billion award, the award may be litigated in court, delaying NASA's 2024 goal for developing the moon lander. Blue Origin said that the additional award would "[ensure] greater safety and mission success through a dissimilar redundancy in approaches."
NASA's Artemis project seeks to land the first woman and first person of color on the moon while using new technologies to explore more of the lunar surface than ever before. The U.S. has not sent anyone to the moon's surface since December 1972.
Newsweek contacted Blue Origin for comment.