Bernie Sanders Questions Trump Claim That Soleimani Was Planning to Attack U.S., Says It Wasn't Mentioned at Intelligence Briefing
Senator Bernie Sanders questioned President Donald Trump's latest claim that top Iranian commander Qassem Soleimani, who was killed in a U.S. drone strike last week, was planning to attack U.S. embassies.
"Soleimani was actively planning new attacks, and he was looking very seriously at our embassies, and not just the embassy in Baghdad," the president said Thursday in a departure from previous statements.
In a Friday morning interview on NBC's Today show, Sanders cast doubt on such a claim in light of an intelligence briefing he attended a day prior to the strike that killed Solemani.
"We had all of the top-ranking intelligence people, military people, and not one word of that was mentioned."
The Vermont senator and Democratic presidential contender also characterized Trump as a "pathological liar" during Friday's televised interview in reference to the the president's suggestion of potential Iranian attacks. "So could it be true? I guess it could be. Is it likely to be true? Probably not."
"I think what happens in our own country and around the world is that people don't believe much of what Trump says, and when you lie all the time, the problem is sometimes maybe you're telling the truth and people are not going to believe you," he later said.
On the same day of his Today interview, Sanders tweeted: "I will do everything I can to stop a war with Iran."
At a White House press briefing Friday, Secretary of State Mike Pompeo reiterated the president's most recent claims, telling reporters that Soleimani was indeed planning "a broad, large-scale attack" against U.S. embassies and other American stations in the Middle East. Pompeo said they didn't know which day it would have occurred and declined to provide further details.
Similar to Trump, his remarks were out of step with what he said just days before. In a press conference on Tuesday, Pompeo said the strike was prompted only by Soleimani's past actions and "continuing efforts...that were going to lead, potentially, to the death of many more Americans."
On January 3, in the wake of Soleimani's death, Sanders and Democratic Congressman Ro Khanna resubmitted legislation to prevent federal funding of a potential war with Iran. In a statement at the time, Khanna's office said: "Today, we are seeing a dangerous escalation that brings us closer to another disastrous war in the Middle East. A war with Iran could cost countless lives and trillions more dollars and lead to even more deaths, more conflict, more displacement in that already highly volatile region of the world."
"After authorizing a disastrous, $738 billion military budget that placed no restrictions on this president from starting an unauthorized war with Iran, Congress now has an opportunity to change course. Our legislation blocks Pentagon funding for any unilateral actions this president takes to wage war against Iran without Congressional authorization."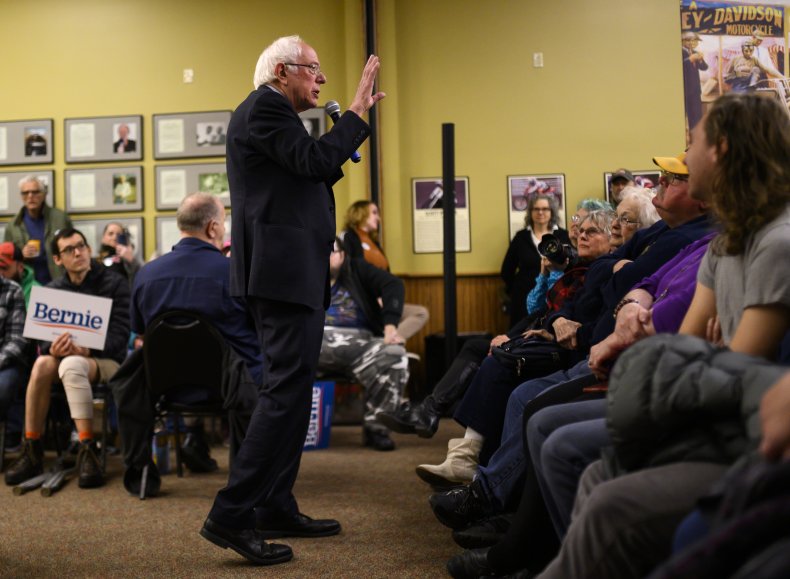 Correction, January 10, 2020: This story has been updated to correctly identify Ro Khanna as a congressman.