Bernie Sanders and Ro Khanna Resubmit Legislation Blocking Funding for War With Iran That Previously Passed the House
Democratic presidential candidate Senator Bernie Sanders and California Democratic Representative Ro Khanna reintroduced legislation on Friday designed to block federal funding for a war with Iran.
Khanna's amendment to the National Defense Authorization Act (NDAA) was mentioned in a tweet by Representative Alexandria Ocasio-Cortez who suggested resurrecting the legislation as a "standalone bill."
"Reintroduce & vote on @RepRoKhanna's bipartisan NDAA amendment, which blocks $ offensive action to Iran," Ocasio-Cortez tweeted. "This amendment passed the House w/bipartisan support not long ago, and was later gutted in negotiations. We can bring it back as a standalone bill."
"Today, we are seeing a dangerous escalation that brings us closer to another disastrous war in the Middle East," said a statement from Khanna's office. "A war with Iran could cost countless lives and trillions more dollars and lead to even more deaths, more conflict, more displacement in that already highly volatile region of the world."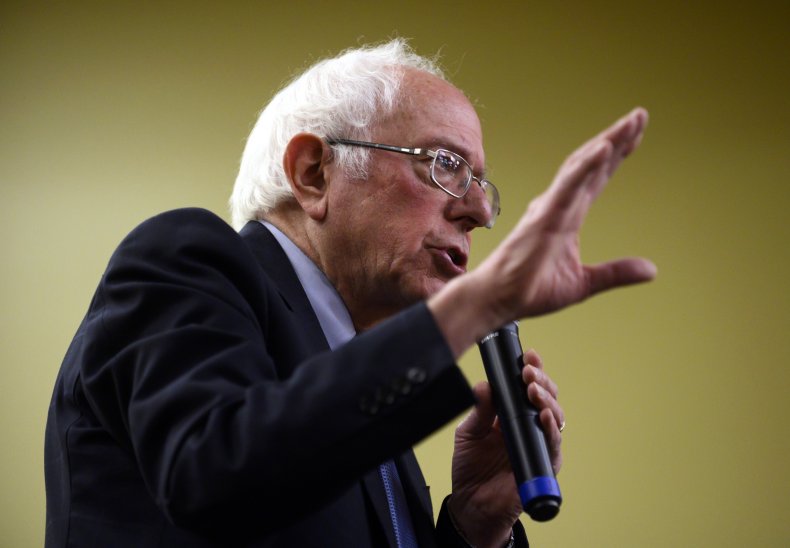 "After authorizing a disastrous, $738 billion military budget that placed no restrictions on this president from starting an unauthorized war with Iran, Congress now has an opportunity to change course," the statement continued. "Our legislation blocks Pentagon funding for any unilateral actions this president takes to wage war against Iran without Congressional authorization."
"We know that it will ultimately be the children of working-class families who will have to fight and die in a new Middle East conflict—not the children of the billionaire class," the statement went on. "At a time when we face the urgent need to rebuild our crumbling infrastructure, to build the housing we desperately need, and to address the existential crisis of climate change, we as a nation must get our priorities right."
"We must invest in the needs of the American people, not spend trillions more on endless wars," he added.
Newsweek reached out to the White House and the offices of Representative Khanna and Senator Sanders for further comment but did not receive a response in time for publication.
The bipartisan legislation, originally sponsored by Khanna and Florida Republican Representative Matt Gaetz passed the House in July 2019.
At the time, Speaker of the House Nancy Pelosi said she applauded Khanna and "the many bipartisan co-sponsors of their amendment to prohibit federal funds from being used for any military force against Iran without congressional authorization."
That amendment was removed from the final version of the NDAA before Congress passed it in December 2019. In a joint statement, Khanna and Sanders called the 2020 NDAA "a bill of astonishing moral cowardice."
"Congress should have used this National Defense Authorization Act to stop our endless wars," the December 2019 statement said. "Instead, this bill does nothing to rein in out-of-control military spending, prevent unconstitutional war against Iran, limit the poisoning of Americans' drinking water, or end the obscenity of innocent children in Yemen being killed by U.S. bombs."