Bernie Sanders Retracts Endorsement of 'Young Turks' Founder Cenk Uygur, Who Says He's No Longer Accepting Endorsements
Senator Bernie Sanders retracted his endorsement of The Young Turks founder Cenk Uygur in a House race in California on Friday after a backlash over a 1999 blog post in which Uygur described women as "poorly designed creatures."
Shortly before Sanders' retraction, Uygur announced that he was rejecting all endorsements he'd received so far, claiming he wanted to be free of influence.
Thursday, Sanders gave his endorsement to founder of The Young Turks Cenk Uygur his political endorsement. Friday, Uygur announced that not only was he rejecting Sanders' endorsement, but would not be accepting any endorsements from anyone.
"I can't tell you how much I appreciate the endorsements of Bernie Sanders, Ro Khanna, Nina Turner & local progressive groups that gave me their support," Uygur tweeted. "Their stance took real courage in the face of the corporate media and Democratic establishment onslaught."
"I want to be free of any influence other than the voters of CA-25 [the 25th Congressional district of California]," he continued. "I will not be beholden to corporations, lobbyists, or special interest groups and I will not stand by while those groups attack my political allies. That's why I have decided that I will not be accepting any endorsements."
"My job is to represent the voters and the voters alone," Uygur concluded. "The only endorsements I'll be accepting going forward is that of the voters of CA-25."
"Cenk will not be seeking, announcing, or accepting endorsements going forward, but of course we will continue to work with our progressive allies in other ways and cooperate with editorial boards and local organizations," said Uygur's campaign in a statement to Newsweek.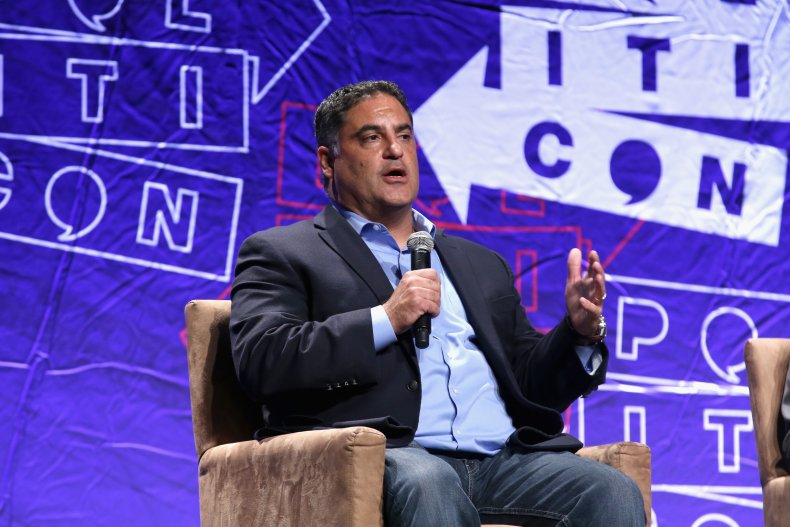 In response to Uygur's announcement, Sanders withdrew his endorsement.
".@cenkuygur has been a longtime fighter against corruption," Sanders tweeted. "However, our movement is bigger than any one person. I hear my supporters who were frustrated and understand their concerns. Cenk today said he is rejecting all endorsements for his campaign and I retract my endorsement."
Backlash over Sanders' support of Uygur arose after controversial comments made by Uygur in the past were rediscovered and posted online.
"Obviously, the genes of women are flawed," Uygur wrote in a 1999 blog post. "They are poorly designed creatures who do not want to have sex nearly as often as needed for the human race to get along peaceably and fruitfully."
Writings like that and others were enough to get Uygur and his colleague David Koller removed from the Justice Democrats, an organization Uygur helped establish.
"We would be hypocrites to not act immediately and ask for Cenk Uygur and David Koller's immediate resignation," read a 2017 statement from Justice Democrats. "Justice Democrats is dedicated to creating a progressive movement that challenges patriarchy, ends systemic racism and stands by the values of our platform. These two men do not represent our organization."
Uygur apologized for his writings in 2017.
"The stuff I wrote back then was really insensitive," Uygur said in an interview with The Wrap. "If you read that today, what I wrote 18 years ago, and you're offended by it, you're 100 percent right. And anyone who is subject to that material, I apologize to. And I deeply regret having written that stuff when I was a different guy."
Updated 12/13/2019 7:26 p.m. EST: This story was updated to include a statement from Cenk Uygur's campaign.