Socialist Bernie Sanders Wears a $700 Jacket While Complaining About Rich People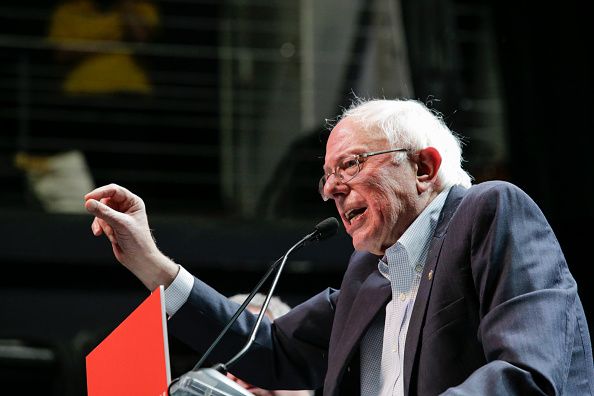 Senator Bernie Sanders sported a $700 coat on Monday during New York City Mayor Bill de Blasio's swearing-in ceremony.
The socialist was cozy and warm in a $690 Burton 2L LZ down jacket as de Blasio was assuming office for the second time in a row during the frigid temperatures at City Hall. Sanders, 76, joked, saying of the weather, "By Vermont standards this is a warm and pleasant afternoon."
Sanders is famous for slamming the billionaire class. In November, he penned a lengthy column on CNN criticizing the Trump administration and arguing that the wealthy are "never satisfied with what they have" and always "want more, more and more."
"Greed is their religion. While the oligarchs are avoiding their taxes, Trump and his Republican colleagues, ostensibly in order to save federal dollars, have been trying to throw tens of millions of Americans off of their health insurance, and make massive cuts in education, nutrition assistance, and affordable housing," Sanders wrote.
The Independent senator from Vermont attacked Trump again in September after the president tweeted out that Sanders's "Medicare for All" plan would do more harm than good.
"Bernie Sanders is pushing hard for a single-payer healthcare plan - a curse on the U.S. & its people...I told Republicans to approve healthcare fast or this would happen. But don't worry, I will veto because I love our country & its people," Trump tweeted.
Sanders was quick to fire back during an interview on SiriusXM Progress, saying that Trump's plan to repeal the Affordable Care Act could give large tax breaks to the rich.
"Where can we begin on that?" Sanders said. "Mr. President, let me tell you what a curse on the American people is, and that is your support for legislation that would throw 23 million people off the health care they currently have, and then provide huge tax breaks for the rich and large corporations."
But that jacket Sanders wore was pretty pricey, despite his plight to fight against the wealthy. Sanders's June financial disclosure form stated that he earned more than $858,000 in book royalties alone. In addition to his Senate salary of $174,000, Sanders is part of the top 1 percent nationally.
Sanders's six-figure income has not deterred him from criticizing the rich. In April, the senator tweeted, "How many yachts do billionaires need? How many cars do they need? Give us a break. You can't have it all." However, the backlash was swift, with dozens of Twitter users pointing out that Sanders had three houses—and is one of the richest politicians in the United States.
Sanders and his wife, Jane, bought a summer home in Vermont on Lake Champlain in 2016 to add to their houses in D.C. and Burlington, Vermont. Local magazine Seven Days reported that the Sanders family paid about $600,000 for the lakefront home in North Hero, Vermont.
Despite his salary, the senator wrote that people need "to come together to take on the greed of the oligarchs."