Bernie Sanders Says Ahmaud Arbery 'Would Be Alive If He Were White' in Call for 'Justice' Over Shooting
Bernie Sanders has joined calls for justice in the death of Ahmaud Arbery, adding that he thinks the 25-year-old would still be alive "if he were white."
The Democratic Vermont senator, 78, joined a number of high-profile figures commenting on the case of Arbery, who was fatally shot outside Brunswick, Georgia, in February.
Sanders said those involved in the killing of Arbery "must be held accountable" while he demanded "justice for Ahmaud's family."
"There is no doubt in my mind that Ahmaud would be alive today if he were white," Sanders added, in comments posted on Twitter.
It comes after presidential hopeful Joe Biden called for a "swift, full, and transparent investigation" into the incident.
He said the video was "clear" and showed Arbery was "killed in cold blood."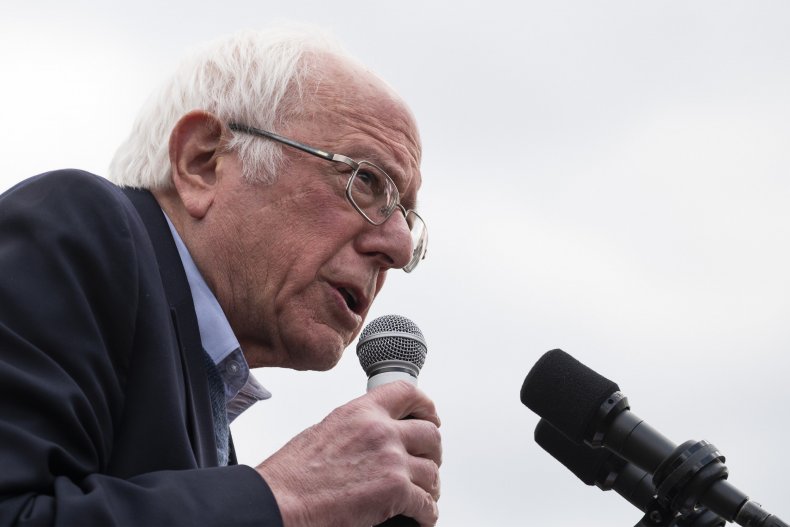 Footage of the incident, captured by an unnamed witness and shared on social media, showed the 25-year-old jogging down a road and going around a white pickup truck.
A gunshot is fired as Arbery passes the front of the vehicle. He is then seen in an altercation with a man beside the truck, as another man stands in its bed also brandishing a weapon.
Another two shots are heard. Arbery is then seen stumbling forward before falling down into the road.
The other two men in the footage have been identified as former law enforcement officer Gregory McMichael, 64, and his son named Travis, 34.
According to a police report obtained by The New York Times the pair believed Arbery fitted the description of man suspected of a number of break-ins in the area, which led them to pursue him.
The elder McMichael said Arbery began to attack his son, with them fighting over a gun prompting the younger McMichael to fire.
Neither of them were arrested in connection to the shooting.
According to The New York Times one of the prosecutors previously assigned to the case advised police there was not sufficient probable cause in order to arrest them.
S. Lee Merritt, a lawyer representing Arbery's family, has described the incident as murder. He said he believes the elder McMichael's law enforcement ties could be a reason for there not having been an indictment.
The case is set to be heard by a grand jury to determine whether charges should be filed. The Georgia Bureau of Investigation has launched an investigation into Arbery's death.
Newsweek has contacted Sanders, Merritt and the Georgia Bureau of Investigation for comment.