Bernie Sanders Slams Bipartisan COVID Relief Proposal for Lack of Stimulus Checks
Senator Bernie Sanders is pushing Democrats to reject a recent bipartisan coronavirus relief bill because it leaves out stimulus checks to millions of Americans.
"What kind of negotiation is it when you go from $3.4 trillion to $188 billion in new money? That is a collapse," Sanders told reporters on Monday. "We cannot go home until there [are] strong unemployment benefits plus $1,200 per adult, $500 per kid for every working person and family in this country."
On Monday, a group of centrist senators proposed a $748 billion stimulus package for education, vaccine distribution and transportation with an additional $160 billion add-on of state and local spending with a temporary liability shield.
But left off the proposal are individual, direct payments similar to the ones distributed as part of the CARES Act that passed in March.
"Democrats pass a $3.4 trillion bill, you have the Republicans in the administration talking about $1.8 trillion," Sanders said. "And now you're down to about $188 billion in new money, which does not include one nickel in direct payments for working families in this country. Totally unacceptable, and this has got to be rejected."
The Vermont senator has been a strong advocate for a second round of stimulus checks.
He has been joined by Republican Senator Josh Hawley in these efforts. The two lawmakers introduced an amendment Thursday to see $1,200 direct payments go to working-class adults and $500 to each of their children tacked onto the next relief bill.
"It would be a dereliction of duty if Congress adjourns for Christmas without having a vote on providing working families with direct payments," Hawley said in a press release. "Working people are struggling. And they should be the first people given relief, not last. The crisis of rising unemployment claims, ever-expanding food lines, evictions, and growing credit card debt has been staring us in the face for months. It's time we do something about it and provide emergency relief to Americans."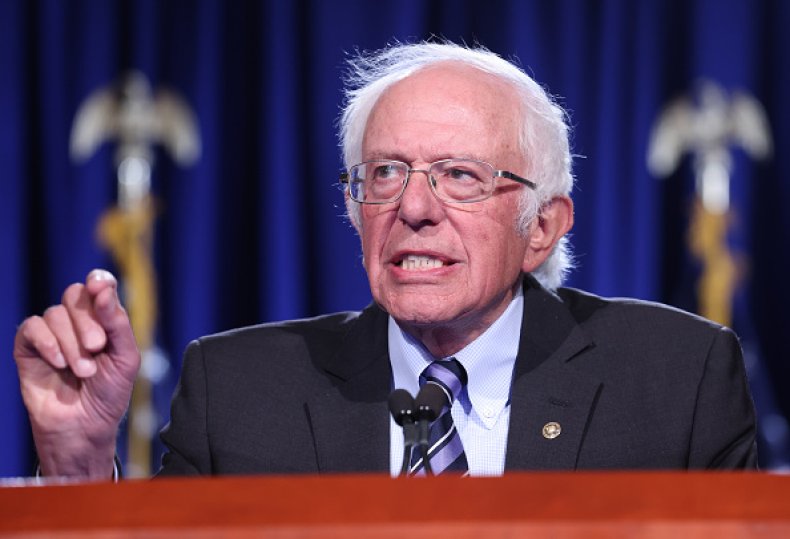 Sanders said he has expressed his concerns to Senate Minority Leader Chuck Schumer and House Speaker Nancy Pelosi, urging them to force negotiations toward a bigger price tag.
However, the clock is ticking for Sanders and other lawmakers who are pushing for legislation to pass before the government is scheduled to shut down on Friday, potentially leaving Americans with no financial assistance since the CARES Act ended in July.
The bipartisan bill backers hoping to provide Americans with some form of relief ahead of Christmas include senators Joe Manchin, Mitt Romney, Dick Durbin, Mark Warner, Angus King, Lisa Murkowski, Susan Collins, Maggie Hasan, Jeanne Shaheen, Bill Cassidy and Rob Portman.
Manchin, a leader of the bill along with Cassidy, said on Fox News Sunday: "We're trying to get through the toughest first quarter of our country that we've ever faced. We've got people without nutrition, without shelter. We've got people without paychecks that are unemployed. We have health-care workers. We have schools that need to be attended to. This covers all of that. This is strictly an emergency measure."
Newsweek reached out to Manchin's office for a response to Sanders' comments but did not hear back before publication.