Bernie Sanders Supporters Excited About Possibility of 2024 Run
Supporters of Sen. Bernie Sanders excitedly took to social media about the possibility of him running for president again in 2024.
Sanders has not "ruled out" making a third bid for the White House if President Joe Biden declines to seek re-election, according to a campaign memo first reported by The Washington Post.
The memo from top Sanders adviser Faiz Shakir—who was Sanders' 2020 campaign manager—was distributed to allies, advising them on how to "embrace" attacks about Sanders' support for their candidates in the November midterms.
"In the event of an open 2024 Democratic presidential primary, Sen. Sanders has not ruled out another run for president, so we advise that you answer any questions about 2024 with that in mind," it said.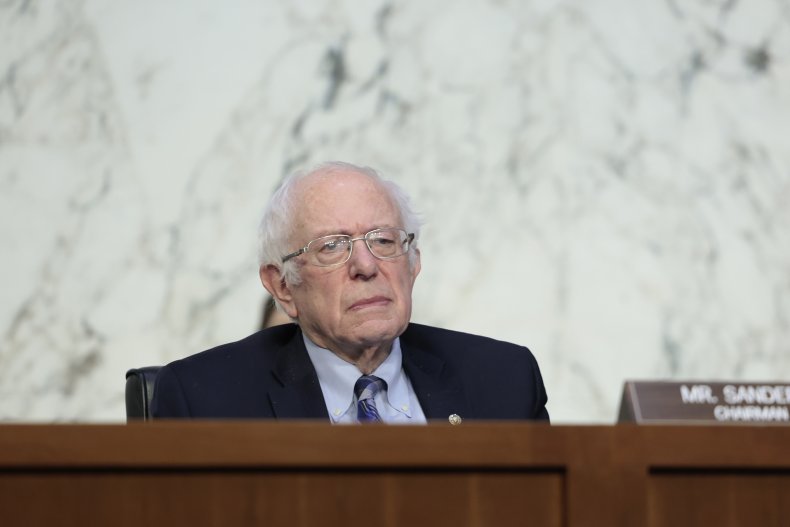 The memo's leak prompted Sanders' supporters to flock to Twitter to share their enthusiasm for the Vermont senator to run for president again.
"I don't start things and not finish it," Ja'Mal Green wrote in a tweet. "I was a surrogate for Bernie Sanders two elections and I'll ride with him for a third! He's changed the dynamic of elections with powerful policies, he still deserves to become president."
Jonathan Mann wrote: "If Bernie Sanders runs again I will knock doors for him again with my dad."
Alec Sturm tweeted: "Bernie 2024 in the first year I'm eligible to vote would be amazing."
Dylan r.a. added: "I would absolutely vote for Bernie in 2024. Sure, he'll be 82 years old, but God knows he'll select the right running mate and cabinet members to assist in catalyzing the improvement of American lives and the prioritization of people over profit. Let's make a statement."
But others were less than enthused.
"Bernie Sanders should just retire," wrote Sameera Khan.
Carl Gibson wrote: "I supported Bernie in both 2016 and 2020, but he's too old now. So is Biden. Dems need a younger champion."
Sanders will be 83 years old on Election Day in 2024.
"I think it's very, very unlikely that I'll be running for president ever again," he told Robert Costa during a live event with The Post in May 2020, weeks after ending his campaign.
Costa, however, noted that Sanders' comments had not completely ruled out the possibility of him mounting a third presidential campaign.
Biden, meanwhile, has repeatedly said he intends to run for re-election, but his age—he is the oldest president in U.S. history and will turn 82 shortly after the 2024 election—have led some to speculate that he may not seek a second term.
Donald Trump was the second oldest person ever to be elected president when he was inaugurated in 2017 at well over 70 years old. Biden, at just over 78 years old, is the oldest. According to Statista, the average age of a U.S. president at their inauguration is 55 years old.
Newsweek has contacted Sanders' spokesman and the White House for comment.