Bernie Sanders Tells Mitch McConnell to Ask Kentucky Families How They Feel About $2K Checks
Senator Bernie Sanders accused Majority Leader Mitch McConnell of not acting in the best interests of his constituents in blocking Democratic attempts to pass legislation that would boost the $600 direct payment to $2,000.
"Let me just make it clear for the Majority Leader that 10 out of the poorest 25 counties in the United States of America are located in Kentucky," he said. "So maybe my colleague, the Majority Leader, might want to get on the phone and start talking to working families in Kentucky and find out how they feel about the need for immediate help in terms of a $2,000 check for adults."
In 2019, 24/7 Wall Street ranked the top 25 worst counties to live in based on poverty, the percentage of adults who have at least a bachelor's degree, and average life expectancy at birth. Ten of the counties were located in Kentucky and the state was home to six of the top 10 worst counties. In 2018, a report from the U.S. Census Bureau found that three Kentucky counties were among the bottom five in the country when ranked by median income.
Newsweek reached out to McConnell's office for comment but did not receive a response prior to publication.
Sanders has been a leading advocate in Congress for $2,000 direct payments to qualifying individuals and households. He first introduced legislation back in May, along with Senators Kamala Harris and Ed Markey, that called for monthly $2,000 checks to help Americans amid the coronavirus pandemic.
On Tuesday, Sanders tried to get the Senate to take up the bill passed by the House of Representatives that would triple the $600 payment outlined in the second relief package but McConnell objected.
"The leaders of our country, President Trump, President-elect Biden, Minority Leader Chuck Schumer, the Speaker of the House Nancy Pelosi are all in agreement: We have got to raise that direct payment to $2,000. That is where we are right now in this historic moment," Sanders said from the floor on Tuesday.
He added, "Do we turn our backs on struggling working families, or do we respond to their pain?"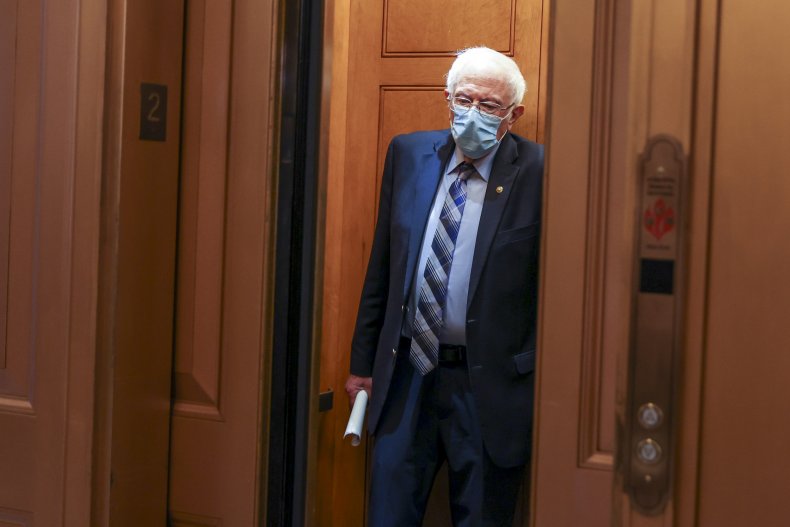 McConnell Tuesday also refused an attempt from Senator Chuck Schumer (D-NY) to pass $2,000 stimulus checks through unanimous consent. But the top Republican later introduced his own bill that would increase the $600 stimulus check to $2,000, as well as a repeal to section 230 of the Communications Act of 1996 and funding for a commission to investigate voter fraud—which would be unlikely to pass.
The Kentucky lawmaker said Wednesday that the push to approve $2,000 stimulus checks has "no realistic path to quickly pass the Senate."
Sanders has vowed to filibuster the Senate vote to override Trump's veto of the National Defense Authorization Act, a crucial spending bill, unless McConnell allows a vote on the $2,000 payments.
"Let me be clear: If Senator McConnell doesn't agree to an up or down vote to provide the working people of our country a $2,000 direct payment, Congress will not be going home for New Year's Eve. Let's do our job," Sanders said in a statement earlier this week.
On Wednesday, McConnell slammed Sanders's moves against a vote on the NDAA as a "political stunt."