Bernie Sanders Thinks Donald Trump's Removal From Twitter Was a Mistake
Senator Bernie Sanders (I-Vt.) and former President Donald Trump have little they agree on, but when it comes to Trump being kicked off Twitter, the two seem to be on the same page about it being the wrong move.
Trump was permanently banned from Twitter in January after the Capitol riot on January 6 and was given an indefinite suspension on Facebook, as well. The punishment was decried by Republicans as political censorship and prompted some of them to cut ties with popular social media websites and move to Parler, a conservative-friendly platform.
Speaking to Ezra Klein, a New York Times columnist, Sanders said he didn't feel "particularly comfortable" with the sitting president of the United States being unable to express his views on Twitter.
He called Trump a "bad news guy" and agreed that social media shouldn't be used "for authoritarian purposes and insurrection," so there needed to be a balance—a balance Sanders didn't know how to create.
"It is an issue that we have got to be thinking about," Sanders told Klein. "Because if anybody who thinks yesterday it was Donald Trump who was banned and tomorrow it could be somebody else who has a very different point of view."
The Vermont senator noted that the "devil is in the details" and he didn't like the idea of giving power away to a "handful of high tech people." So, the problem of balancing free speech and allowing harmful rhetoric to spread is one that he said people will have to "think long and hard" about how to tackle.
"That is how you preserve First Amendment rights without moving this country into a big lie mentality and conspiracy theories," Sanders said.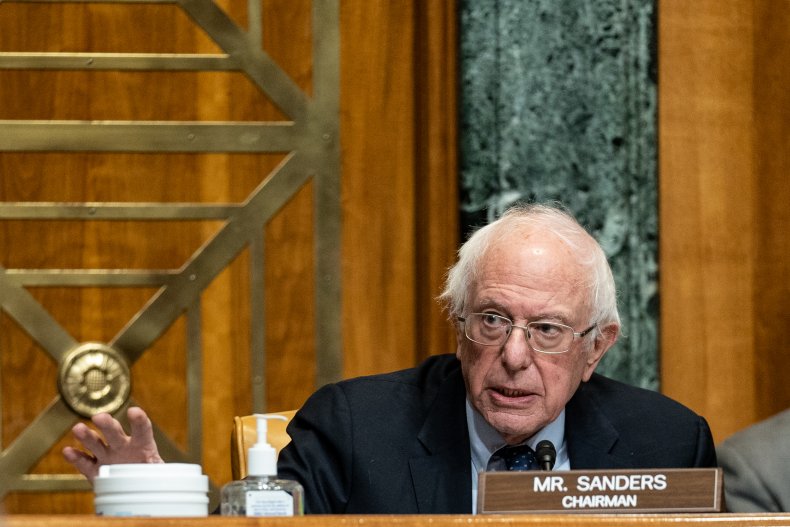 Newsweek reached out to former President Trump for comment but did not receive a response in time for publication.
A majority of Americans agreed with Twitter's ban on Trump's account, according to a survey from The Harris Poll released on January 12, according to USA Today. However, there was a stark partisan divide with only 36 percent of Republicans agreeing with it and 80 percent of Democrats on board.
Feelings changed after Trump left office, though, and a Hill/Harris poll in February found the majority of Americans thought he should be allowed to return. Republicans were more likely than Democrats to support ending the ban, but Trump might have found his own way of communicating with his supporters.
Trump's planning to return to social media with a network of his own, according to Jason Miller, a senior adviser to the former president. He estimated during an interview with Fox News that the platform would be up and running in two to three months, adding that it would be the "hottest ticket in social media" and "completely redefine the game."
Lara Trump, the former president's daughter-in-law, told David Brody on his Water Cooler podcast, that her father-in-law is taking it "really seriously." The social media platform will be a place where "everyone can feel welcome" and "fact checkers" won't be "all over" users.
Miller expects the new platform to attract millions of viewers, and 50 percent of Republicans surveyed in a YouGov poll said they were "very likely" to use the platform. An additional 19 percent were "somewhat likely" to use it.