Bernie Sanders Video Mocks Trump for Being the 'Only Person in the World' Who Believes Wind Turbines Cause Cancer
Bernie Sanders, a Vermont senator and 2020 Democratic presidential candidate, has attacked President Donald Trump's statements on wind turbines, calling Trump the "only person in the world" who believes these wind-energy converters cause cancer.
Sanders took the president to task over statements he made while talking about this renewable form of energy earlier this month, lampooning him in a video posted on Instagram.
"As many of you know, President Trump has said the noise coming from wind turbines causes cancer. Actually Donald Trump is the only person in the world who believes that," Sanders said in footage posted by his 2020 presidential campaign.
The Instagram post then cut to a clip of the president speaking at a National Republican Congressional Committee dinner a week ago, where he mimed a noise supposedly made by wind turbines.
"Actually, standing here, you can't hear a thing except cars going by on the road," Sanders said, while standing in an Iowa field against a backing track that would not be out of place on Larry David's Curb Your Enthusiasm.
"The fact is that Iowa gets about 35 percent of its electricity from wind turbines all over the state, which by the way provides revenue to farmers who desperately need that revenue. So, President Trump, once again, try to get your act together and try to tell the truth. It won't hurt," Sanders promised.
The president has been questioned about his comments linking wind turbines with cancer.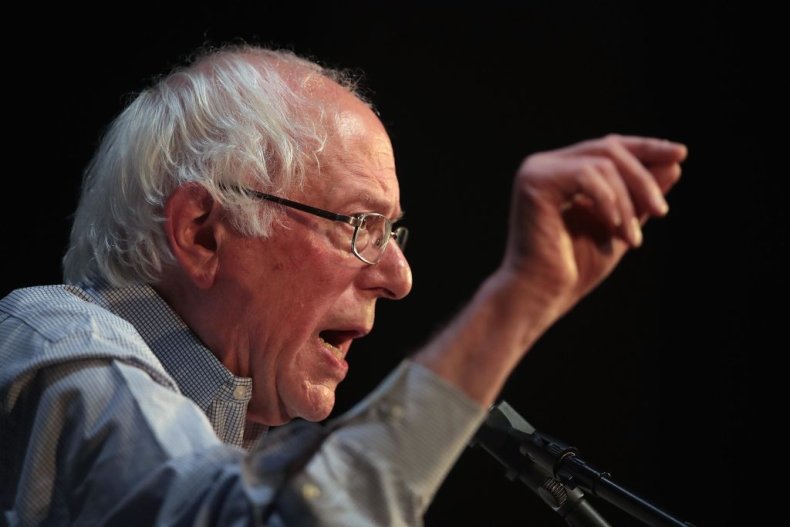 "Hillary wanted to put up wind, wind," Trump said on April 2. "If you have a windmill anywhere near your house, congratulations, your house just went down 75 percent in value and of course it is like a graveyard for birds. If you love birds you'd never want to walk under a windmill because it is a very sad, sad sight. It's like a cemetery. We put a little statue for the poor birds," he continued, before adding: "They say the noise causes cancer."
Groups seeking to undermine wind power as a source of energy have claimed the noise emitted by wind turbines, a low-frequency sound referred to as infrasound, causes a variety of health problems, including sleep loss and anxiety, among others. But there is no evidence to suggest that wind turbines cause cancer.
Ahead of the decisive Iowa caucus in February 2020, where issues surrounding agriculture and renewable energy are key, Sanders, a democratic socialist running on the Democratic Party ticket, leads a crowded and diverse field of candidates.
According to a Morning Consult poll, reported by The Intercept on April 6, the runner-up to Hillary Clinton for the Democratic nomination in the 2016 election has outstripped his rivals and received the most support from female, Hispanic and black voters. His name recognition is also the highest among Democrat candidates, at 99 percent.