Bernie Sanders' Viral 'Word for Word' Election Prediction on Fallon Viewed Over 24 Million Times
Bernie Sanders' "word for word" election prediction last month has now been viewed over 24 million times and shared more than 300,000 times on Twitter as Americans anxiously await the results of the 2020 presidential election.
In an interview with Jimmy Fallon on October 23, the Vermont senator accurately predicted how the counting of mail-in ballots in Michigan, Wisconsin and Pennsylvania would play out, as well as President Donald Trump's reaction to results on the night of Election Day.
"Democrats are more likely to use mail-in ballots, Republicans are more likely to walk into polling booths on Election Day. It is likely that the first votes that will be counted will be those people who came in on Election Day," said Sanders.
"It could well be that, at 10 on election night, Trump is winning in Michigan, he's winning in Pennsylvania, he's winning in Wisconsin, and he gets on the television and says, 'Thank you Americans for re-electing me. It's all over, have a good day,'" he continued. "But then the next day and the day following, all those mail-in ballots start getting counted, and it turns out that Biden has won those states."
Twitter user @hannahhycho originally posted a clip on Twitter, writing: "Thinking about this video of Bernie Sanders talking about mail-in votes." It was later shared by Twitter user @onikasgivenchy, who captioned it, "man... he called it WORD for WORD."
The prediction is fairly on track for this week's events. Michigan, Wisconsin, Pennsylvania and Georgia all initially showed a Trump lead on Tuesday night and into Wednesday, but they had yet to count thousands of mail-in ballots.
Trump prematurely announced that he had already won the election during his remarks to supporters on Wednesday morning. The president claimed, "We will win this and, as far as I'm concerned, we already have won it."
However, as states began counting mail-in ballots, gaps started to close. By Wednesday afternoon, Wisconsin was called for former Vice President Joe Biden, thus flipping the state from its Republican status in the 2016 election, with just over 20,000 votes difference. Michigan began leaning toward Biden shortly after Trump's remarks, with the president spreading a baseless conspiracy theory on Twitter that more than 300,000 fraudulent ballots were added for Biden in the state's count overnight.
"Last night I was leading, often solidly, in many key States, in almost all instances Democrat run & controlled," Trump tweeted. "Then, one by one, they started to magically disappear as surprise ballot dumps were counted. VERY STRANGE, and the "pollsters" got it completely & historically wrong!"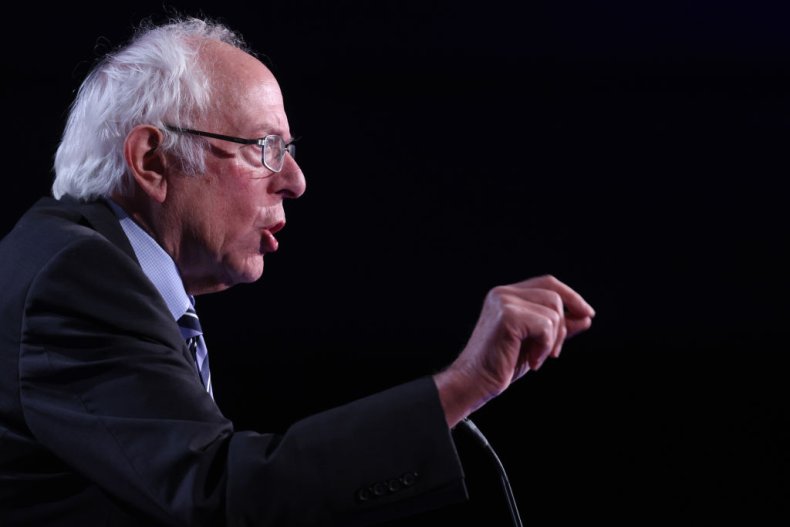 Anticipating several premature victory calls from the president, Biden told supporters on Tuesday that "it's not my place or Donald Trump's place to declare who's won this election." He added that the decision is that of the American people, and he's "optimistic about this outcome."
As Sanders noted in his prediction, key states like Pennsylvania, Michigan and Wisconsin will be behind in reporting the number of votes cast for each candidate in absentee ballots—which largely favor Democrats—after Republican-led state legislatures successfully opposed changing laws to allow the processing of ballots before 7 a.m. on Election Day. The unprecedented number of mailed-in ballots in this election due to the coronavirus pandemic, along with Pennsylvania's ability to accept ballots received by the Friday after Election Day, has delayed the results in several states.
"You're going to have a situation, I suspect, in states like Pennsylvania, Michigan, Wisconsin, other states, where they are going to be receiving huge amounts of mail-in ballots," Sanders told Fallon.
"They're not able—for bad reasons—to begin processing those ballots until Election Day or maybe when the polls close. That means you're going to have states dealing with perhaps millions of mail-in ballots."
On Wednesday, the Trump campaign said that it had filed suits to halt the counting of ballots in Michigan—where Biden currently leads by nearly 40,000 votes—and Pennsylvania in order to observe the tallying process in these states. Shortly after the Associated Press called Wisconsin for Biden, the Trump campaign vowed to request a recount in the state. Trump has also threatened to take legal action against Pennsylvania in the Supreme Court for their three-day extension for accepting mail-in ballots.
In his remarks on Wednesday morning, Trump called the election "embarrassing" and claimed that a "major fraud" was being committed.
On October 19, Sanders and Senate Minority Leader Chuck Schumer released a report predicting Trump's reaction to the election results, writing that the president might "claim victory for himself, then falsely claim that there is 'massive fraud' in mail-in ballots that have not yet been counted or reported."