The Best Batman? Val Kilmer, According to 'Batman Forever' Director Joel Schumacher
The best Batman argument, which in June left fans of the late Adam West irate, isn't dying down—with one less-revered Batman getting the backing of Batman Forever director Joel Schumacher.
In 1995, Schumacher—best known for movies such as Flatliners, St. Elmo's Fire and The Client—took on the task of reinventing Batman, casting first Val Kilmer in Batman Forever (1995) and then George Clooney in the infamous Batman & Robin (1997). Though the Caped Crusader mantle has passed through many actors since, Schumacher is standing by his man. Or, at least, one of them.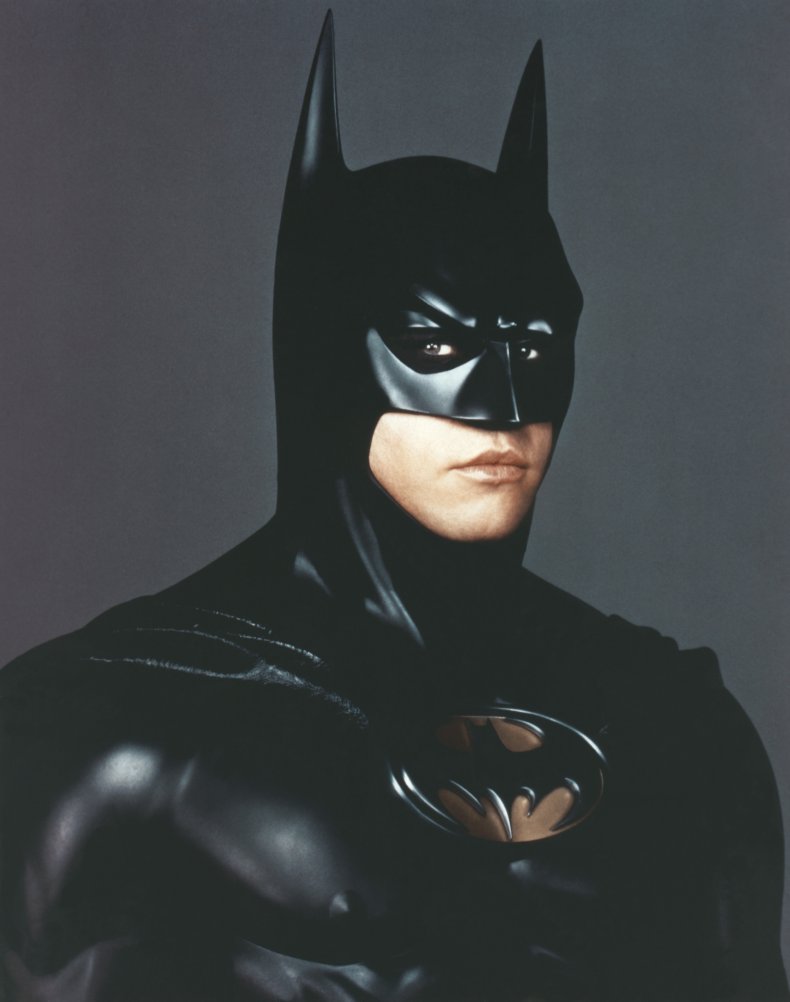 In an interview with Vulture published Wednesday (August 28), Schumacher referred to Kilmer, 59, as a "fabulous Batman," doubling down on his earlier remarks in 2011 that Kilmer was the best Batman. ("I thought he looked great in the costume, and I thought he brought a depth to the role. I thought the relationship between Val and Nicole Kidman was very sexy," he said at the time.)
Joel Schumacher: Val Kilmer was best Batman, but "psychotic"
In the same interview, Schumacher also called Kilmer "psychotic," pointing to an article that alleged Kilmer insisted the crew on another film, 1996's The Island of Dr. Moreau, call him "Mr. Kilmer" and claimed that he stubbed a cigarette out on a cameraman.
Schumacher said that Dr. Moreau's first director, Richard Stanley, who was reportedly fired to appease the film's star, "told me he had a nervous breakdown" working on the film.
Kilmer also got on the wrong side of Hollywood legend Marlon Brando, said Schumacher. "I do know Marlon Brando threw Val's cell phone in the bushes and said, 'Young man, don't confuse your ego with the size of your salary, ever.'"
Despite all that, Schumacher himself did not find Kilmer difficult to work with and said he was a "fabulous" Batman.
As for the director's other Bruce Wayne, Clooney in the disastrous Batman & Robin, Schumacher offered the A-list actor some solace over his one-time foray into Gotham. "You know George always says [the failure of] Batman & Robin was his fault. No, it's not," Schumacher told Vulture.
Who is the best Batman?
In June, a Hollywood Reporter poll found that America's favorite Batman is Christian Bale, the star of Christopher Nolan's lauded Dark Knight trilogy (2005 to 2012).
Bale polled one percentage point ahead of Michael Keaton, who starred in Tim Burton's Batman (1989) and Batman Returns (1992). Bale was picked by 39 percent of respondents, compared to 38 for Keaton.
More surprising, however, is George Clooney (19 percent) polling ahead of Ben Affleck (18 percent) and Val Kilmer (17 percent).
The box office and critical consensus tends to support the love for Bale's Batman: Both The Dark Knight (2008) and The Dark Knight Rises (2012) grossed over $1 billion worldwide. The Dark Knight is the best-reviewed live-action Batman film, with a score of 94 percent fresh on Rotten Tomatoes.
As for Schumacher's favorite Batman: Kilmer's Batman Forever grossed a respectable $336 million worldwide, over a $100 million more than Clooney's Batman & Robin. The latter is also the worst-reviewed live-action Batman film with a score of 11 percent fresh on Rotten Tomatoes.