14 Christmas Candles That Will Make Your Home Smell Better Than Santa's Grotto
Nothing feels more like the holidays than the smells of Christmas, from the sweet aromas of freshly baked cookies to fresh pine trees and sugar plums.
As well being a time for family, food and goodwill, the holidays are a chance to relax and unwind after a busy year.
One way in which to get into the seasonal spirit is through Christmas scents.
Here, we look at some of the best scented candles that will make your home smell even more festive than Santa's grotto.
1. Diptyque's Holiday Pastry Scented Candle
This "limited edition" fragrant candle from French luxury brand Diptyque evokes "the aroma of festive baking" and "an emblematic winter scent," with a spicy blend of biscuit and cinnamon, enhanced with patchouli scents.
The candle is speckled with real gold and topped with an elegant golden lid.
2. Jo Malone's Christmas Layered Scented Candle
This artisan, hand-poured candle from the brand's Jo Loves line combines three festive scents including that of fresh pine trees, sweet plum pudding and a blend of smoky log fire woods.
The unique "first of its kind candle" burns for 50 hours.
3. Neom's Christmas Wish Scented Candle
This limited edition candle offers an infusion of "fruity mandarin, spicy cinnamon and comforting tonka bean," mixed with 10 other essential oils to create a warm, calming vibe in your home over the holiday season.
Made with hand-poured natural wax, the 3-wick candle burns for up to 50 hours.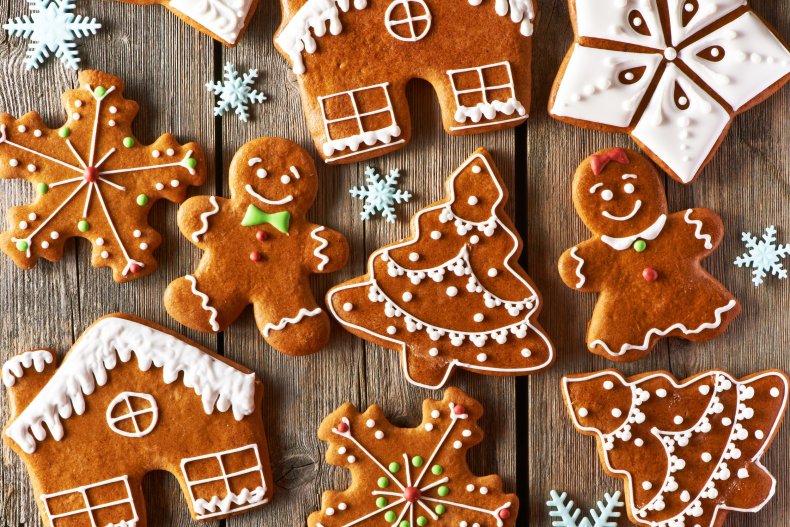 4. Scents of the Season's Gingerbread Scented Candle
Infuse your home with the comforting smell of gingerbread cookies with this handmade candle from Scents of the Season.
The non-toxic soy candle is made with "all-natural" materials and recyclable packaging.
5. Nest's Holiday Scented Classic Candle
This holiday-scented candle from Nest emanates a fragrant blend of pomegranate, mandarin orange, pine, cloves and cinnamon, with a hint of vanilla and amber.
The candle is made with premium wax designed to burn for up to 60 hours.
6. Village Candle's Balsam Fir Scented Candle
Offering a blend of evergreen, bergamot, fresh balsam fragrance notes, this scented candle from Village Candle will transport you to the deck of a cabin deep in the evergreen forest, Amazon describes.
7. Wax & Wit's Candy Cane and Sugar Cookie Scented Candles
This two-piece soy candle set from Wax & Wit is scented with the sweet aromas of candy canes and sugar cookies.
Made from soy wax and paraffin-free, each candle has a burn time of over 50 hours.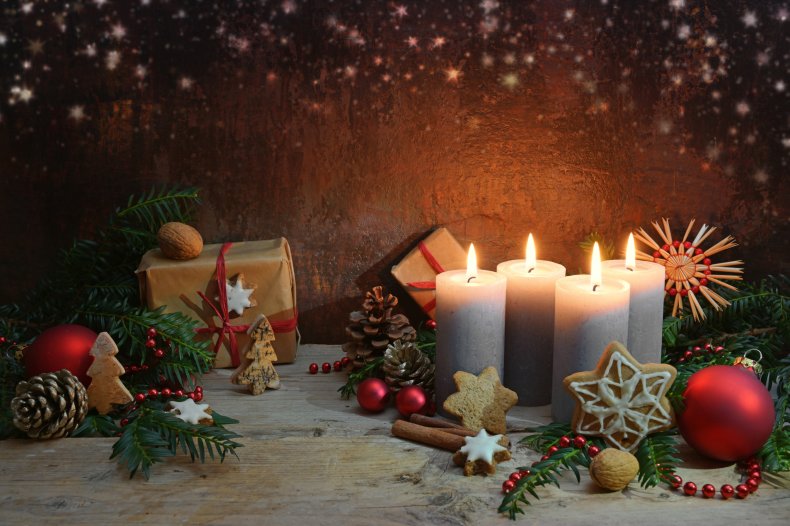 8. Love & Linger's Santa's Cookies Scented Candle
This hand-poured scented candle from Love & Linger offers a blend of "cookies, spice and everything nice," Amazon describes.
Made from fragrance oils mixed with an organic soy and beeswax blend, the oversized 16-oz. candle will fill large bedrooms.
9. Yankee Candle's Balsam and Cedar Scented Candle
This large scented candle (measures 6.6 inch x 4 inch) from Yankee Candle offers "a festive forest fragrance" from its blend of balsam, aromatic cedarwood and juniper berry.
Made with paraffin-grade wax, the candle has a burn time of 110 to 150 hours.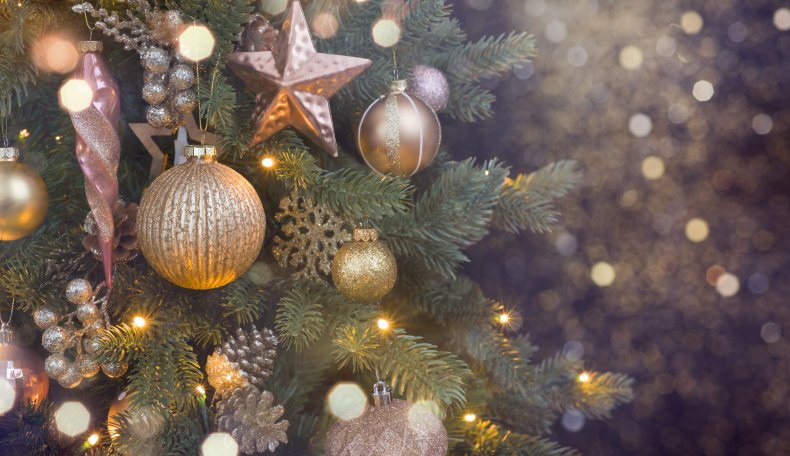 10. Mulled Cider and Evergreen Spruce Scented Candle
This two-pack 14-oz. candle set includes one candle scented with fresh evergreen, pine and amber, while the other smells of apple, clove and orange zest.
11. WoodWick's Pumpkin Butter Scented Candle
This large, hourglass-shaped 22-oz. candle from WoodWick features a natural wood wick that "combines the soothing sound of a crackling fire" with a fragrant blend of fresh pumpkin, warm spices and "sweet buttery notes," Walmart describes.
12. Opalhouse's Eggnog Latte Candle
This stylish candle from Opalhouse features a warm fragrance blend of eggnog, vanilla and biscotti.
Made from soy wax and paraffin wax, the 15.1-oz. candle will burn for up to 50 hours.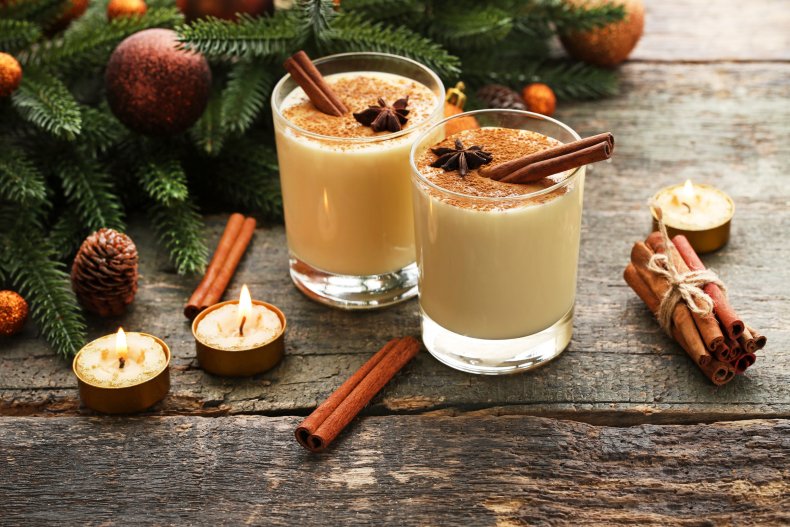 13. Threshold's Apple Joy Cinnamon Red Scented Candle
This flat candle from Threshold features a fragrant blend of fresh apple and cinnamon, burning for up to 16 hours.
14. Chesapeake Bay Candle's Under The Tree Scented Candle
This pine-scented candle from Home Scents by Chesapeake Bay Candle captures the Christmas spirit with the aroma of wintry, fresh-cut pine trees.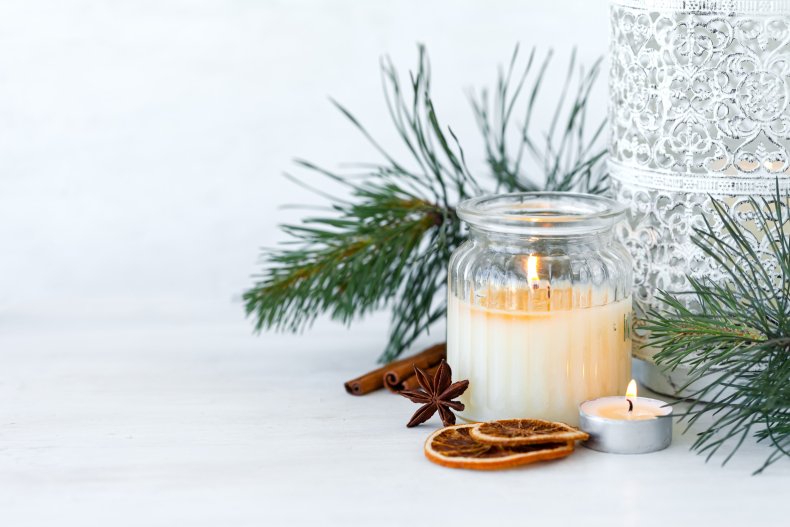 Newsweek may earn a commission from links on this page, but we only recommend products we back. We participate in various affiliate marketing programs, which means we may get paid commissions on editorially chosen products purchased through our links to retailer sites.