So, you've finished Squid Game, Halloween is coming up, and you're looking for another Korean thriller to sink your teeth into.
Luckily, there's plenty more where that came from. Whether it's horror classics, zombies, or psychological thrillers you're looking for, Korean cinema has something for you.
Here, Newsweek breaks down the top K-horror films to watch this Halloween season.
1. Gonjiam: Haunted Asylum
The title for Gonjiam: Haunted Asylum makes it obvious what viewers are getting themselves in for: a helluva lot of jump scares! Based on a real psychiatric hospital that is supposedly haunted, the film follows a group of YouTubers who decide to visit an abandoned asylum after two teenagers go missing. Livestreaming their journey inside per the now-classic found footage trope, the seven characters soon come to regret their decision as they are haunted, chased, and attacked by the ghosts in the building. Jung Bum-shik's horror is perfect for the genre; it has jump scares, surprising twists and terrifying ghosts, what more could you want this Halloween?
2. A Tale of Two Sisters
A classic Korean film, A Tale of Two Sisters is a terrifying horror based on a folktale which has been adapted for the big screen multiple times. Kim Jee-won's 2003 flick is the most recent Korean take on the story, and it follows a young girl who begins witnessing strange happenings after she returns home with her sister following time in a mental institution. Su-mi (played by Im Soo-jung) can see ghosts and is terrified of what she sees and how it relates to her stepmother Eun-joo (Yum Jung-ah) and her family's dark past. Full of twists and scares, the film is awash with terrifying apparitions and horrific happenings that is sure to send a chill down any viewer's spine this spooky season.
3. The Handmaiden
Park Chan-wook's gripping, sexy thriller is as full of horror as one might expect from the creator of Oldboy and Thirst. Set in Japanese-occupied Korea, it tells the story of two women, Lady Hideko (Kim Min-hee) and her pickpocket maid Sook-hee (Kim Tae-ri), and their quest for independence from their male oppressors after falling in love with each other. Not only is it stylish and beautifully shot, but the film also features some surprising twists and shocking, gory violence, as the two women try to escape the clutches of Count Fujiwara (Ha Jung-woo) and Uncle Kouzuki (Cho Jin-woong). It also inexplicably includes an octopus, though given the erotic nature of the film this may make more sense than it should.
4. Forgotten
Jang Hang-jun's psychological thriller Forgotten will certainly have you questioning reality as much as the film's main character Jin-seok (played by Kang Ha-neul). It follows the young man as he moves home with his brother Yoo-seok (Kim Mu-yeol) and his parents, but strange things start to happen after his sibling is kidnapped and returns a completely different person. The drama is full of tension and nail-biting scenes, especially between Jin-seok and the changed Yoo-seok, and it also has a plot twist that will no doubt come as a shock. Kang and Kim have a great character dynamic onscreen, even if it's of a more sinister nature, and Jang has created an incredibly thrilling storyline that'll keep you on the edge of your seats.
5. Oldboy
This classic will no doubt appear in every list of recommendations relating to Korean cinema, regardless of the theme. It is, of course, an iconic film and therefore cannot be passed up by any film fan. Park Chan-wook's most influential work stars Choi Min-sik as a man out for revenge, after he was kidnapped and incarcerated for 15 years in a sealed hotel room. Desperate to know why he was taken, Choi's Oh Dae-su embarks on a horrific killing spree to find his kidnapper and takes down countless people in the process, while also falling in love with sushi chef Mi-do (Kang Hye-jung). The film has, arguably, one of the most shocking twists in history which makes the neo-noir thriller even more horrific than first expected.
6. Zombie for Sale
Okay, this film is less about the horror and more about the comedy but it's too good not to recommend. Zombie for Sale is pretty much what it says on the tin; it's about a family in the countryside who come across a real-life zombie and when they learn his bites give the elderly their youth back they decide to cash in and make money off the locals. However, as expected, the zombie bites come at a price, and soon they have a veritable apocalypse on their hands. The film is hilarious, namely thanks to its incredibly witty script and the lead cast, who take the ridiculous concept and just run with it. It will have you in stitches from start to finish.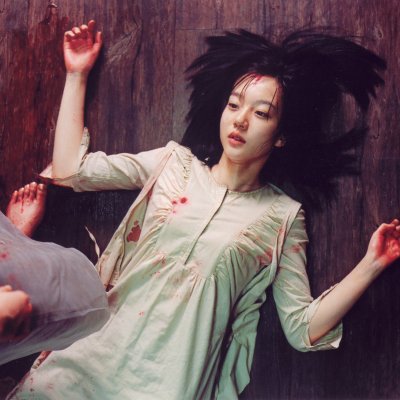 7. Train to Busan
This zombie thriller with a pulsating time bomb-ticking feel sees a train journey take an unexpected, deadly turn. Viewers are thrust into the heart of the apocalyptic chaos within the film's first few minutes, as passengers find themselves in a fatal fight against the walking dead, as well as each other. Zombie-slaying gore aside, this moving film is ultimately about humans—who we are and what we become in the face of great tragedy. The film's star-studded cast includes Gong Yoo, the famed Korean actor seen most recently in Squid Game, Ma Dong-seok from the Marvel film The Eternals and Parasite actor Choi Woo-shik.
8. The Wailing
This bloody cauldron of murder, demons and a mysterious infection is set in a dark, sleepy village awakened by a string of killings, after the arrival of a Japanese stranger. A police officer determined to protect his daughter from becoming the next murder victim seeks the help of a shady shaman and a ghostly woman who claims to know the truth behind the village deaths. The disturbing tale from director Na Hong-jin is underscored by unsettling visuals as well as eerie yet beautiful countryside backdrops, with cinematography by Hong Kyung-pyo, the cinematographer behind Parasite and other Bong Joon-ho films.
9. The Host
Jaws meets Jurassic Park in The Host, one of Bong's first big budget Hollywood blockbuster-style monster movies, starring Parasite actor Song Kang-ho and Bae Doona from the Kingdom Netflix K-drama series.
The heart-pounding thriller sees a giant creature with a cavernous shark-like mouth suddenly emerge from Seoul's Han River and stomp around on land in huge, dinosaur-like leaps, attacking everything in sight including a young girl who gets snatched away and hidden away. The film sees her family attempt to hunt down the creature themselves to save the girl, amid a backdrop of government conspiracy that unravels the origins of the mysterious monster.
10. Thirst
This erotic tale of forbidden love, seduction and deception from Oldboy and The Handmaiden director Park Chan-wook sees a devoted Catholic priest (played by Parasite's Song Kang-ho) be born again as a vampire, following a failed vaccine experiment. Tormented by his new existence, the troubled vampire is forced to face hell on Earth, feeding his insatiable thirst for blood and uncontrollable corporal desires that now form the core of his nature. Falling for his friend's wife, who leads a miserable life chained to an ill husband, the priest attempts to redeem the wife from her own living hell but instead awakens the monster within her.
11. Mother
The engrossing murder mystery from Parasite director Bong opens with the bizarre, whimsical feel of many Wes Anderson films, as a woman walks across a vast wheat field before suddenly transitioning into a trance-like dance to soft acoustic guitar music.
This unassuming sequence forms the quiet preamble to the horrific truths and chaotic turmoil that unfold following the sudden death of a young girl that's blamed on the woman's simpleton son. The haunting story traces the extremes of a mother's primal love—and the shocking lengths she's willing to go to—in her obsessive quest to clear her son's name.
12. #Alive
This engrossing action drama from director Cho Il-hyung offers zombie thrashing galore with plenty of blood-pumping suspense, as two people attempt to survive a zombie armageddon from the confines of their apartments. A video gamer locks himself in his own home as the world descends into chaos, with blood-thirsty zombies chowing down on those who are still alive as well as each other following the outbreak of a mysterious disease. Amid his walking dead surroundings, the gamer manages to make a human connection, discovering a woman in the building across from his place is also in hiding. The pair are forced to face the zombies head-on in an attempt to make an escape.
Newsweek may earn a commission from links on this page, but we only recommend products we back. We participate in various affiliate marketing programs, which means we may get paid commissions on editorially chosen products purchased through our links to retailer sites.