Best Man Who Vandalized Newlyweds' Guest Book With 'Vulgar' Jokes Dragged
A woman has taken to Reddit to describe a challenging situation involving the best man at her wedding.
In the post, which has 740 comments, user sadkeepsake wrote: "My husband's best man was supposed to take our guestbook at the end of the night and keep it until we could pick it up."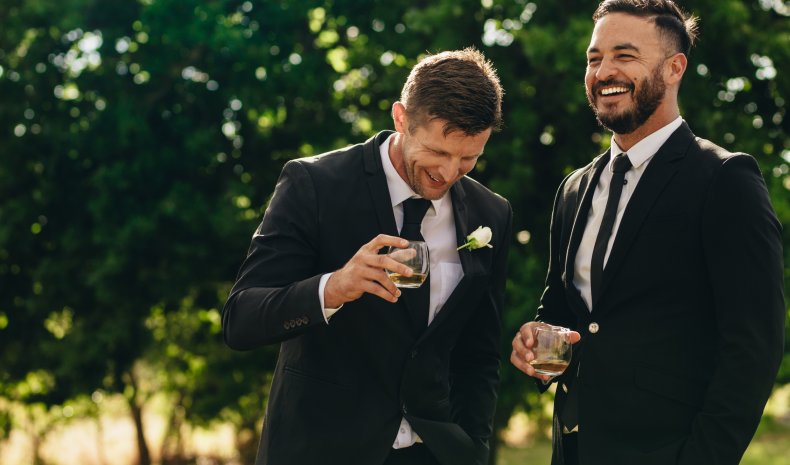 The Redditor wrote: "He took the opportunity to vandalize every single page with vulgar drawings and several jokes where the 'punchline' is that one of my bride's maids is Black.
"My husband and I were shocked and put the book away, we haven't decided what to do with it yet and haven't looked through to see what's salvageable.
"My husband talked to his friend about it, and they essentially had a disagreement over how severe what he did was that hadn't been resolved when a mutual friend invited us to a birthday lunch."
Mental-health advice site Verywell Mind writes that it can sometimes be difficult to get on with your partner's friends.
Verywell Mind says: "If you're having a problem with one of your partner's friends, talk to your partner and/or the friend about it directly. Don't gossip or talk behind their back—this will only make the situation worse."
The Redditor writes about how other friends have accused the couple of being "uptight" for finding the actions offensive.
"The Best Man changed the topic when I said maybe we should let everyone see it for themselves and decide. My husband and I are debating if it's an ***hole move to share pics to the gc [group chat] and let his "jokes" speak for themselves."
MollyGodiva wrote: "NTA [not the a**hole]. Outing a racist is always ok," with 12,800 likes.
Another user, mspatchel, wrote that it could be embarrassing for the Black bridesmaid: "She may not want this to be shown to all your friends. Please don't do anything until you've spoken to her."
In a later comment, sadkeepsake writes, "I haven't witnessed any of this before but I don't know the guy well, he was my husband's childhood friend and their parents are still friends.
"My husband feels like they're gonna talk it out and his friend will "see reason" and apologize for drunken behavior but idk [I don't know]. He says this is out of character for him but my husband is not very emotionally perceptive tbqh [to be quite honest]."
Sandi375 commented: "Yeah. If it were stupid drawings and him just being an immature ass, I would blow it off. Being an open racist? That needs to be known."
Butterdrake333 wrote: "You might consider cutting out names, and anything else important and scrapbooking them into a clean guest book so you can still have the remembrances of the people who attended."
Newsweek reached out to u/sadkeepsake for comment. We could not verify the details of the case.
Has a wedding come between your relationship with a loved one? Let us know via life@newsweek.com. We can ask experts for advice, and your story could be featured on Newsweek.