Rep. Beth Van Duyne 'Shocked' After Man Kills Himself in Front of Her Home
An unidentified man shot himself dead in front of Rep. Beth Van Duyne's home in Irving, Texas on Wednesday afternoon.
Andrea Coker, a spokesperson for the lawmaker, confirmed Van Duyne, a Republican representative for Texas' 24th Congressional District, was at home during the shooting. After she heard the gun shot at around 3.45 p.m. on Wednesday, Van Duyne opened her front door and saw a man's body on her walkway.
Rep. Van Duyne called the Irving police, who are investigating the incident with the FBI. Police told KXAS they are looking into how the man was able to enter into the gated community Van Duyne lives in.
"The Irving police arrived immediately and made sure the area was secure, and she has been speaking with them since. She is shocked and saddened that someone would take their own life. We have no further comment at this time," Coker told KTVT.
Police say that there is no known link between the man and the Van Duyne family.
Newsweek has contacted Rep. Van Duyne's team and Irving Police for comment.
Van Duyne served as a mayor of Irving from 2011 to 2017 and was regional administrator for the U.S. Department of Housing and Urban Development (HUD) during Donald Trump's administration. She resigned from that post in 2020 to run for a Congressional seat in Texas' 24th district, which she won on November 3 against Democrat Candace Valenzuela.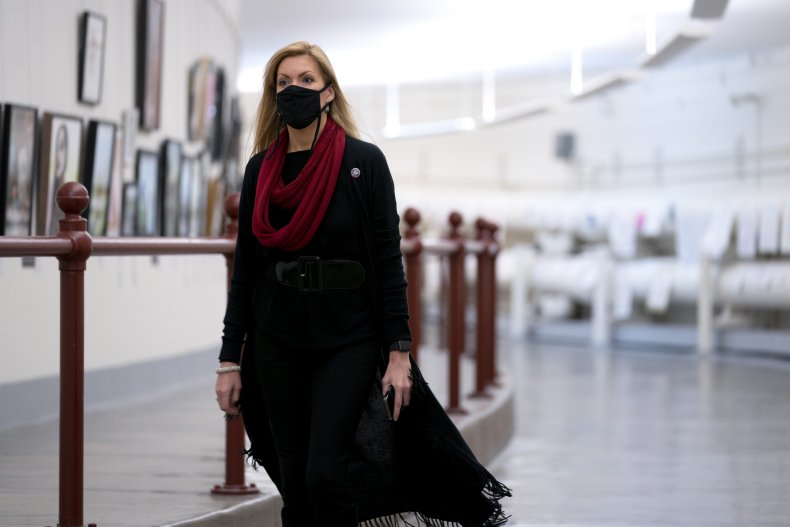 Van Duyne voted against former U.S. President Donald Trump's impeachment on January 13. However, the House voted to impeach Trump that day after 10 other Republicans, including House Republican Conference chairwoman Liz Cheney, joined all of the Democrats in supporting the article. Trump was impeached for inciting the violence that saw a mob of his supporters storm the U.S. Capitol building in Washington, D.C., on January 6.
The Senate impeachment trial kicked off on Tuesday. During the trial, Democrats on Wednesday aired disturbing new footage of lawmakers being threatened by the rioters. Some politicians were forced to go into hiding or shelter in the Capitol building during the siege. In the footage, then-Vice President Mike Pence and his family were seen being evacuated from a room near the Senate chamber, almost 15 minutes after rioters stormed the building. Chants of "Hang Mike Pence" can be heard in the background.
On February 1, Democratic New York Representative Alexandria Ocasio-Cortez revealed on an Instagram live stream that she thought she was going to die during the January 6 riot at the U.S. Capitol.
Ocasio-Cortez said that an individual entered her office, forcing her to take refuge inside her bathroom after her legislative director Geraldo Bonilla-Chavez told her to "hide, hide, run and hide."
If Trump is convicted in the Senate trial—which will take at least 67 votes —a simple majority vote on a subsequent resolution could bar him from ever again holding public office. Anything else leads to Trump's acquittal, and neither verdict could be appealed to a court.
If you have thoughts of suicide, confidential help is available for free at the National Suicide Prevention Lifeline. Call 1-800-273-8255. The line is available 24 hours every day.