A giant earth artwork depicting 2020 Democratic presidential candidate Beto O'Rourke has appeared north of Austin, Texas.
The two-acre design, dubbed "Beto Earthwork," was created by Kansas artist Stan Herd, and consisted mostly of gravel, sand and rock. Herd said he made to "tell the story" of the former Texas congressman.
Herd, described as an "earth artist," told KENS5 that the piece took two weeks to complete. He said he hoped to "bring the community into an art effort" centered on O'Rourke.
"We're trying to tell the story of this amazing man from Texas making a difference in the national climate," the artist explained.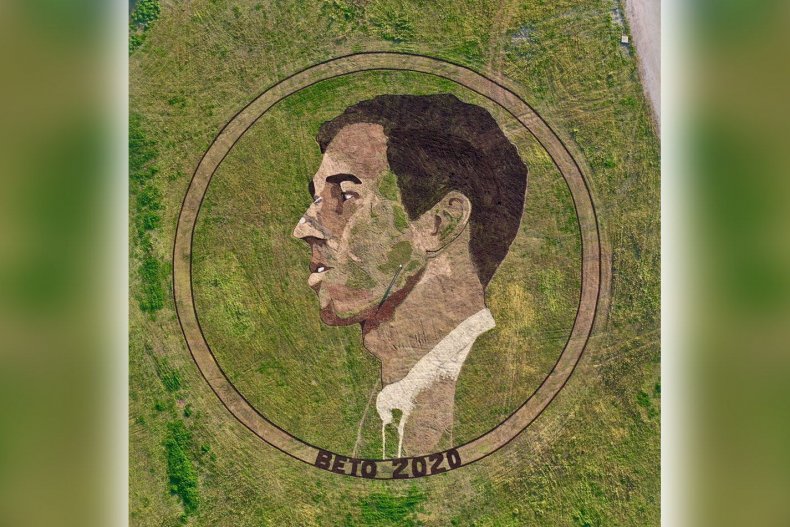 Herd had been creating portraits with natural materials for more than 40 years and started this most recent project by looking for the correct canvas. "We try to get close to an airport to guarantee a closer audience," Herd said.
Passengers flying into the Austin-Bergstrom International Airport should be able to catch a glimpse of the huge circular portrait, situated 1.5 miles to the north. The image also embraces a little local flavor and color. The brown of O'Rourke's eyes was created with pecans.
"Pecans are a big product in Texas," Herd said. "It's a nice brown color."
The project manager for the piece, John Zarr, said O'Rourke's campaign helped supporters feel as if they were part of an important movement. "Why not let your voice be heard," said Zarr. "Part of the beauty in this is that everyone contributing feels like they are part of something larger than any one person or institution."
"Everyone is trying to decide where we go as a nation," Herd added.
The artwork cost more than $10,000 and Herd and Zarr hope it will help start a conversation. It will be visible for the next seven days.
O'Rourke's campaign announced on Monday that it had raised $6.1 million during the first 24 hours of announcing the candidate's run. The amount topped donations to Bernie Sanders's campaign, which raised $5.9 million in its first 24 hours.
O'Rourke became a record breaking fundraiser last year when he narrowly lost to Ted Cruz in their 2018 Senate race. He raised more than $80 million over the course of the race, setting a new record for Senate campaigns.
"In just 24 hours, Americans across this country came together to prove that it is possible to run a true grassroots campaign for president—a campaign by all of us for all of us that answers not to the PACs, corporations and special interests but to the people," O'Rourke said in a statement, announcing the $6.1 million in donations.