Beto O'Rourke, the latest Democrat to enter the 2020 presidential race, raised $6.1 million during the first 24 hours of announcing his run, according to his campaign, narrowly oustripping the amount raised by Vermont Senator Bernie Sanders in the same period.
"In just 24 hours, Americans across this country came together to prove that it is possible to run a true grassroots campaign for president—a campaign by all of us for all of us that answers not to the PACs, corporations and special interests but to the people," O'Rourke said in a statement released by his campaign early Monday.
The amount topped donations to Sanders's campaign, which raised $5.9 million in the first 24 hours after he announced in February.
O'Rourke, who was narrowly beaten by Senator Ted Cruz in their 2018 Senate race, said the campaign's $6,136,763 in donations came from all 50 states, as well as from every U.S. territory and Washington, D.C.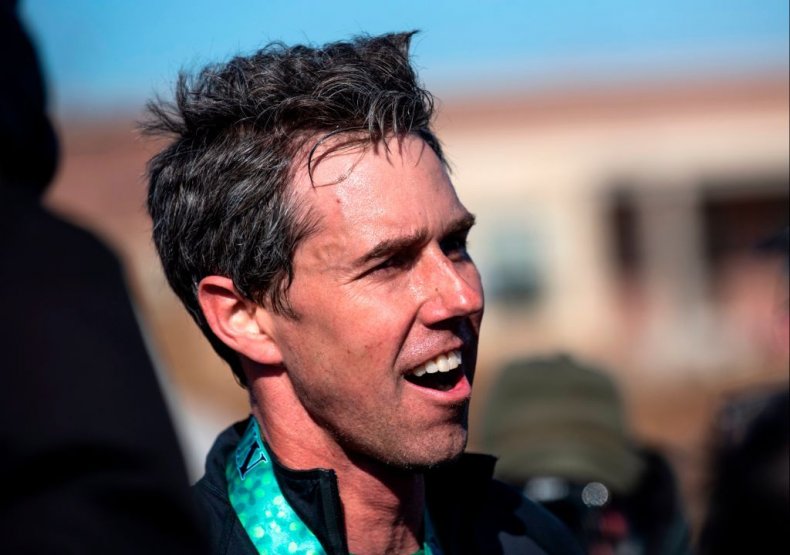 O'Rourke emerged as a strong fundraising force against Cruz in last year's race. He raised more than $80 million over the course of the race, setting a new record for Senate races. At the tail end of that race, from July to September 2018, O'Rourke had raised more than $38 million, the most any candidate for the U.S. Senate had ever raised in a similar period.
It appears that O'Rourke's fundraising power has translated to the national stage, though his campaign said it would not announce the total number of donors or the level of donations in the days that followed his announcement for his 2020 candidacy in Iowa last Thursday.
Sanders's campaign reported the figure raised in his first 24 hours came from 223,000 donors making an average contribution of $27. The funds raised by both candidates pushed them to the front of the large and diverse field of candidates vying for the 2020 Democratic nomination.
The graphic below, provided by Statista, illustrates the 24 hour fundraising achievements of 2020 Democratic presidential nomination candidates.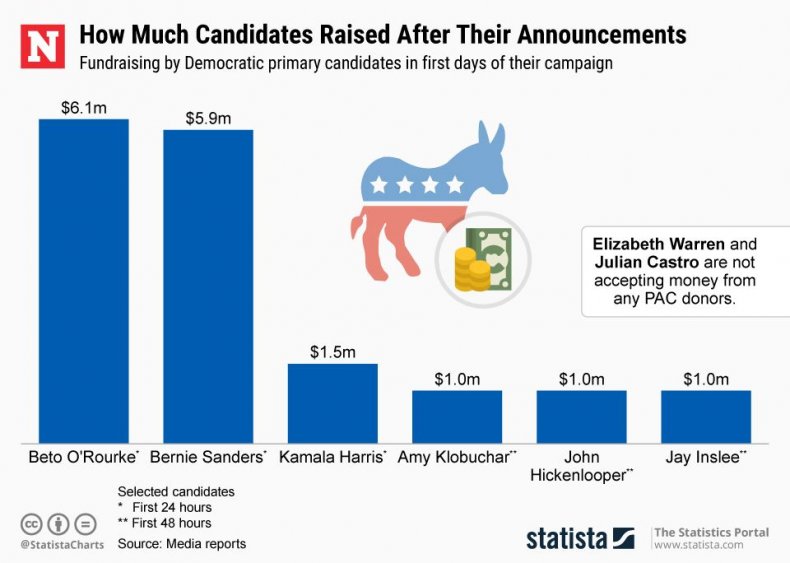 Senator Kamala Harris's campaign has said the California Democrat raised $1.5 million from 38,000 donors during her first 24 hours of campaigning. Senator Amy Klobuchar of Minnesota, Governor Jay Inslee of Washington, and former Governor John Hickenlooper of Colorado all reported raising $1 million over the first 48 hours of their respective campaigns.
Senator Elizabeth Warren of Massachusetts has declined to disclose her total donations. Numbers from ActBlue, an online fundraising organization used by her campaign as well as by other candidates for the Democratic nomination, showed that some 8,000 donors gave $300,000 to Warren's campaign.
This article was updated to include an infographic.