Beto O'Rourke Calls Abbott's Plan to Send Texas National Guard to Border a $2B 'Stunt'
Democratic Texas gubernatorial candidate Beto O'Rourke has described incumbent Governor Greg Abbott's mission of sending Texas National Guard troops to the U.S.-Mexico border as a $2 billion "political stunt."
O'Rourke blasted the operation as a waste of state resources and called for an end to the mission during an appearance on MSNBC's The Last Word with Lawrence O'Donnell on Monday night. O'Rourke said that troops deployed to the border had complained of being used as "mere window dressing for the governor's reelection campaign" when he met with some of them a short time earlier.
"End this mission," O'Rourke said. "Let them come back home and reserve sending them out only for when we have a real crisis or an emergency. And what's happening at the border does not meet that bar...there are a lot of needs here that those billions of dollars could have gone to meet."
"This is a political ploy on the part of the governor," he added. "But the people who are paying the price, beyond those taxpayers, are those members of the Guard. And we need to let them come back to their families, back to their jobs, back to their communities. It's the right thing to do."
Abbott launched the initiative, dubbed Operation Lone Star, last March as a response to what he called an escalating "crisis at our southern border" caused by President Joe Biden's immigration policies. The mission began with a few thousand troops but has steadily grown to include around 10,000 National Guard members since then.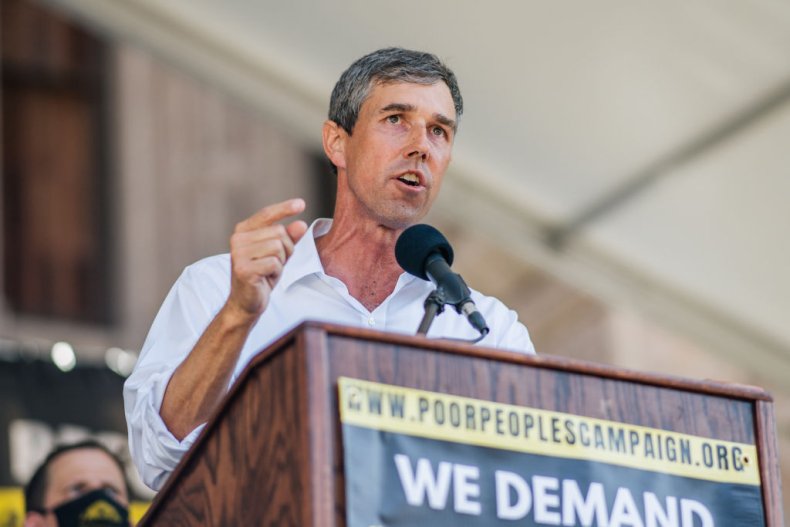 "Credibility-challenged Beto O'Rourke is again trying to score political points to the detriment of Texans' safety," Abbott's Press Secretary Renae Eze said of O'Rourke's comments on the mission in a statement to Newsweek. "He should tell that to the Texans along the border whose houses are broken into, their property damaged, and had guns pointed at their heads, thanks to President Biden's open border policies which O'Rourke supports."
"And tell that to the families who have lost loved ones to fentanyl overdoses, and to the innocent women and children who have been trafficked into the country,' Eze added. "Instead of playing politics with our border and Texans' safety, O'Rourke should ask his pal Biden to do the job he swore an oath to do and secure the border."
Criticism of Abbott's plan, which is expected to cost around $2 billion this year, has grown alongside the number of troops being sent to the border. Complaints have included Texas National Guard members being given delayed or incorrect payments, having their college tuition benefits cut in half and experiencing poor conditions at the border.
Some of those deployed to the border for an indeterminate amount of time have described the operation as a poorly defined and executed mission that is only succeeding in forcing them to be aimlessly stationed at the border, according to The New York Times.
"I believe we should be on the border, but you've got to give them a purpose," Jason Featherston, who was the Texas National Guard's top enlisted member before retiring last year, told the paper. "A lot of people think this is a publicity stunt. Why all of a sudden the big push?"
Some members of the Guard have also complained that they were involuntarily sent to the border for lengthy deployments with an unusually short time to prepare.
In addition, several troop suicides have been linked to the mission. Abbott said earlier this month at a campaign stop that those criticizing the mission over the suicides were "just playing politics" and questioned whether the suicides all "actually occurred during Operation Lone Star."
O'Rourke, a former member of Congress who lost a close Senate race to Republican Senator Ted Cruz in 2018 and ran for president in 2020, announced his candidacy for Texas governor last November.
O'Rourke is Abbott's top Democratic challenger but is trailing the governor by a significant margin in polls. However, no polls of the still-hypothetical matchup have been released for over a month.