Beto O'Rourke Compares Green New Deal to World War II, Says It Requires That Scale of 'Sacrifice'
Former Texas congressman and Democratic presidential hopeful Beto O'Rourke asserted his backing for the Green New Deal, spearheaded by Congresswoman Alexandria Ocasio-Cortez, comparing the battle against climate change to World War II.
O'Rourke, who rose to national fame vying for Republican Ted Cruz's Senate seat, made the comments framing climate change as an existential crisis akin to World War II and the Great Depression while campaigning at the University of Virginia.
"One of the reasons I like Representative Ocasio-Cortez's proposed Green New Deal is that it calls to mind another time in this country's past when we faced an existential challenge. In that case, it was to our way of life to the Western democracies, to our allies in Europe, to our fellow Americans," the El Paso Democrat said to applause.
"In the midst of the Great Depression, this country was willing to sacrifice men and women all over the United States to make sure that we defeated Germany, and we won that war. And for the following 75 years that we made this world safe for democracy. The Green New Deal calls that sacrifice and service in scale, scale of commitment when it talks about the challenges that we face today," O'Rourke added, while speaking from a staircase to hundreds of students at the university in Charlottesville. (The Great Depression began in 1929 and ended in 1939; the U.S. entered World War II in 1941, after the Japanese bombed Pearl Harbor.)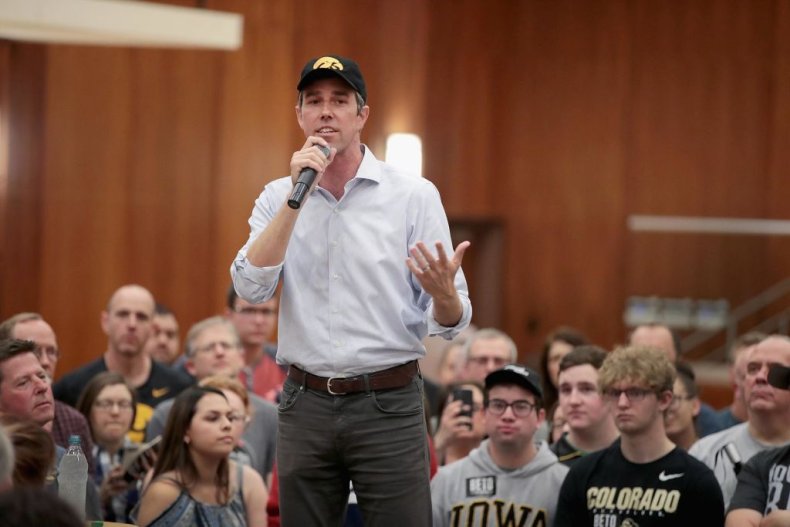 Since February, the Green New Deal and Ocasio-Cortez have made headlines after the freshman congresswoman launched the initiative to combat climate change with Senator Ed Markey of Massachusetts. The bold proposal seeks to eliminate greenhouse gas pollution in the United States over the next decade. The deal also seeks to address inequality by guaranteeing a job with a family-sustaining wage.
The Green New Deal's detractors have dismissed it as impractical, while some Republicans have welcomed it, believing the deal is so radical that it will drive away moderate voters from the Democratic ticket.
Ocasio-Cortez has herself compared the Green New Deal to the national emergency facing the United States during World War II. "We've been here before. We've been here before with the Great Depression. We've been here before with World War II, even the Cold War," the Democratic congresswoman from New York said as she discussed the issue at an MSNBC town hall in March.
"And the answer has been an ambitious and directed mobilization of the American economy to direct and solve our problem, our biggest problem," Ocasio-Cortez added.