Beto O'Rourke Fires at Abbott on Abortion: 'Most Extreme Law' in America
As the first event for Beto O'Rourke's hours-old campaign for governor wound down, a rural health care roundtable in Fort Stockton, Texas, Pecos County Judge Joe Shuster elucidated both the promise and peril facing the former congressman and presidential candidate.
"You made an impression when you were out here in '17," Shuster began, referring to O'Rourke's 2.5-point loss to Senator Ted Cruz in his first statewide race. "I felt that if I ever had the opportunity to have the governor come and listen to us this is the only one we're going to have — if you win. And I know you got a hard road to hoe."
O'Rourke said he agreed with the judge.
After all, this is O'Rourke's third attempt to win a major race, having come close in 2018 but sputtering badly in a short-lived run for president in 2020. With the pressure on, he is facing an incumbent governor with a $55 million war chest in a traditionally red state during a midterm election that is widely believed to be a drubbing in waiting for Democrats.
O'Rourke said it would be an uphill battle.
After the first campaign stop, where Newsweek was the only news organization in the room, he said that what is critical and different from 2018 is "where Texas is right now."
He pointed to the doctors in the room in Fort Stockton who talked about struggling to meet the demand for care during the pandemic, including the 73,000 Texans who died from COVID-19, "many unnecessarily because of the confused leadership of the governor."
O'Rourke told Newsweek that Texans can find common ground, even on contentious issues. He said most people agree they shouldn't have to worry about being killed by a weapon designed for battlefield use, and that Abbott shouldn't have signed permitless carry.
And he took the opportunity to go after Abbott for a law that effectively bans abortion and is being challenged in court.
"This is the most extreme law in the United States of America pushed for and signed by Greg Abbott, which not only has functionally banned abortion in Texas, but as you know places a $10,000 bounty on the head of any woman who seeks to make a personal, private health care decision that is none of the state's or the governor's business," he said, calling it "dangerous" vigilantism unleashed by Abbott.
And he repeatedly brought up the catastrophic Texas power grid failure in February.
"We had a tragic failure in our power grid that not only knocked millions of Texans into darkness, and not only is going to cost each of us as ratepayers a significant amount of money for the next ten years on every single one of our electricity and gas bills, but also cost the lives of hundreds of our fellow Texans, including an 11-year old boy who froze to death in his bed," O'Rourke told Newsweek from the Pecos County Courthouse.
"I think people in Texas understand the consequences of Abbott's failed leadership," he said. "And many who perhaps before, including in 2018, would not have been open to voting for a Democrat are ready for an alternative, especially if we keep this focused on jobs, schools, and on health care."
While O'Rourke's campaign may feel those issues are his best road to pulling out a victory in a state that has not elected a Democrat statewide since 1990, some Republicans were also excited to see him join the race, with the Abbott campaign preempting his announcement with a digital attack ad featuring a supercut of his quotes on guns, immigration and other issues, entitled "Wrong Way O'Rourke."
Away from the courthouse where he held his first event, business owners in Fort Stockton gave their thoughts on the return of Beto.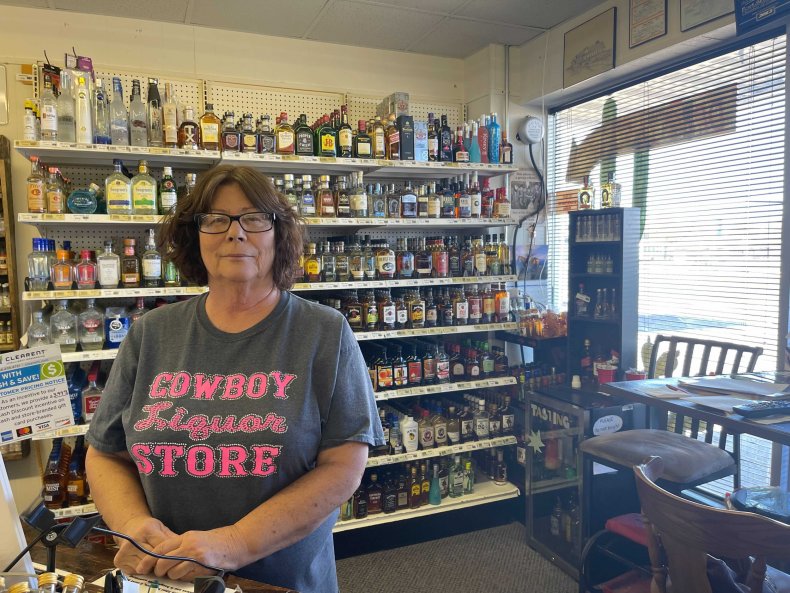 Couqueze Rusk, 69, who works at her daughter's Cowboy Liquor Store in Fort Stockton, said that while she is a staunch Republican who voted for Donald Trump twice, she can see where the criticism of Abbott on abortion is coming from.
"I can understand it — does that make sense?" she told Newsweek, in between handing small bottles of whiskey and tequila to patrons through a drive-thru window. "I feel for the women that have been raped or that have something desperately wrong, but if there's a heartbeat that baby's alive so I understand the way he talks, too."
Rusk, who said she gets most of her news from Facebook, said the power grid failures were not Abbott's fault, and that hearing about liberals' plans for Texas were why she doesn't support O'Rourke.
"When Trump ran again I knew if we got Biden we were going to be in trouble," she said. "When you hear liberals or Democrats want to turn this state blue, it scares you."
Down the road, Amy Terrazas, the owner of Bella Terrazza Home Decor, felt much differently.
As she was telling customers the stories behind the Mexican workers and families she buys her wares from, word got out that O'Rourke was coming to the courthouse, which is just two blocks away. Immediately, Terrazas giddily told Newsweek that she worked hard for him in 2018, making phone calls and hosting networking events with 30 to 35 people at every meeting.
She said she doesn't just support O'Rourke because he's a Democrat but also because of his personality and enthusiasm.
"He's down to earth," she explained. "It doesn't matter if you're poor, Black, he's for everybody. I just love him."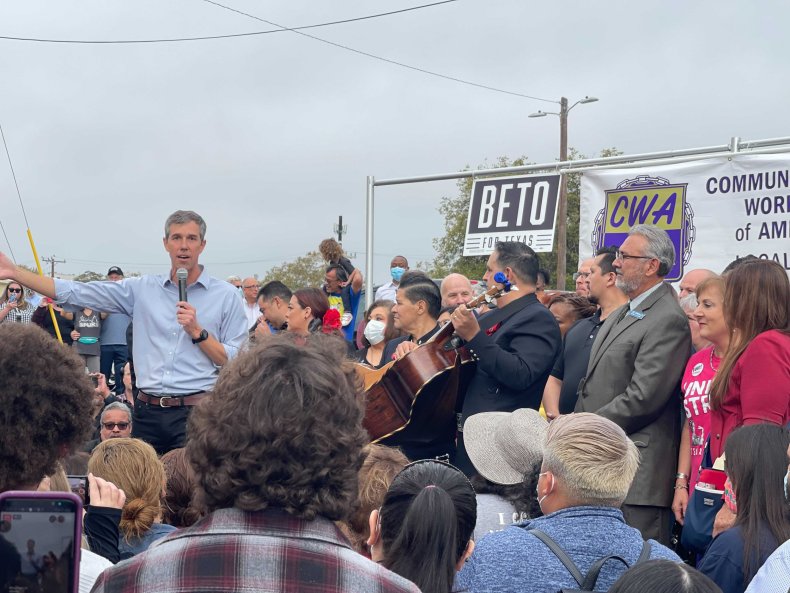 In San Antonio the next day, the same kind of energy and enthusiasm Terrazas feels for O'Rourke was on display, during an event billed as a "thank you" to essential workers by the campaign. But after a slow, then accelerating union clap, O'Rourke emerged stage right and excitement bubbled over with chants of "Beto! Beto! Beto!" echoing from the assembled crowd at the CWA Local 6143 union building.
Beckoning the crowd to help him move Texas beyond the "smallness," "division," and "meanness' of the current political environment, he quickly moved again to the Texas abortion law and the power grid failure. Instead of failed policies, O'Rourke exhorted, Texas should be about offering the best jobs possible, which elicited cheers.
"I trust women to make decisions about their own bodies," he said. "I trust police chiefs who say we don't need permitless carry."
After being asked to give a message in Spanish, O'Rourke complied, before asking "Where are the mariachis?" With that a mariachi band began performing for the crowd, before the entire event morphed into a line more than 100 people long to take a picture with him.
The festive celebrity feeling that O'Rourke and only certain politicians can muster was capped by an older lady who walked up for her picture, dancing to the mariachi music. On cue, O'Rourke took her for a spin, dancing with her to the delight of the crowd.
Just 24 hours into O'Rourke's latest campaign, there was evidence he could again capture the excitement and imagination of Texans he will need to make a race against Abbott close.
But the contours of the race and the challenges he faces are also understood from Fort Stockton to San Antonio and beyond.
Back at the rural health care roundtable at the Pecos County Courthouse, Judge Shuster said that if O'Rourke is fortunate enough to be the next governor, "you've already heard our story, and I'd like for you to represent the people in rural communities, because without Medicare and Medicaid I know most hospitals would be closed."
The participants echoed O'Rourke's past statement that three in 10 Texans live in rural parts of the state and need to be listened to, have a voice in his campaign and possible leadership of the state.
"If we're lucky enough to do this, and you're right it's a tough road and it is all uphill, but if we're lucky enough to do this, that's what I want to be able to do," O'Rourke said, before closing the meeting and standing up to take pictures with the roundtable participants.