Can Beto O'Rourke Beat Greg Abbott? Uvalde Moment Gives Way to Grim Hopes
When Beto O'Rourke announced his candidacy for governor last November, the El Paso Democrat was already a known commodity throughout the state of Texas.
Four years earlier, the once obscure congressman from the western corner of the state came within 3 points of unseating Republican Ted Cruz in a Democrat's best performance in a U.S. Senate race there since 1978, catapulting O'Rourke to superstardom in the modern Democratic Party and a bid for the White House. Then in the summer of 2019, a gunman opened fire on shoppers at an El Paso Walmart, killing 23 people, injuring 23 others, and giving O'Rourke the rallying cry that would come to define the rest of his political career.
"Hell yes, we're going to take your AR-15," O'Rourke vowed from the Democratic primary debate stage in Houston, a claim that elevated O'Rourke to figurehead status in the movement for national gun control.
Entering the Democratic gubernatorial primaries this past March, some saw O'Rourke's previous position as a potential liability as he sought to represent a state with more registered firearms than the total population of Wyoming.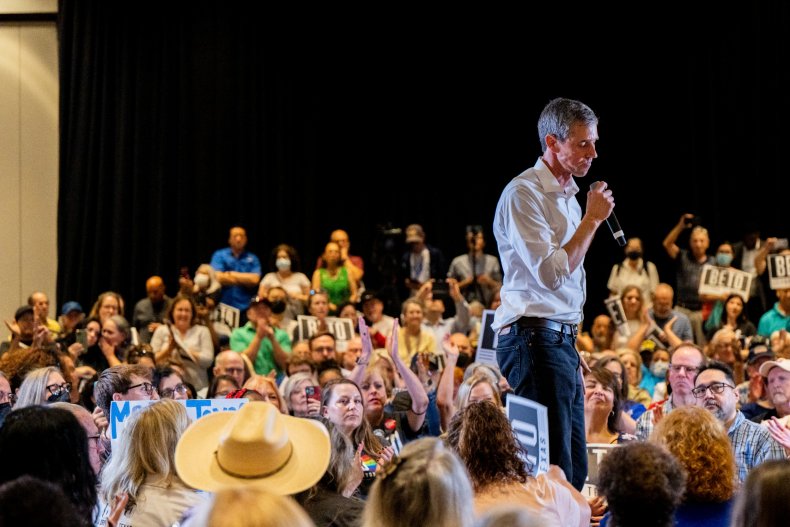 However, three weeks after his runaway victory in the state's Democratic primaries, another gunman rampaged through an elementary school in Uvalde, killing nineteen students and two teachers in an event that sent a shockwave through the nation's heart. And O'Rourke leaned in. Shortly after the shooting, O'Rourke interrupted an Abbott press conference, excoriating his administration for doing "nothing" to prevent the types of mass shootings that occurred in Uvalde.
And when a heckler laughed during an August campaign event as he spoke about the Uvalde school shooting, O'Rourke swore at the man in a now-viral clip, saying "it may be funny to you, motherf**ker, but it's not funny to me."
"We're going to make sure our kids who are starting their school year right now, that they don't have to worry about somebody walking into their school with a weapon like this," he said. "That we take common sense steps, we find the common ground, Democrats and Republicans, gun owners and non-gun owners alike."
The public, it seems, is on O'Rourke's side.
An August poll by the The Dallas Morning News and the University of Texas at Tyler found that three-quarters of the state's voters supported raising the legal purchasing age for semi-automatic assault-style rifles from 18 to 21, while that same poll found plurality support for a mandatory gun buyback program for those weapons. Further polling by the University of Texas at Austin found a majority of independent voters favored stricter gun control laws in the state, while less than one-quarter favored fewer restrictions on firearm purchases.
"This is the most challenging race that Greg Abbott has ever faced during his statewide runs in Texas," Mark Jones, a professor of political science at Rice University and an expert on Texas politics, told Newsweek. "You'd probably have to go back to 2002 to find a place where Republicans felt as threatened as they do today."
Whether the moment translates to action, however, remains an open question.
With just over one month to go until Election Day, O'Rourke faces a roughly 7-point deficit in the polls to incumbent Republican Governor Greg Abbott in a race increasingly defined by other issues. The impacts of inflation, polls in Texas show, remain the state's top issue, invalidating some of the advantages O'Rourke had made among the state's Hispanic population in the wake of the Uvalde shooting, Jones said.
While polling he'd helped conduct on behalf of the University of Houston's Hobby School of Public Affairs showed Hispanic voters to be significantly more supportive of gun control proposals than white Texans, other polling has shown inflation and economic stress to be of even higher concern. Polling released September 25 by the Texas Hispanic Policy Foundation showed Abbott with 39 percent of the Hispanic vote entering the closing weeks of the election, while Abbott was beating O'Rourke by a whopping 18 percent among male voters—both potentially troubling indicators for his election effort.
"Hispanics as a group lean more on the Democratic side on both gun control and on abortion, but not by large margins," Jones said. "What we're seeing is that it's more of the sub demographics that tend to vote Republican who aren't being swayed."
Newsweek has reached out to both campaigns for comment.
Republicans are also winning on immigration, with illegal border crossings in southern Texas nearing all-time highs.
According to recent polling by the Hobby School of Public Affairs, voter concerns over immigration slightly outranked concerns over issues like gun control and even abortion, an issue Democrats have now made central to their electoral strategy as they seek to offset trend lines in public opinion largely expected to result in a devastating midterm election season.
Though some polling has shown abortion is likely to be a highly motivating factor among Democrats and independent women, Texas, Jones said, "is more conservative on abortion than a lot of states," noting that the state's overall support for abortion access is more tepid than other states. In even optimistic polls for O'Rourke, the Democrat still finds himself underwater with the suburban voters believed to be key in the race, while Abbott himself maintained an 18-point lead among independents in a largely undecided field.
Some, however, still see O'Rourke's gun control platform as a winning issue following frustration over the state's apparent inaction following the shootings in El Paso, Uvalde and Santa Fe, noting that the Republican-dominated state Legislature actually moved counter to public opinion in the wake of those killings.
"I'd say Governor Abbott has weakened those laws while his opponent has supported efforts to make those changes," Erica Lawrence, a Montgomery County resident and the president of the Democratic Club of The Woodlands, told Newsweek in an interview.
"[These laws] don't make police officers safer, they don't make students safer, they don't make Texans safer," she added. "And [Abbott] signed it anyway."
While Texas Democrats have become almost inextricably tied to the national party, Lawrence said Democratic organizers in suburban regions like The Woodlands have sought to put the race in a state and local context, urging voters to balance concerns for what is happening within their state over national trends.
"In having conversations with people, I know people are worried about the cost of gas or supply chain issues," Lawrence said. "But I also know all of these problems weren't brought on by President Biden. All of the fallout from it comes from all of these other things that are sort of crumbling down."