Beto O'Rourke's Chances of Beating Abbott With 4 Months to Election: Polls
Democratic gubernatorial candidate Beto O'Rourke aims to flip the governor's mansion in Texas blue, but with just about four months to the midterm election on November 8, polls show he is facing an uphill battle against Republican Governor Greg Abbott.
O'Rourke, a former representative for Texas' 16th District, significantly increased his national profile by unsuccessfully running against GOP Senator Ted Cruz in 2018. He went on to launch an unsuccessful bid for the Democratic Party's 2020 presidential nomination as well. Now, the former congressman hopes to be the first Democrat to lead Texas as governor since 1995.
Recent polls show Abbott, who has led the state since 2015, with a substantial advantage over his Democratic challenger. However, survey data shows the Republican governor's unfavorability rating on the rise with Texas voters.
The current Real Clear Politics average of Texas polls shows O'Rourke trailing Abbott by about 6.3 points. O'Rourke has an average support of about 41 percent compared to Abbott's 47.3 percent.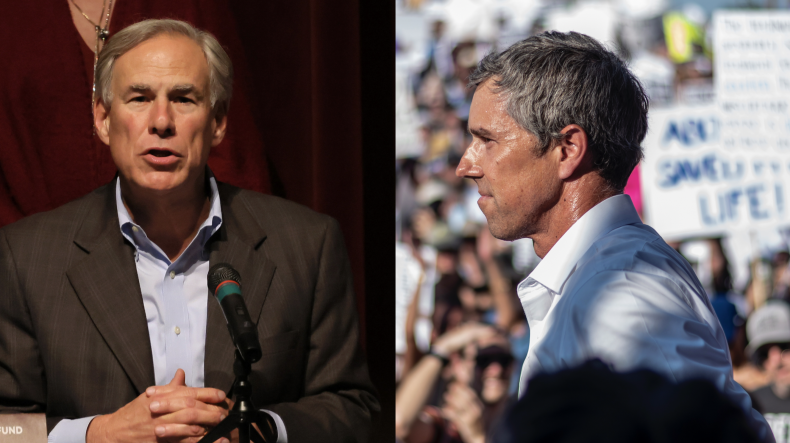 Recent polling by The Texas Tribune with the University of Texas at Austin showed support for Abbott on the decline, although he still leads. The survey conducted from June 16 to 24 showed the governor's lead narrowed by 6 points.
Abbott was backed by 45 percent of registered voters compared to 39 percent for O'Rourke. The governor held an 11-point lead in April.
In a previous survey by the University of Texas at Austin, Abbott had the support of 48 parent of voters while O'Rourke was backed by 37 percent. Both polls included 1,200 registered voters, with margins of error of plus or minus 2.8 points.
Polling by CBS News/YouGov carried out from June 22 to 27 showed O'Rourke behind by 8 points. Abbott had the backing of 49 percent of respondents compared to 41 percent for O'Rourke. The survey had a margin of error of plus or minus 6.6 points among 548 likely Texas voters.
Prior to that survey, a Quinnipiac University poll conducted from June 9 to 13 had O'Rourke trailing by 5 points. He garnered support from 43 percent of registered voters and Abbott had 48 percent. The poll surveyed 1,257 registered voters, with a margin of error of plus or minus 2.8 points.
Notably, Abbott's favorability rating has reached its highest level since he took office, according to the late-June polling by the University of Texas at Austin. Forty-four percent of Texas voters now view the Republican governor unfavorably. In particular, voters appear frustrated with how Abbott has responded to the May 24 mass shooting in Uvalde. Just 36 percent of respondents said they approved of his response compared to 45 percent who disapproved.
Former President Donald Trump, who endorsed Abbott, carried Texas in 2016 and again in 2020, when he won the state by about 5.6 percent. In 2016, Trump carried the state by 9 points.