Betsy DeVos on Florida School Shooting: 'Congress Has to Lead on This'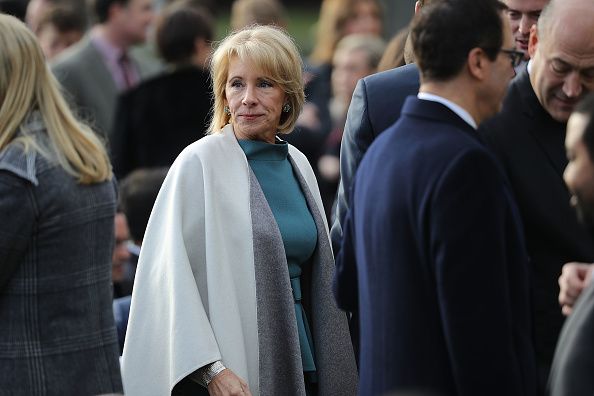 Secretary of Education Betsy DeVos called on Congress Thursday to hold hearings on school shootings—and reaffirmed her stance on guns in school—as the country reeled from the Florida high school massacre that left 17 people dead.
"We need to have a conversation at the level where lawmakers can actually impact the future," DeVos said during an interview with conservative radio host Hugh Hewitt. "One of these shootings is one too many. And we have got to have an honest conversation, and Congress has to lead on this. It's their job."
The education secretary also tweeted support to "impacted students, families and educators" hours after 19-year-old former student Nikolas Cruz stormed Marjory Stoneman Douglas High School in Parkland, Florida, with an AR-15 semi-automatic rifle. It was the first time she'd addressed a shooting on her Twitter account this year, despite a reported 18 school shootings in 2018 so far. Eight have resulted in deaths or injuries.
While DeVos called on Congress to lead the discussion about school shootings, she "maintains that states and local school districts are best equipped to understand the unique security needs in their local schools," department spokeswoman Liz Hill told Newsweek on Thursday. DeVos emphasized state decision-making to Hewitt as well, when he posed the idea of having teachers who are trained and know how to use weapons.
During her Senate confirmation hearing in January 2017, DeVos also fielded a question on whether she'd back a ban on gun-free school zones—one of President Donald Trump's campaign promises. She responded: "I will support what the president-elect does. But...if the question is around gun violence and the results of that...my heart bleeds and is broken for those families that have lost any individual due to gun violence."
Her stance had shaken Democratic Senator Chris Murphy—who'd posed the question—"to the core," he'd tweeted later that night.
Hill did not respond back to Newsweek on whether DeVos would still support Trump on that front, but deemed the exchange with Murphy as "a gross mischaracterization" of her stance.
Trump hasn't eradicated gun-free school zones from his plans, but said during a Thursday conference, "We are committed to working with state and local leaders to help secure our schools and tackle the difficult issue of mental health." He made no specific reference to guns or gun laws.
DeVos agrees that "it's critically important that we have a much more robust conversation around tracking and tackling mental health issues, and bring everyone together to focus on finding solutions that will truly work to keep students and educators safe," Hill told Newsweek.
As the shooting's devastation unfolds, other GOP members have stuck with go-to "thoughts and prayers," while Democrats renewed their cry for comprehensive gun reform. Treasury Secretary Steven Mnuchin broke away from other White House officials, requesting Thursday that Congress look into gun violence issues.
In addition to the 17 dead, 14 people sustained injuries in the shooting. Cruz was arrested in nearby Coral Springs on Wednesday and charged Thursday with 17 counts of premeditated murder.