Education Secretary Betsy DeVos has been threatened with the possibility of jail after a judge deemed she was violating a court order for continuing to collect student debts on a now-defunct school.
That ruling, handed down in June of 2018, was made by U.S. Magistrate Judge Sallie Kim and prevented DeVos and her Department of Education for going after former students at the bankrupt Corinthian Colleges Inc.
However, Kim said she was "astounded" to discover that DeVos was violating the court order at a hearing in San Francisco on Monday after a filing by the Education Department earlier disclosed that more than 16,000 former students at Corinthian College "were incorrectly informed at one time or another ... that they had payments due on their federal student loans."
At least 1,800 people reportedly lost wages or tax refunds according to the filing.
"At best it is gross negligence, at worst it's an intentional flouting of my order," Kim said, reported Bloomberg.
"I'm not sure if this is contempt or sanctions," she added. "I'm not sending anyone to jail yet but it's good to know I have that ability."
The case traces its way back to 2015 when Corinthian had been among the largest for-profit college chains in the United States until a wave of investigations and litigation—including a complaint by the 2020 presidential hopeful and then California Attorney General Kamala Harris—alleged widespread deception and fraud.
The company then filed for bankruptcy protection the same year and the federal government later ruled that as many as 335,000 former students could be entitled to have their debts cancelled under The Borrower Defense to Repayment program—an initiative started in 2016 to provide loan relief for students who had been defrauded by predatory schools.
However once DeVos took over the Department of Education in 2017, numerous attempts were made to limit the scope of the program, in addition to effectively ignoring roughly 160,000 applications made for loan forgiveness, according to a New York Times report.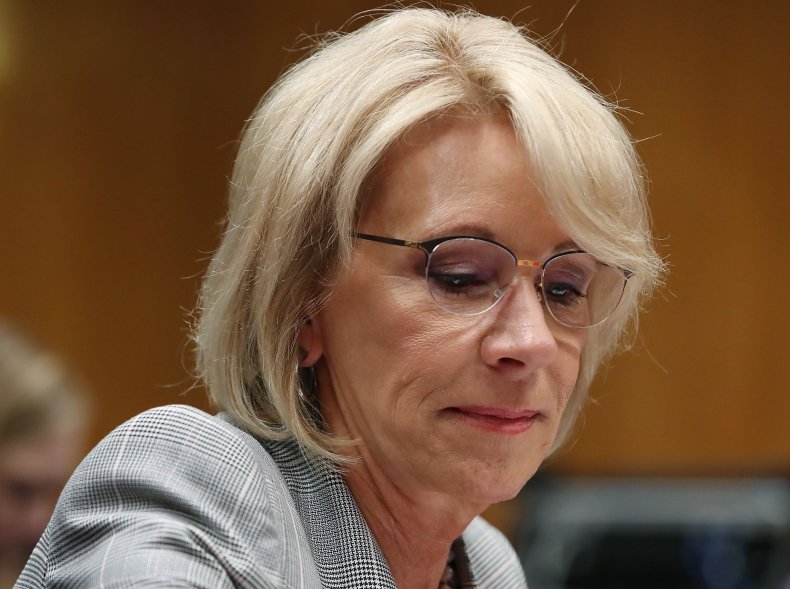 In 2017, a class action suit by approximately 80,000 Corinthian students sued the Education Department, alleging that the body had ceased to forgive the loans.
Instead of showing their compliance with the loan relief program, Education Department filings revealed that they instead were still pursuing students for loan repayment and had only pardoned 10 student loans.
"There have to be consequences for violation of my order sixteen thousand times," Kim said, according to a release.
Additionally, Kim ordered for the lawsuit against DeVos to go "full-steam ahead" and ordered lawyers for both camps to file the relevant filings to assist her in ruling whether DeVos is, in fact, in contempt of court.
Eileen Connor, legal director at the Project on Predatory Student Lending, the not-for-profit Harvard University project which represents the 80,000 students, told Bloomberg: "We think contempt is clear on the record presently before the court, and expect that the court will issue that finding, regardless of what sanctions are imposed."
Harvard lawyer Toby Merrill told Newsweek that the education secretary's actions were "truly unbelievable."
Merrill said in this case, she was confident that a contempt of court ruling would be brought.
"I don't want to put any words in the judge's mouth," she said, "but I think based on the evidence, it's unquestionable that the Department of Education is in contempt of the court order. There really is no factual question about it."
Although jail time is an option at the judge's disposal, Merrill said it was unlikely that DeVos would end up behind bars. Kim is more likely to take actions such as imposing fines, ordering weekly update reports and assigning a judge to monitor further compliance.
This article has been updated with additional comments from Harvard lawyer Toby Merrill.