The National Women's Law Center filed a lawsuit against Education Secretary Betsy DeVos over her new Title IX rule changes increasing protections for people accused of sexual harassment on college campuses.
The lawsuit filed on behalf of a handful of organizations on Wednesday claimed that the new rules violated both the Constitution and federal rules on administrative procedures.
It specifically argued that the Constitution's Equal Protection Clause and the Administrative Procedure Act would be violated by any move to block schools from addressing sexual harassment before it starts to impact a student's performance, or investigating allegations of harassment taking place outside of school time.
Four organizations representing student survivors of sexual harassment are named as plaintiffs in the lawsuit filed by the NWLC—Equal Rights Advocates, Victim Rights Law Center, Legal Voice, and Chicago Alliance Against Sexual Exploitation.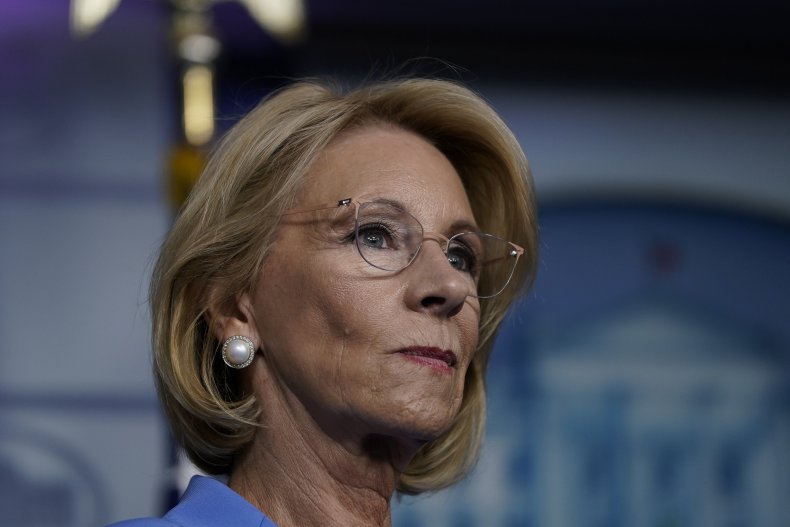 In a statement on the lawsuit, NWLC President Fatima Goss Graves said the Department of Education's changes to Title IX rules were illegal, and targeted sexual assault survivors.
"Sexual violence is already dramatically underreported in schools, and this is yet another attempt to deliberately silence survivors based on the sexist myth that they are liars," she said.
"At a time when students are also feeling the impact of the health pandemic and police violence on their education, when will Betsy DeVos choose to support them instead of encouraging schools to turn against them?"
Graves added that the Education Secretary was "tying the hands" of schools, and preventing them from being able to effectively address sexual assault allegations.
"By making it more difficult for student survivors to report sexual violence and reducing schools' liability, the new rules favor perpetrators," Legal Voice attorney Catherine West said.
The lawyer added that the new Title IX rules would particularly impact students in the "most marginalized" groups—such as transgender students and black women.
Newsweek has contacted the U.S. Department of Education for comment. This article will be updated with any response.
Under the new Title IX rules backed by DeVos, the definition of what counts as sexual harassment will be narrowed, and accusers will be required to attend in-person cross-examinations with alleged offenders.
A turnaround timeline of 60 days for cases will also be scrapped. The new rules unveiled last month are set to come into effect on August 14.
The NWLC lawsuit challenging the Title IX changes is not the first of its kind. Attorneys general from 17 states and Washington, D.C. launched a lawsuit against the new rules earlier this week.
New York's Democratic Attorney General Tish James also sued DeVos on Monday in an attempt to block the slated Title IX changes.