'Better Call Saul' Fans Say Stars Were 'Robbed' After Losing Out on Emmys
Better Call Saul fans have written on social media that the show's lead stars, Bob Odenkirk and Rhea Seehorn, were "robbed" after failing to win Primetime Emmy Awards Monday night.
With the awards ceremony celebrating the best TV shows and performances that premiered between June 1, 2021, and May 31, 2022, the first half of Better Call Saul's sixth and final season was eligible, given its April 18 premiere.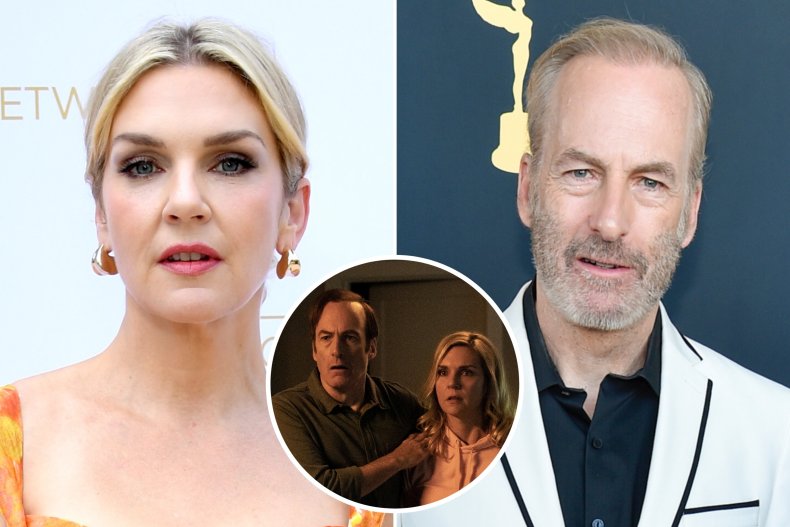 The critically acclaimed AMC show was nominated for best drama and best writing for a drama series, with Odenkirk and Seehorn also getting nods as best actor in a drama series and best supporting actress in a drama series for their roles as Jimmy McGill and Kim Wexler.
However, at the Los Angeles ceremony, Odenkirk, 59, lost out to Squid Game star Lee Jung-jae, while Julia Garner beat Seehorn, 50, for her acclaimed role in Ozark.
Succession won in the drama series category, and the HBO hit also beat Better Call Saul for writing for a drama series.
With the recently concluded season of Better Call Saul being its last, fans felt that the series had been unfairly treated at the Emmys, given the performances from the leading stars.
Taking to Twitter, one fan left no doubt about their feelings as they shared a photo of Odenkirk in character as part of a tweet that went viral.
"BOB ODENKIRK WAS PHENOMENAL FOR TEN WHOLE SEASONS OF BREAKING BAD AND BETTER CALL SAUL."
Another fan mentioned the other identities Odenkirk's character assumed on the Breaking Bad prequel. Vishal Verma wrote: "Better Call Saul fans after Bob Odenkirk aka the Saul Goodman & Jimmy McGill and Rhea Seehorn aka Kim Wexlar robbed of the deserving Emmys again! What a sick joke!"
The post was accompanied by a clip of Odenkirk's character physically expressing his fury.
Another Twitter user wrote that Better Call Saul will have a more prominent place in pop culture than other shows that proved victorious on the night.
"Better Call Saul not getting a single Emmy is very ironic," commented the Twitter user. "In 10 years people will still be talking about it while the rest of these shows will become distant memories to everyone."
Giving a full rundown on the different identities Odenkirk's character assumed throughout the run of the show, another fan wrote that they were "heartbroken."
"Bob Odenkirk played Saul Goodman, Jimmy McGill, and Gene Takavic so well," Atty. MMCR tweeted. "He should have won. He gave it his all in the final season of Better Call Saul. He deserved to win. I'm so heartbroken."
Despite the Emmy losses frustrating Better Call Saul fans, the second half of the final season premiered after the cut-off date for the 2022 Emmy Awards, so the show will be eligible for accolades in 2023.