'Better Call Saul's' Rhea Seehorn on Helping Bob Odenkirk With Heart Attack
While filming the final season of Better Call Saul in July 2021, Bob Odenkirk suffered a sudden heart attack, with co-stars Rhea Seehorn and Patrick Fabian giving him help immediately.
The Jimmy McGill star suffered a near-fatal heart attack and he previously credited the show's cast and crew with saving his life.
Seehorn reflected on the moment at the Emmys on Monday, September 12 as she spoke with People and EW's Red Carpet Live pre-show co-hosts Janine Rubenstein and Jeremy Parsons.
'Better Call Saul's' Rhea Seehorn on Helping Bob Odenkirk With Heart Attack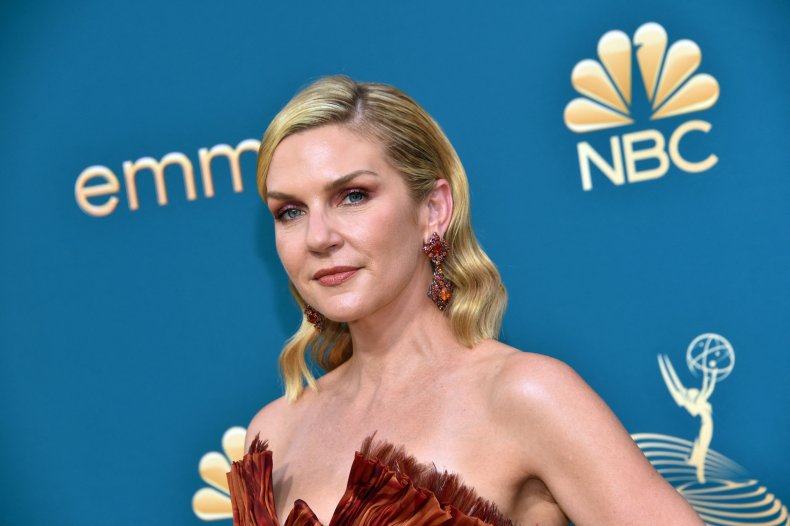 The actor, who played lawyer Kim Wexler, explained that she and Fabian were with Odenkirk on set during a break from filming when he had the heart attack.
She said: "He basically looked like he was fainting and then we realized that something was very wrong and we dove to catch him before he hit the concrete floor and then realized it was very, very bad and started yelling for help.
"We were always very close, but the best thing I could say was we've all had somebody that's passed and you just wish you had one more day, one more time to smile or laugh or appreciate them and you don't get it.
"When he woke up the next morning, his amazing wife Naomi and his kids were nice enough to let Patrick and I come to the ICU right away and, so we had that moment, it was like, 'Oh my god, this oh, I get another day!'"
Odenkirk shared his gratitude for Seehorn's quick reaction to the heart attack in a post on Twitter, which he shared alongside his co-star at the Emmys.
"The last eight years I've had the honor of working with the very best onstage and off. Far far more than I deserved. Rhea, thanks for holding my head off the concrete floor," he wrote.
Odenkirk previously told Howard Stern that his co-stars Seehorn and Fabian "rushed" to his side during the incident.
"Rhea held my head and Patrick grabbed my hand and they were yelling at me, 'cause I guess I turned gray right away and stopped breathing," he said.
Telling Stern that CPR saved his life, Odenkirk said that Rosa Estrada, Better Call Saul's health officer, was forced to use an emergency defibrillator numerous times before his heart started beating again.
"It took three attempts to get me to a rhythm, which is actually a lot," he said. "I was told later that when the defibrillator doesn't work once, that's not good. When it doesn't work a second time, that's kinda like, forget it.
"But then they jacked it up a third time and it got me back to a rhythm. That was what saved my life."
Better Call Saul Season 6 was nominated for Best Drama at the Emmys, and Odenkirk and Seehorn were also nominated in the Best Actor and Best Supporting Actress categories, however they did not win.