What Tony Dalton Has Said About Lalo's Fate on 'Better Call Saul'
In just three seasons Lalo Salamanca has become one of the greatest villains in the Breaking Bad franchise.
The character, brought to life by Tony Dalton, has fascinated fans with his charming yet sinister nature, which made him a force to be reckoned with and a villain that could go toe-to-toe with Giancarlo Esposito's Gustavo "Gus" Fring.
The opening episode of Better Call Saul's final season saw Lalo encounter a surprising fate at the hands of Gus, and Dalton has shared his thoughts on what took place with his character.
WARNING: This article contains spoilers for 'Better Call Saul' Season 6 Episode 8
How Does Lalo Salamanca Die in 'Better Call Saul'?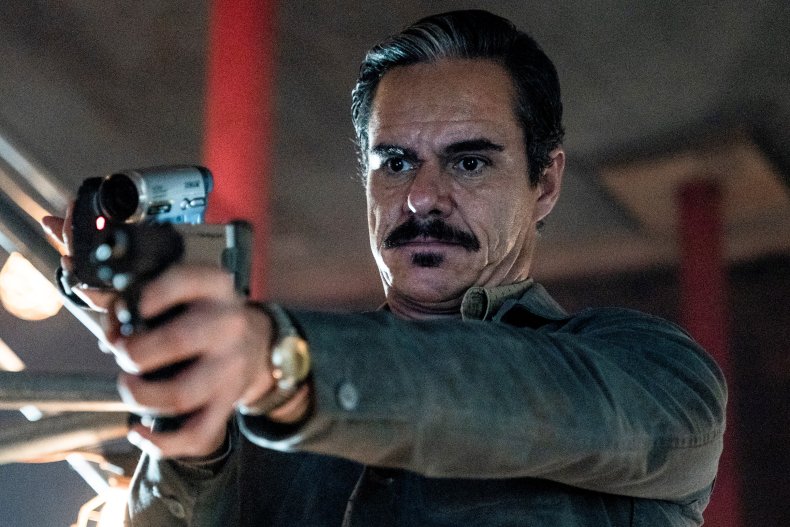 Episode 8, titled "Point and Shoot", follows on from the events of Part 1's shocking finale, which saw Lalo kill Howard Hamlin (Patrick Fabian) in front of Jimmy McGill (Bob Odenkirk) and Kim Wexler (Rhea Seehorn).
In the aftermath, Lalo forces Kim to go to Gus' home and kill him on his doorstep. Meanwhile, the villain ties Jimmy up and heads to the Los Pollos Hermanos owner's laundry factory to look for evidence of his meth superlab.
Things don't go as Lalo predicts though, because Kim is stopped by Mike Ehrmantraut (Jonathan Banks) before going anywhere near Gus, and the chicken man himself decides to follow his gut instinct and visit the laundry factory.
There he comes across Lalo, who kills Gus' men and forces him at gunpoint to show him the construction site that he records on video for their boss, Don Eladio (Steven Bauer).
Despite having the perfect opportunity to kill Gus, Lalo's ego gets the better of him and so the Breaking Bad villain is able to distract him long enough to regain the advantage and shoot him using a gun he hid in a construction vehicle.
Lalo dies after being shot in the neck, but only after giving Gus a smile and laughing all the way to his grave - literally.
What Tony Dalton Has Said About Lalo's Fate on 'Better Call Saul'
Dalton spoke to Vanity Fair about his character's demise, saying that he never hoped that Lalo would survive the events of the Breaking Bad spin-off.
He explained: "I mean, personally, I always thought that they would never let me down. But great stories have great villains, and you want to kill your villain, you know? What are you gonna do, not kill the villain? Of course you have to. It's part of the whole deal."
Dalton also shared his delight at his character being taken down by none other than Gus, who is arguably Breaking Bad's greatest villain.
"I wouldn't have it any other way. If it would've been a henchman, I would've been like, You motherf*****s, you killed me with a henchman?! But it was Gus Fring, man. Also, Giancarlo is one of the greatest guys, and I love him," Dalton said.
"So when we did that scene and I'm dying and covered in blood, Vince kept saying, 'More blood, more blood,' and I remember turning around like, Vince Gilligan, you are a sick man. This is way too much blood. And Giancarlo went, 'This is so cool and it's such an honor to do this with you.' I was like, 'Are you kidding me, man? It's an honor to do this with you!'"
The actor also spoke to Entertainment Weekly, explaining how he was the one to add Lalo's last laugh in response to writer Gordon Smith putting in the script that his character would die with after breathing his last "ugly breath."
Reflecting on this moment in the script, Dalton told the publication: "When we filmed it, I was like, 'I'm going to show you ugly, man.' So we did it. And then I smiled and Vince [Gilligan, who directed the episode] goes, 'That's good, that's good. But don't smile laughing, smile like, "You lucky bastard, man. This could have gone the other way. I'll see you in hell, Gus Fring."'
"We shot it and it was great, and I got up, the first person I went to was Gordon and I go, 'Was that ugly?' And he goes, 'No, man, that was a beautiful death. I wrote it wrong.'"
In the end, Lalo and Howard were buried by Mike and Gus' men in the cavern that'll become the superlab used by Walter White and Jesse Pinkman in Breaking Bad. Dalton appreciated that when fans re-watch the AMC show, they will now know the pair are walking above Lalo and Howard's corpses.
Another aspect of Breaking Bad that suggested Dalton's character could have survived the events of Better Call Saul was how Jimmy, aka Saul Goodman, mentions Lalo in his first episode when Walt and Jesse kidnap him, fearing they work for the cartel member.
Dalton said that he and Odenkirk spoke a lot about this reference to Lalo in the original series, explaining that they tried to make their characters' final interaction significant enough that it would make sense for Saul to bring him up.
He told the publication: "We actually talked about it when we were filming that scene with Bob and I, where I tie him up and I say, 'I'm going to be right back.' We didn't want to overdo it, but Bob was even adamant about, 'No, no, no. This guy has to really believe that Lalo is coming back!'
"So much so that it happens in [Breaking Bad] — the first time somebody grabs him, he goes, 'F***, it's Lalo! They'd already told me he was dead before one time. Why would I believe them this time?'"
Now, however, fans know exactly what happened to Lalo, and it was certainly a death befitting of one of the show's greatest villains.
Better Call Saul airs Mondays on AMC at 9 p.m. ET, and episodes are available to stream on AMC+.