'Better Call Saul' Co-Creator Peter Gould Teases Walt and Jesse's Return
Better Call Saul has featured appearances from every possible Breaking Bad actor it could, in both lead roles or small cameos, all of them except Walter White (Bryan Cranston) and Jesse Pinkman (Aaron Paul).
Well, Season 6 Part 2 is about to change that as the two TV icons will reprise their roles in the show's final episodes, though in AMC's original announcement about their return it wasn't clarified when or how they would appear.
Peter Gould, show co-creator alongside Vince Gilligan and long-time Breaking Bad executive producer, shared some details of Walt and Jesse's return with Newsweek ahead of Better Call Saul's return on Monday, July 11.
'Better Call Saul' Co-Creator Peter Gould Teases Walt and Jesse's Return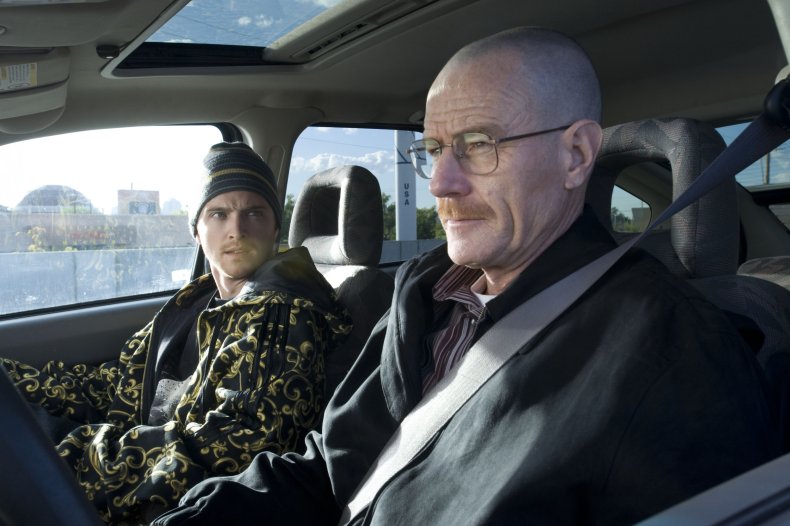 Breaking Bad fans have seen a lot of familiar faces in Better Call Saul, as Giancarlo Esposito, Jonathan Banks, and Mark Margolis reprised their roles as Gustavo Fring, Mike Ehrmantraut, and Hector Salamanca since Season 1, respectively.
Raymond Cruz, Maximino Arciniega, Daniel and Luis Moncada, Dean Norris, and Steven Michael Quezada have also featured in the prequel as Tuco Salamanca, Krazy-8, Leonel and Marco Salamanca, Hank Schrader, and Steve Gomez.
Their respective returns all play an important part in the journey Jimmy McGill (Bob Odenkirk) goes on to become Saul Goodman, but Walt and Jesse haven't yet had a chance to feature in the tale.
Gould told Newsweek he and Gilligan preferred to wait to bring back the pair until there was a reasonable point within the story to revisit the characters.
"You know, our focus on the show has always been telling the story of Jimmy McGill, Saul Goodman, Gene Takovic [Saul's post-Breaking Bad persona]—this guy with all these many identities," Gould shared.
"And one of the reasons we've held off on revisiting some of these beloved characters—even though, boy, there's no one I like working with better than Bryan and Aaron, they're just both fantastic and just wonderful people—but we held off this long because there wasn't a good story reason.
"I think the way those two characters appear [in Better Call Saul] feels right to me, and feels surprising, and I think there's still more to learn about some of these relationships."
The last time fans saw Cranston's Walt was in his dying moments at the end of Breaking Bad, not including his brief cameo in El Camino which showed what happened to Paul's Jesse after the events of the iconic AMC show.
Whether Walt and Jesse will be seen in the Better Call Saul time period or in a flash-forward scene from Breaking Bad, or even in the period set after with Gene, is yet to be seen, but there are certainly several ways the pair could return.
On What's To Come in 'Better Call Saul' Season 6 Part 2
Walt and Jesse aside, there's plenty for Better Call Saul fans to look forward to in Part 2, which consists of six episodes, as Part 1 ended with the dramatic moment Lalo Salamanca (Tony Dalton) killed Howard Hamlin (Patrick Fabian) in front of Jimmy and Kim Wexler (Rhea Seehorn).
Gould told Newsweek that the final episodes will focus mainly on why Lalo decided to do what he did in the shocking finale, as that is the "big question" of the season.
"They've just gone through this unbelievably traumatic event, you know, obviously fatal for poor Howard Hamlin," Gould said of the finale and what's to come next.
"But, you know, there's so many questions yet to be resolved. You know, why? Why did Lalo come to their apartment in the first place? What has he got in mind? I don't think he's just there for a legal consultation, so what does this guy have in mind? And what is that going to mean for for Kim and Jimmy?
"I think we're left in a moment of great suspense, and, I have to say, if you like the first half of the season I can't wait to see what you think of the second because I think the rest of the these last few episodes go in directions that I find incredibly surprising and rewarding.
"I just don't think anyone's done anything quite like it before. So, I'm very excited to see what people think of it."
Gould also promised that there would be "fireworks" in Part 2 when asked about Lalo, Gus, and Mike's storyline in the final episodes.
The writer raved: "Oh boy, well you can expect a lot of fireworks, there's a lot of fireworks yet to come between all these characters. Bob says it a little bit of tongue in cheek, that it's 'heart-stopping.'
"But, there is really so much drama of almost every kind, drama and actually eventually comedy coming your way. I really defy anyone [to predict it], well I'm sure someone out there is going to predict what's happening but I do find it very surprising in a good way, and very earned.
"So I think you can expect fireworks, all kinds of emotional explosions, some physical explosions. I think everything that happens is going to cause you to look at the previous episodes in a new way, and also at Breaking Bad in a new way."
On the Struggle of Saying Goodbye and the End of 'Better Call Saul'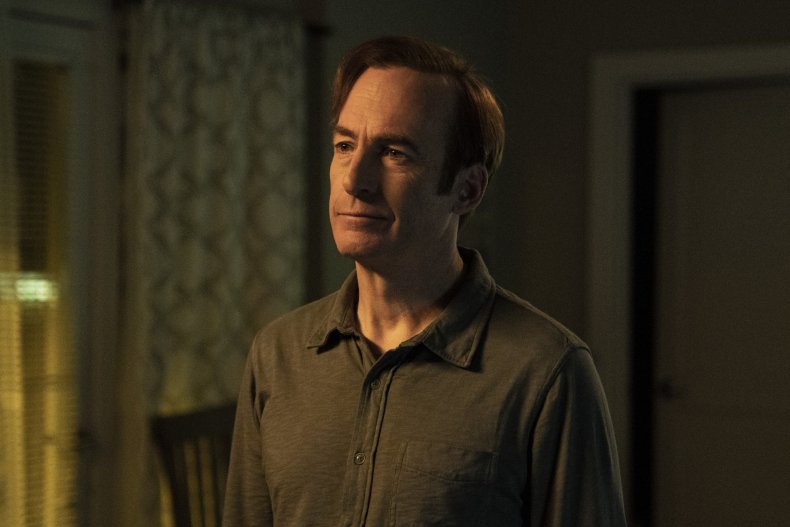 The first half of Better Call Saul's final season had a number of shocking twists, namely the sudden, unexpected deaths of Nacho Varga (Michael Mando) and the aforementioned Howard.
Gould spoke openly about the writers team's struggle to say goodbye to characters like Nacho and Howard, explaining that they always want to give them a fitting send-off but it's hard to do so.
Reflecting on Nacho's death in Episode 3, Gould said: "We struggled with that, we spent a lot of time because we didn't really want to say goodbye to that character either, we wanted to give him a different kind of send-off.
"As you work on these shows, you know, we have such a close relationship with the actors and with the characters that you start having a lot invested in them. So, we spent a lot of time trying to think of another way out for Nacho, and it just seemed like this was the only way that it could have gone.
"We don't kill off characters lightly, these characters are really important to us, too."
When asked if he, Gilligan and the writing team have had a set plan in place for their characters, Gould said "absolutely not."
He went on: "To be pretty brutally honest we don't see a lot further than the audience did to start with. And we had no idea how important Nacho and Kim Wexler, and Chuck [Jimmy's brother] were going to be to the show, and to to us.
"But it's one of the wonderful things about working in series television is that you get to respond to the story that you're watching on screen, that you're watching form on set, and learn from it.
"And so, yes, we had no idea. I mean... I think that's actually one of the strengths because not having an incredibly detailed plan or having a set [plan helped.]
"We had a sense of where things were going but it took years for us to come to where we ended up and I think there's a power to that, there's a power to following the story moment by moment.
"I think the thing that I'm most proud of, though, is that we never forced the characters to behave in ways that didn't feel right or didn't feel real, just to inform some kind of bigger plan. That's something I'm most proud of, and... even if you have a bigger plan, I don't think it's worth kind of turning the characters into chess pieces in order to bring those big plans to fruition."
With the show coming to an end, Gould also shared his thoughts on the way in which he and Gilligan have brought Saul's story to a close and claimed that while they felt it was "right" he wasn't sure how fans would react.
When asked about the ending, Gould said: "I can tell you that we are excited about the way we're ending the series, but, you know, there's a little bit of apprehension because you can't please everybody.
"I think it's right, I think it's the right thing for the characters, all of them, and I think we're definitely playing the same cards that we dealt to begin with. I think it's a very natural, rewarding ending. But how people are going to feel about it I really couldn't say."
Better Call Saul Season 6 Part 2 premieres Monday, June 11 on AMC and AMC+ at 9 p.m. ET.