Michael Mando on 'Unbelievable' 'Better Call Saul' Season 6 Action Scene
Working with Vince Gilligan on the second episode of Better Call Saul Season 6 was an "unbelievable" experience, Michael Mando told Newsweek.
Warning: This article contains spoilers for Better Call Saul's Season 6 double-bill premiere
Mando plays Nacho Varga in the Breaking Bad prequel, and his character is forced to fight for his life when The Cousins, Leonel and Marco Salamanca (Daniel and Luis Moncada), find him at his hideout.
In Season 5 Nacho's betrayal of the Salamanca drug cartel came to the light after he let hired gunmen sent by Gus Fring (Giancarlo Esposito) into Lalo Salamanca's (Tony Dalton) home to kill him.
Lalo survived, and in the Season 6 double-bill opener he faked his own death so that Gus and his family, bar Hector (Mark Margolis), believe he was dead, making Nacho a target for all involved.
This comes to a head in the final season's second episode when Nacho has to do everything in his power to stay alive—and out of the Salamanca's clutches.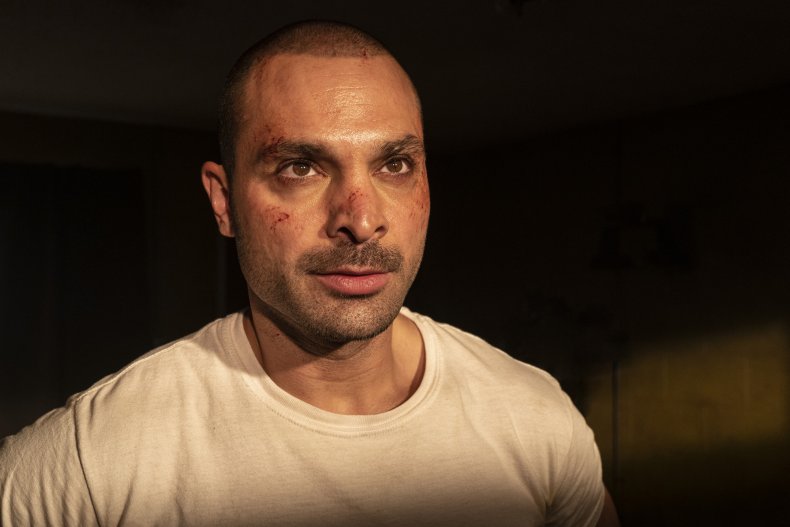 Michael Mando on "Unbelievable" Better Call Saul Season 6 Action Scene
Of filming the scene, Mando told Newsweek: "So here's the thing, Vince Gilligan directed that episode and I got to learn from [him], it was one of my favorite experiences I've ever had."
"I mean Vince thinks in cinematic moments, there's a moment in that scene where the camera turns [and] it goes through the glass and into the car, and I've never worked with a director who really thinks in cinematic moments like that.
"It's just unbelievable. Just cocking your gun is a whole cinematic thing. Everything he does is cinematic.
"That was one of the highlights of my 6 years [on Better Call Saul], and that scene was just unbelievable. It was just incredibly shot and the twins brought it, [as did] everybody from the background people to the stunts.
"That guy really drove that car through that truck at like 100 miles an hour. It was just nerve-wracking, and the guy really jumps out of the building.
"All the stunts are real. Everything was real. It was just one of the greatest things I've ever, ever seen. And thank you Vince Gilligan. He's just the master at it."
On Breaking Bad's Walter White and Jesse Pinkman
A day after Newsweek's interview with Mando and his co-star Tony Dalton it was announced officially that Bryan Cranston and Aaron Paul would return to the franchise for a cameo as Walter White and Jesse Pinkman in the spin-off's sixth season.
At the time we spoke this wasn't public knowledge, so when asked how they felt Nacho and Lalo might have faired against Walt had they been in Breaking Bad both actors gave their personal theories. These shouldn't be taken as anything other than the hypothetical scenarios they were intended as.
Mando explained that he had always felt that Nacho might have been one of Walt's students, like Jesse before him: "I always had this kind of fantasy, this kind of idea, I always felt like Walter White was probably Nacho's chemistry teacher.
"I don't know why, I kind of feel like maybe he was Nacho's chemistry teacher so I don't think they would have butted heads [in Breaking Bad].
"But, also, I think Nacho is a character that's trying to break good. He's someone who's looking for the Mikes [Ehrmantraut, played by Jonathan Banks] in this world and the Jesse Pinkmans of this world. So I think he would have probably gotten along with them."
Mando then joked that he was "starting to sweat" because he felt "like this could be a spoiler"—not that Newsweek was to know in that moment that Cranston and Paul were definitely returning—and he reiterated that what he'd said was "not a spoiler."
Dalton, for his part, chose to go for a more obviously impossible altercation between Lalo and Walt because he said that he believed "Lalo would have shot Walter White in the face" had he been in Breaking Bad.
Better Call Saul Season 6 is the 'Dream Final Season'
Mando, who has been part of the Better Call Saul family since Season 1, also shared how happy he was with the final season, as well as the work he, his co-stars and the creative team put into the show's send-off.
"You're gonna love it, you're gonna love this season honestly," the actor said of the show past its first two episodes. "I mean we say that every season, but it's true. This is by far our best.
"It's a roller coaster ride, you're gonna get your conclusion for every character, and the writing and the directing is better than it's ever been. The editing is better than it's ever been, the music's better than it's ever been. This is it.
"This is the dream, the dream final season. For such an incredible run that started with Breaking Bad. You know, we feel lucky and hopefully you're gonna love it."
Better Call Saul Season 6 Part 1 airs Monday at 9 p.m. ET on AMC, Part 2 will be released from July 11.